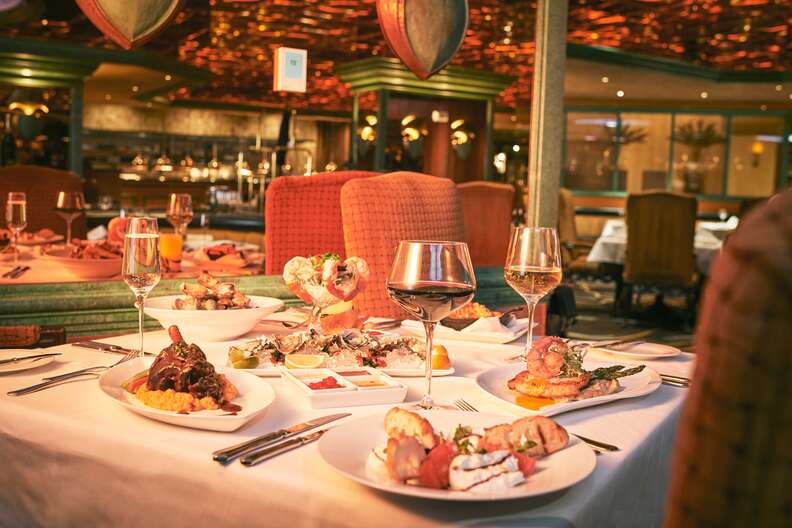 When it comes to enjoying a stay in a luxury hotel in Reno that in located in Downtown, you get the flexibility to choose from a wide variety of dining options nearby. There are a plethora of options for casual and upscale dining in and around Reno. Let us take a look at some of them here.
Anna's Taqueria serves a menu of tacos and several other specialties packed with delicious and authentic flavors, with vegetarian options included. Opt for the "all you can eat" tacos selection or a special dish and pair it with your favorite Mexican beer or Michelada. Their outdoor patio seating is idea on a sunny day.
Would you choose French toast decorated in strawberries served alongside a mimosa or Spinach Quiche Lorraine with a famous Bloody Mary for brunch? No matter what you order from PJ & Co. Saloon & Restaurant for breakfast you will not be disappointed for the reason that Reno has been in love with their food since 1987. Stick around until lunch to try their stuffed avocado filled with shrimp with a side of pasta salad, or the Cashew Chicken Sandwich topped with cashews and sprouts for a hearty crunch.
Europe meets Reno with this hip, family-focused restaurant. Von Bismarck serves bar snacks, beers, cocktails and unique food in a communal style with both indoor and outdoor seating. Simply get out of your Downtown Reno motel in the evening and indulge ina bratwurst or veal sandwich, a wild boar schnitzel or pretzel with house-made mustard. Von Bismarck has plenty of German beers on draft, a variety of craft cocktails and wines, plus vegan and vegetarian options as well. Your next hang out should definitely be at this unique addition to Wells Avenue.
Antojitos Colibri is one of many Hispanic and Latino businesses that call Wells Avenue home. Antojitos Colibri is a family-owned ice cream shop that features aguas frescas and Mexican fruit snacks on their menu. Mix and match your favorite and hydrate with their authentic and fresh beverages.
The latest dinner spot of Wells Avenue, La Conseda Eatery, is a fusion restaurant that offers dishes with a Spanish, Korean and Italian influence. Their menu features items such as Buccatini Al Cilantro, Korean Pork Belly Hot Buns, Spanish Octopus, and 1855 Tri Tip Alambre. Get a taste of their contemporary cocktails and experience the hip urban vibes while enjoying the ambiance of outdoor dining in their courtyard space.
Rapscallion Seafood House and Bar has been serving Reno a finely crafted menu of fresh seafood for many years. Their menu consists of oysters, calamari, spicy tuna poke, filet mignon, shrimp and crab risotto, cioppino, crab legs and halibut. They serve local beers such as the Great Basic Ichthyosaur I.P.A and Pigeon Head Pilsner alongside other lager, ales and porters. With a full wine list, it is an ideal place to dine for dinner and be certain to save room for their popular Mud Pie dessert.
Book your room for rent in Reno at Kramer's Midtown and enjoy these fine dining options!