Your check-in experience impacts every guest. The simpler and more streamlined that experience, the happier your guests will be. Nobody enjoys standing in line for reception after their cross-country flight. They've already done enough waiting at the airport (and they may be missing their luggage). They want to go straight to their rooms to collapse on your big, comfy beds. 
Use your hotel management software to make check-in as efficient and stress-free as possible for everyone involved. (Staff don't particularly enjoy long lines either.) 
Pre-arrival Communication
A smooth check-in starts even before your guest reaches the lobby. Message guests prior to arrival and ensure they know what to expect, including hotel policies, recommendations, amenities, and check-in procedures. Send them answers to frequently asked questions, so they don't have to ask.
To build anticipation and inform guests about what's in store, use booking confirmation and pre-arrival emails. WebRezPro includes customizable templates for both that can be set to send automatically, so you don't have to worry about them. 
The booking confirmation reassures guests that you received their reservation and will have their room ready for them. It's a good place to offer upsells, ask about special requests, outline policies, and thank them for choosing you. 
Pre-arrival emails should also contain relevant upsell offers and remind guests about important property information and policies, but you can go even further and share events and activities around town to get guests excited about their visit. 
You can manage guest communications through a guest messaging app too, such as Akia, Alice, or Kipsu. SMS messaging can be especially effective with open rates as high as 98 percent but there are character limits, so stick to the most essential information. 
Broader customer relationship and engagement platforms (CRM) such as Cendyn and Constant Contact can help you to manage guest email communications too, as well as highly personalized marketing initiatives. 
Payment Gateway Integration
Choose a property management system that offers secure payment gateway integration. This makes check-in more efficient and keeps guest information safe. 
A payment gateway sends billing information from your website to a credit processing network when guests pay online. That way, they can pre-pay before they arrive and speed things up at the front desk…or bypass the front desk altogether (see self-check-in section below).  
For payments at the front desk, the guest simply inserts their card into the credit card reader, and the integrated payment gateway takes care of the rest. It automatically records the payment in the property management system and eliminates the time-consuming process of manually keying that information.
All customer data is encrypted, and some gateways use a placeholder as an additional security layer, so the guest's credit card number is never actually in your system. For hackers, this would be like breaking into a bank vault only to find someone filled it with monopoly money instead.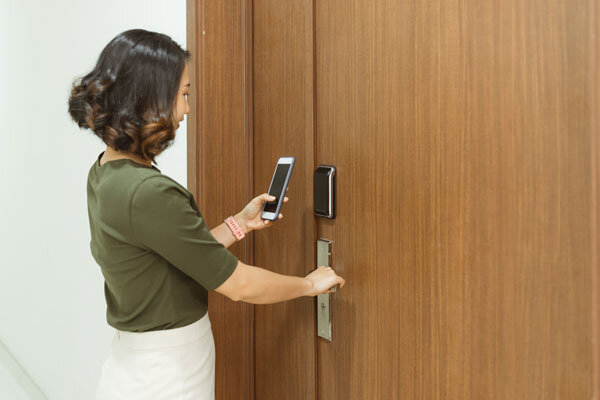 Digital Key Integration
Integrate your property management system with a secure digital key solution (mobile keys). Not only does this enable self-check-in, it reduces the amount of waste at your hotel (no more little plastic rectangles!). 
Guests are increasingly concerned with sustainability. A digital key integration shows you're doing your part to reduce your environmental impact, and guests will feel better about booking with you. 
With WebRezPro, you can send your guest a one-time access code through an integrated service such as PointCentral or Lynx. Or you can turn your guest's smartphone into their key with an app like OpenKey or STAYmyway. In this case, guests receive an email link to download the app, and WebRezPro signals that app to send a secure digital key when they check-in. They simply hold their phone close to the door or tap a button…and open sesame. Either way, the access code or mobile key automatically deactivates when the guest checks out. 
Many digital key solutions work with your existing locks, so the cost of implementing them may not be as much as you think.
ID Scanning Integration
Integrating an ID scanning solution with your PMS eliminates the need for staff to enter guest details into the reservation at the front desk. The guest offers their identification, i.e., driver's license or passport, and the scanner auto-fills that information into the guest's profile. This saves everyone time and ensures there are no typos. WebRezPro partners with TTI Technologies to make this happen for our clients.  
Paperless Check-in
Paperless check-in is another way to demonstrate you care about sustainability while making in-person check-in a more pleasant experience. When clerks access WebRezPro on a tablet or smartphone, they don't have to register guests standing behind the front desk. Using electronic signature capture, guests can sign their registration form on the mobile device, and you can email their receipt.
Doing check-in this way means the guest won't have to stand in line—a welcome relief if they've been on their feet all day. Instead, they can relax in one of your poofy lounge chairs and have a cup of tea. Or they can be immediately shown to their room and checked in from there.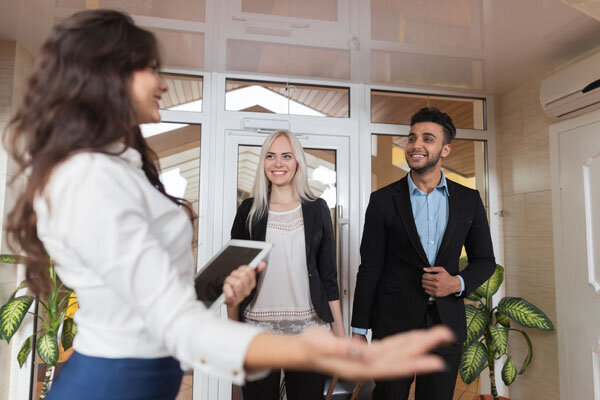 Self-check-in
The most efficient way to handle the front desk is to bypass it all together. Self-check-in enables guests to reach their rooms quickly and avoid germs, whether those germs come from Covid-19 or fall flu season. Even post-pandemic, thirty-four percent of consumers claim that contactless options will remain important. However, there are a few things you need to do to make self-check-in go smoothly.
Firstly, guests need to know it's there. Explain your self-check-in procedures clearly on your website, OTA listings, social media, and in pre-arrival communications. Automate pre-arrival communication through your property management system to ensure people receive information at the right time. 
WebRezPro makes self-check-in easy with automated guest agreements that let guests complete registration online before they arrive. You can request payment, photo ID, vehicle information, and for the guest to electronically sign the agreement. Together with digital key and payment gateway integrations, WebRezPro can facilitate a completely contactless check-in. Alternatively, WebRezPro integrates with a number of contactless check-in apps like Akia, Intelity, and Operto.
Make the self-check-in process as simple as possible, whatever technology you use. Supplement digital communications with plenty of clear signage in the lobby letting people know what to do. Not every guest is an IT genius, so there should always be a human on hand to help if they get into trouble. 
Staff
Invest in your staff and give them the training they need to deliver personable, dedicated customer service. Your technology is only as good as the people using it.
Staff need to treat your guests as individuals, not as interchangeable bookings and reservation numbers. Sometimes a guest just needs to see a friendly face after a long day crammed in a plane (hopefully not in the middle seat).  
The right people and the right technology will give guests a seamless check-in experience that starts their stay on a good note. With that out of the way, they can head straight for the fun parts of their vacation—relaxing by the pool with a raspberry pink limeade or trying out your memory foam pillows for an afternoon nap.