The lush landscapes and turquoise waters of Saint Lucia offer year round warmth and colour that draw visitors to the Caribbean. Small wonder that this island paradise has inspired numerous St Lucian artists, both those who grew up on the island and those who visit and are drawn back time and again to capture the island's beauty.
As we travelled around Saint Lucia we discovered plenty of talented artists. But there was also a consensus that many of the old skills and craft traditions were dying out, as young people seek careers in other sectors such as tourism. Yet despite an apparent lack of co-ordination, we found individuals doing their bit to sustain the Saint Lucia art community.
Galleries like Choiseul Art Gallery and Island Mix provide a retail outlet for local artists, muralist Sakey involves young people in the painting of community murals and hotel owners like Karolin Troubetzkoy of Anse Chastanet collaborate with Saint Lucian artists to beautify their hotels.
On a recent visit to Anse Chastanet and Jade Mountain I was struck by how much the owners, Nick and Karen Troubetzkoy, have done to encourage art in Saint Lucia, both as private art collectors and by commissioning artworks to fill their hotel rooms and public spaces.
The art gallery at Anse Chastanet exhibits and sells the work of local and international artists, involving their guests with classes, demonstrations and exhibitions. More recently their support for the St Lucia art scene has extended to public commissions such as the murals in Soufriere by local artist Sakey, who also runs art classes at Anse Chastanet Resort.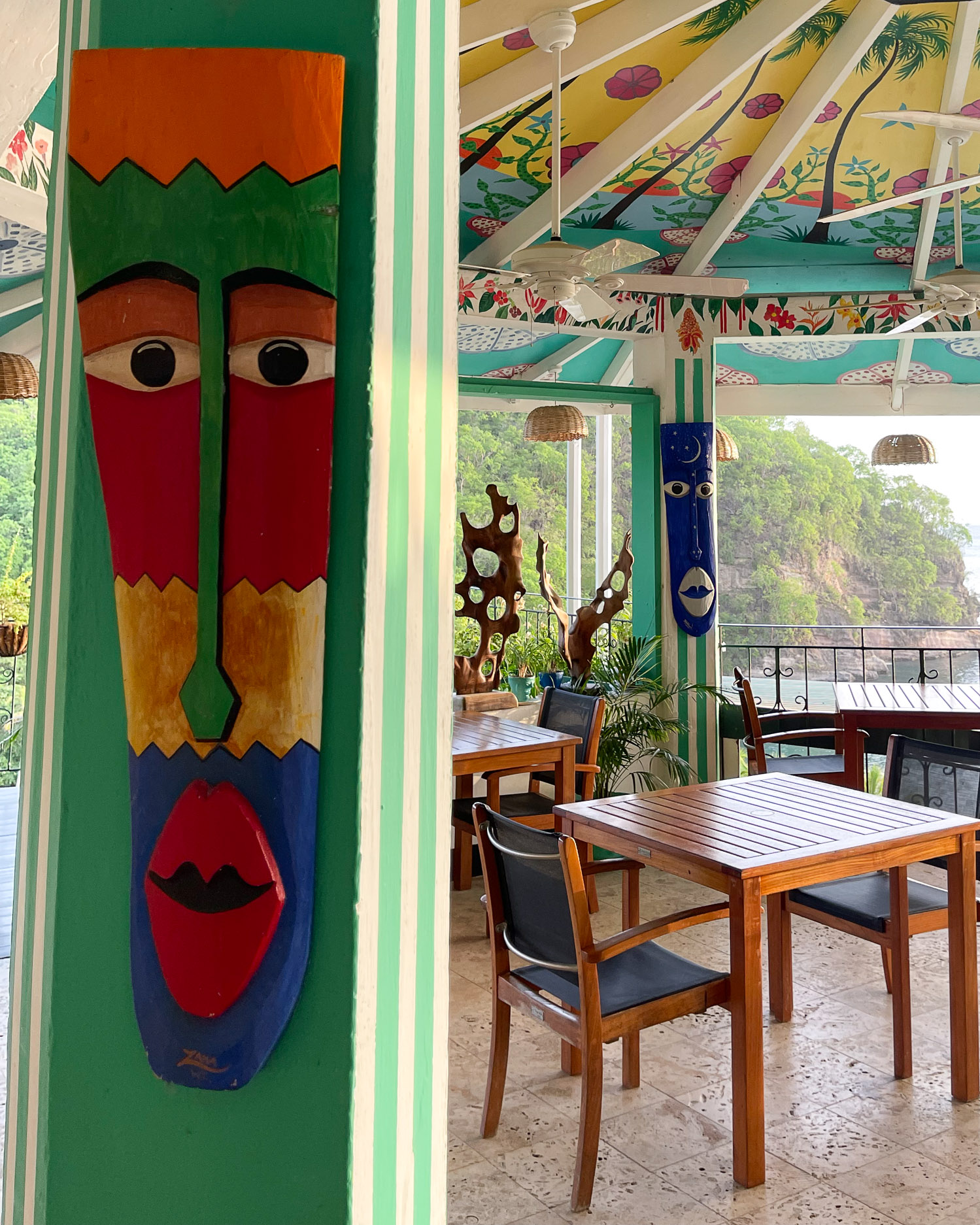 If you are reading this article, you are probably interested in finding Saint Lucian artists to give a sense of place and colour to your trip, or perhaps looking for authentic souvenirs to bring home. As visitors we can help by making sure we support the work of local artisans in our purchases and seek out some of the interesting art galleries around Saint Lucia. I hope this article will help you do just that.
This article may contain affiliate links that provide commission on purchases you make at no extra cost to you. As an Amazon Associate I earn from qualifying purchases.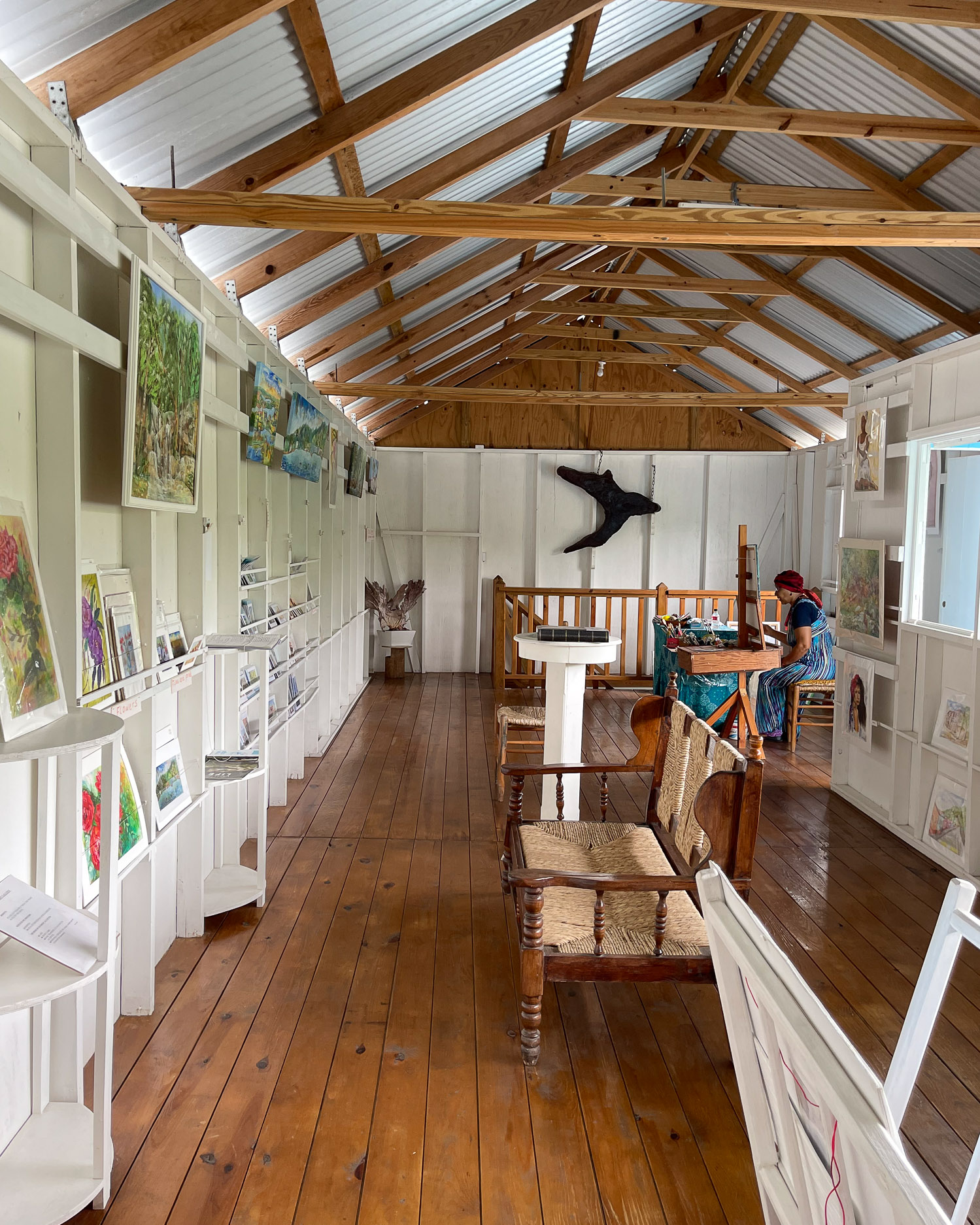 Galleries in Saint Lucia – where to buy art and crafts
We visited as many St Lucia art galleries as we could on a recent trip. If you love art or would like to buy some locally made souvenirs, these are the art galleries in Saint Lucia we recommend you visit.
Choiseul Art Gallery – near Choiseil – paintings by Hattie Barnard and locally made crafts
The Pink Plantation – near Castries – ceramics and art by Michelle Elliot
Eudovic art studio – near Castries – wood carvings by Vincent Joseph Eudovic and other carvers
Howelton estate – near Castries – locally made batik, crafts and souvenirs
Zaka's art cafe – Soufriere – colourful painted masks by Simon Gajadhar and local crafts
Anse Chastanet gallery – Anse Chastanet beach, Soufriere – paintings and prints by a wide range of local and international artists
Island Mix – Rodney Bay – locally made crafts and paintings
Outdoor gallery of murals by 'Sakey' Naja Misaki Simeon – check this map for mural locations all over Saint Lucia or @sakeyproductions on Instagram
Choiseul Art Gallery – Hattie Barnard
English born Hattie Barnard grew up in London and spent some of her childhood years in Dominica, before settling in Saint Lucia with her husband Leo who is from the island. Together they set up Choiseul Art Gallery which is well signposted and just off the main road. Their aim was to provide a studio and gallery for Hattie's work and a showcase for other local craftspeople and artists.
We stopped by the gallery as we were passing and found Hattie happy to show us the painting she was working on as well as to talk about the prints, art cards and other locally made craft souvenirs that she stocks. Hattie's images are often painted live on location, when she spends the day in a natural beauty spot to capture the scene in her paintings. Many are landscapes featuring the natural beauty of Saint Lucia, others are portraits or pieces that incorporate aspects of local culture.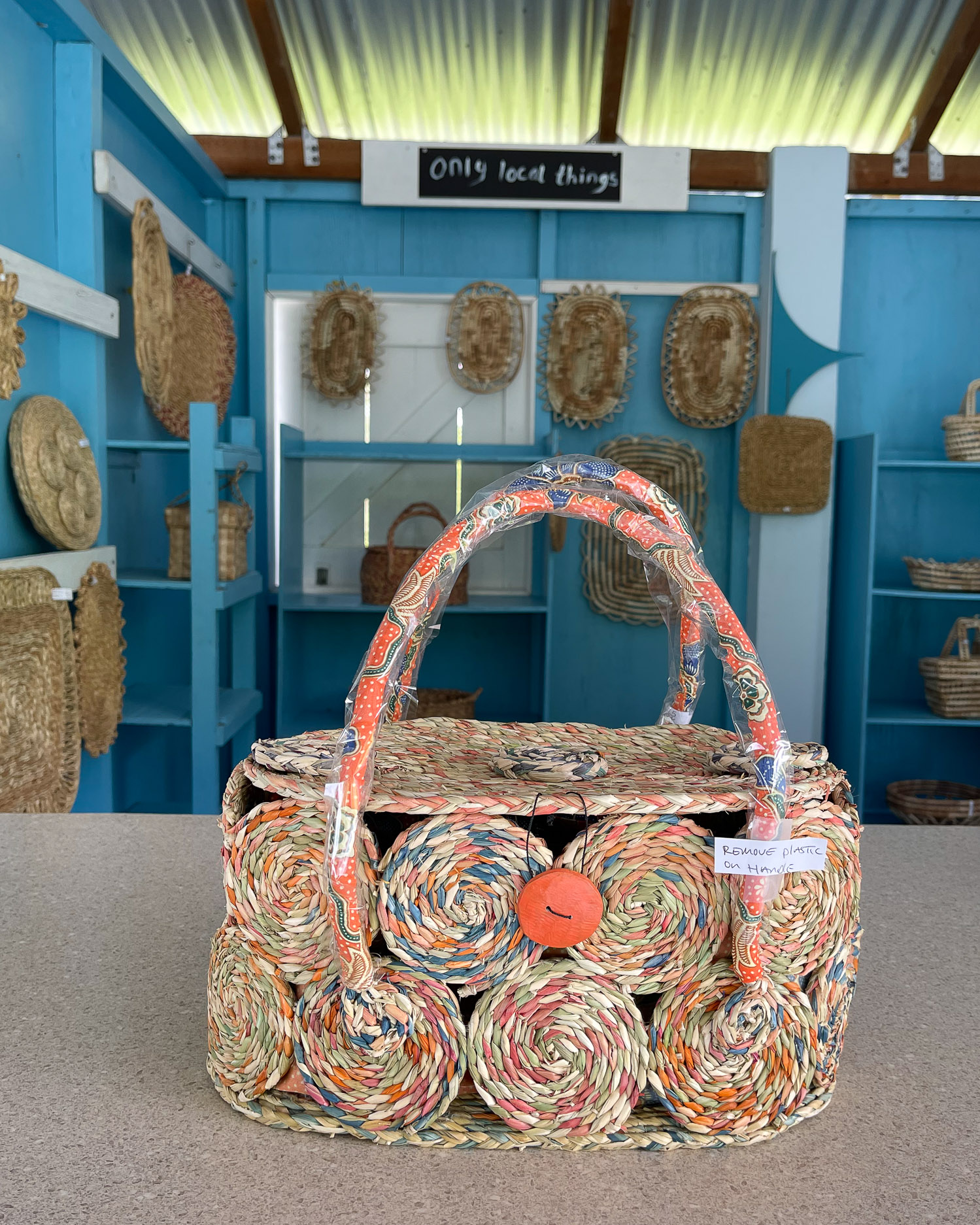 Hattie is also the author of two art books that you can find on sale in the gallery; "The village by the sea" inspired by rural Caribbean life and "Saint Lucia: an inspiration for art" with images and anecdotes from Saint Lucia. Husband Leo Barnard works with Hattie to create many of the craft pieces sold in the gallery, having taken this up when he was unable to find suitable things to sell from other artists. In addition you'll find traditional baskets and mats, wood carvings and textile souvenirs from other local craftspeople.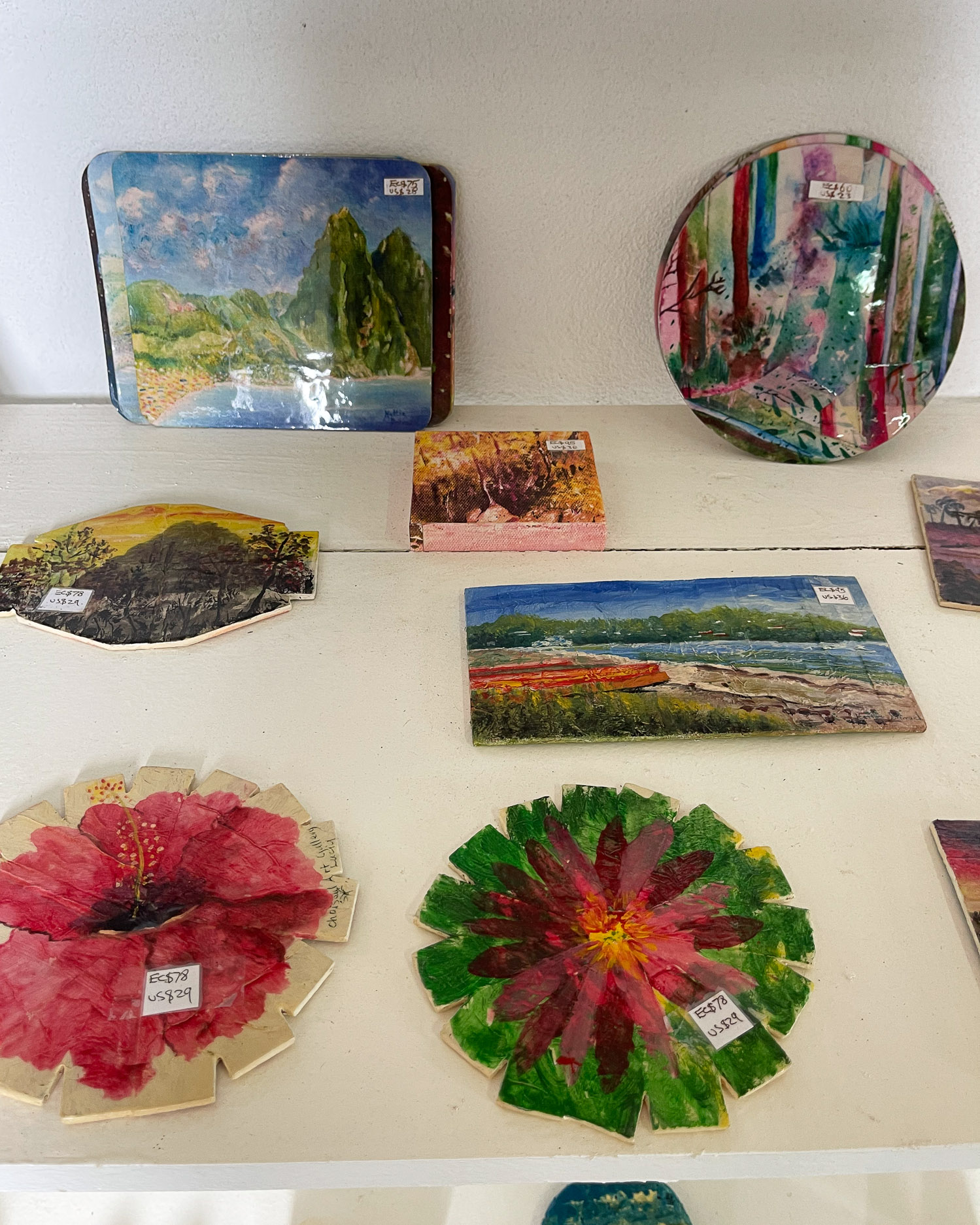 If you are in the south of Saint Lucia, this is definitely the best place to find a wide range of St Lucia art, crafts and artwork as well as talk to Hattie who is extremely knowledgeable about local crafts.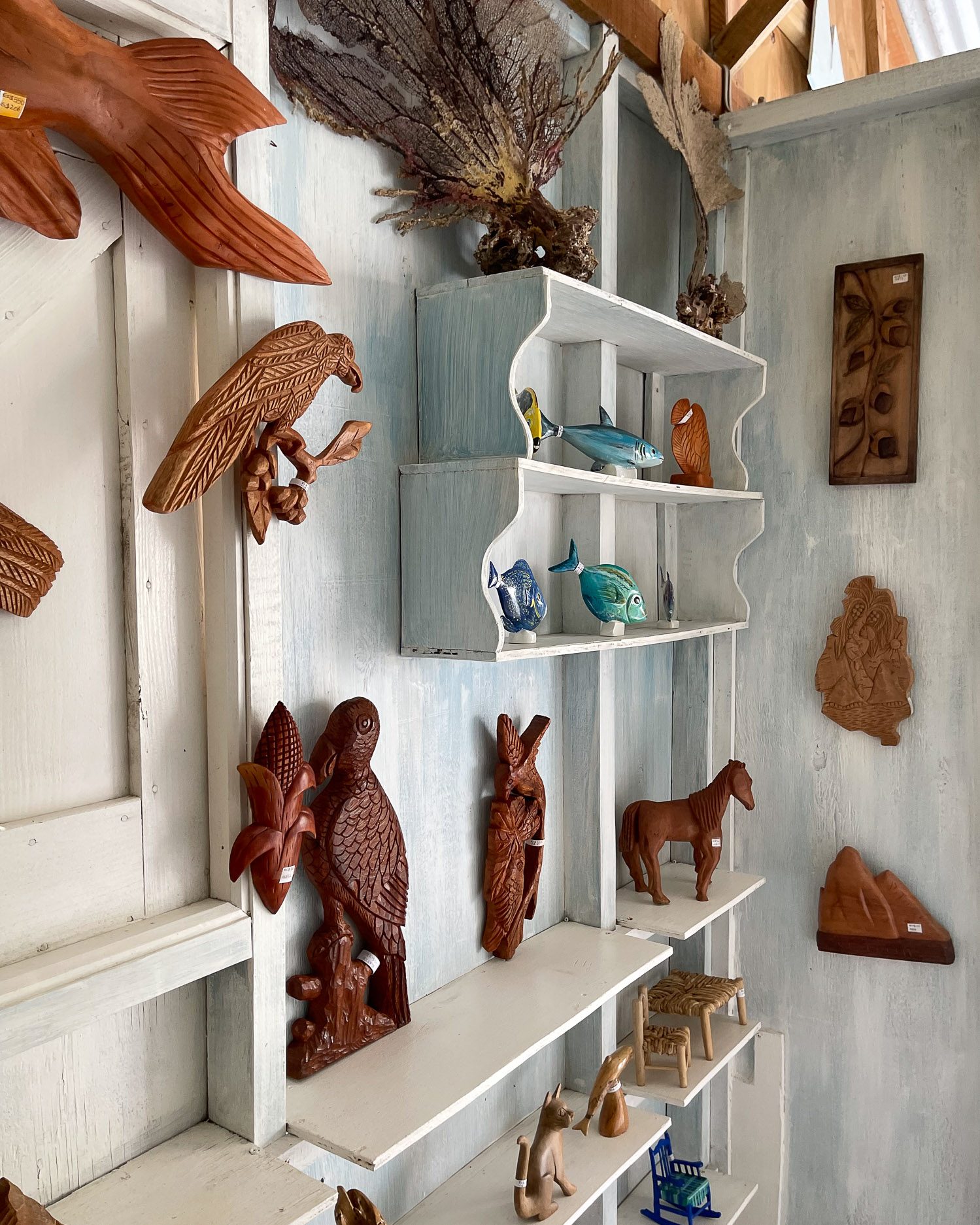 Discover 20 fabulous things to do in St Lucia
Michelle Elliott at The Pink Plantation near Castries
Set on the Morne Hill overlooking Castries, The Pink Plantation is an old French colonial house that has been lovingly restored by restauranteur and St Lucia artist Michelle Elliot. The house is a centre for Michelle's creativity, as a restaurant serving dishes inspired by Saint Lucia's cuisine, as a guest house and as a gallery for her artwork. We enjoyed lunch on the pretty verandah, with views through the garden toward Castries, surrounded by Michelle's colourful paintings and stylish decor.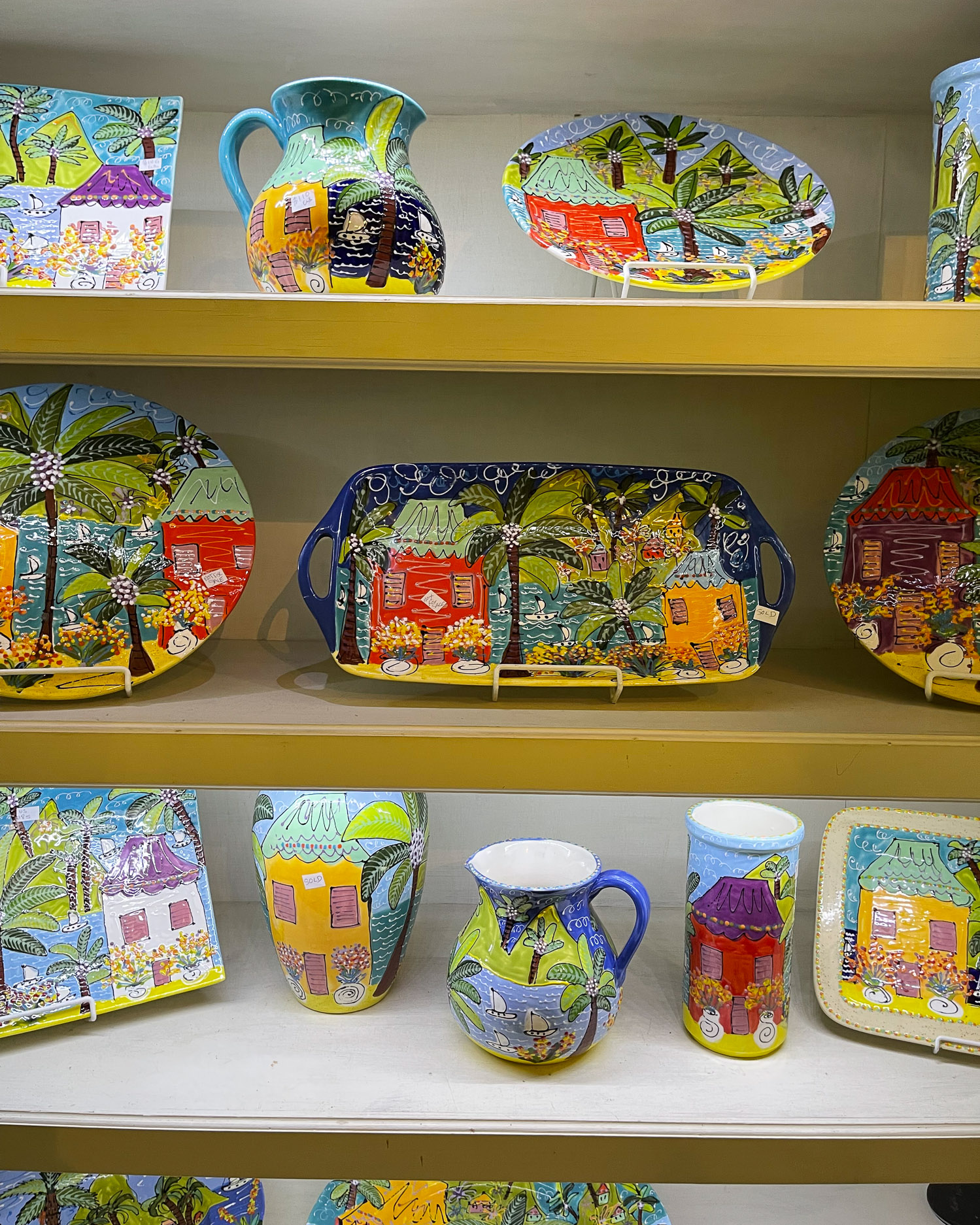 One room of the house is used as a gallery to show her ceramics; serving bowls, jugs and vases inspired by the fruits and scenes of daily life in Saint Lucia. Michelle has also added silk screen printing to her repertoire, used on cushions, bags and table mats that furnish the three guest rooms upstairs. You can stay at The Pink Plantation, in the bedrooms furnished in colonial style, with traditional painted wood shutters, rush matting and elegant textiles.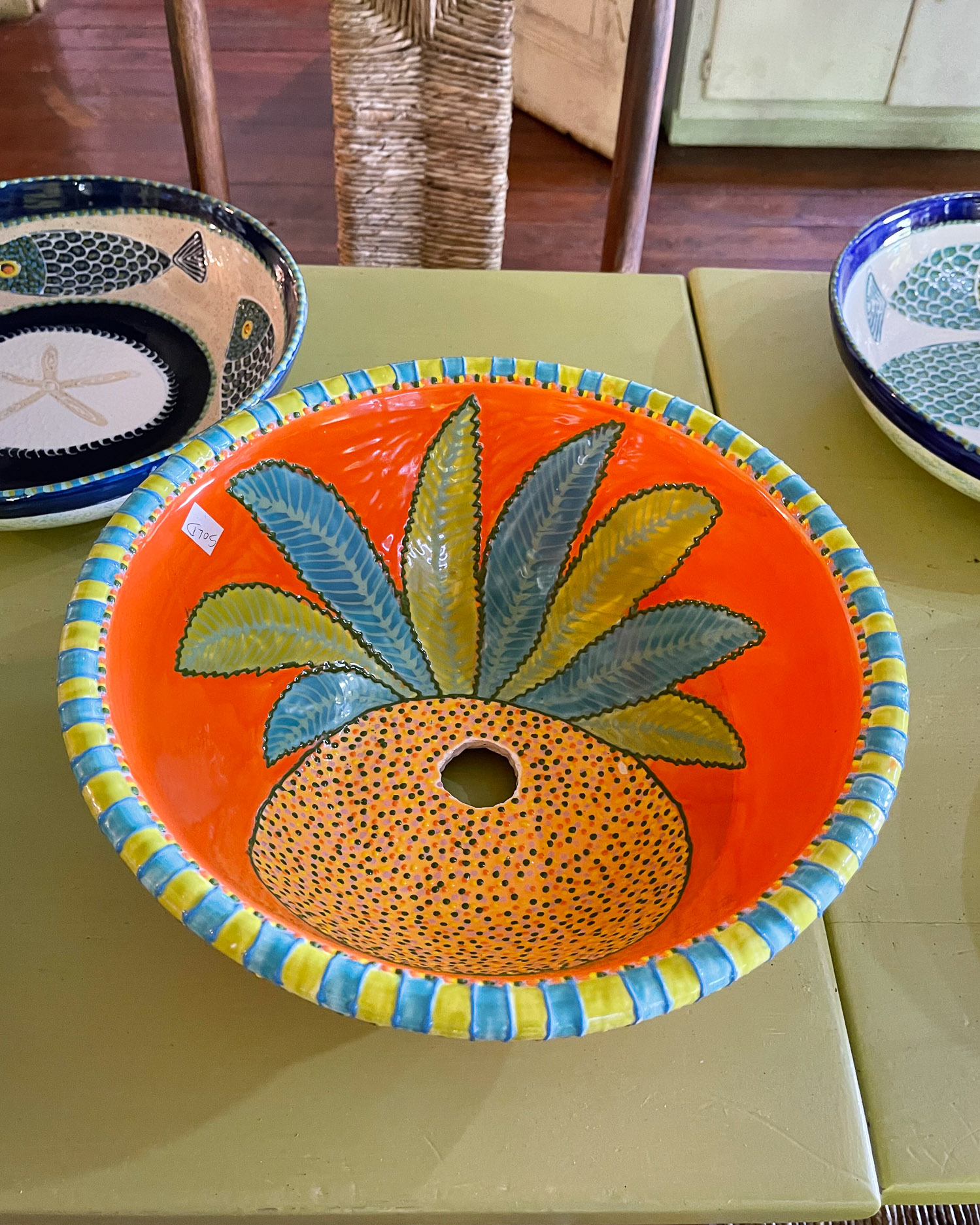 Eudovic art studio near Castries
One of the best known art studios in Saint Lucia is Eudovic's art studio, at Morne Fortune just outside Castries, a popular stop on many tours and cruise excursions. Owner Vincent Joseph Eudovic opened the gallery in the 1970s and is known as one of the Caribbean's leading wood sculptors, working in local hardwoods to create his abstract artworks.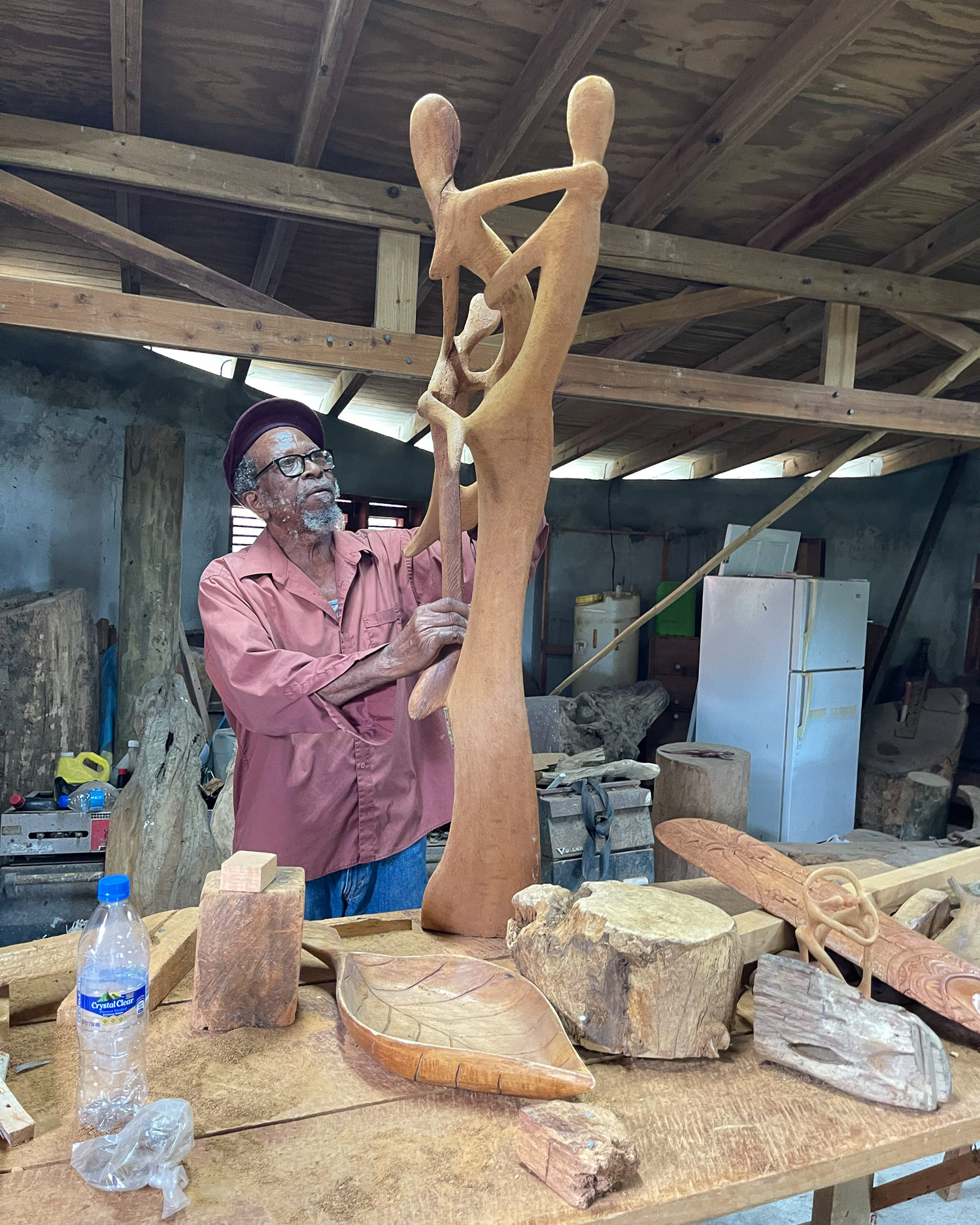 On arrival at the gallery, we were given a short tour of the workshop area, where larger pieces of wood were lying around, waiting to be carved. Old stumps and roots of Laurier Cannelle are found deep in the forest to use in the curvaceous sculptures, as well as other hard woods such as Mahogany, Teak, Laurier Mabouey and Cedar. A mask on show told the story of the coconut palm, known locally as the 'Tree of life' which is planted on the birth of a child, to nourish and provide them throughout their life with fruit, oil and building materials.
The work of seven wood sculptors are now on display in the gallery and gift shop, including Joseph's son Jallim Eudovic, who is a well known sculptor in his own right. You can spot one of his sculptures on the roundabout in Castries.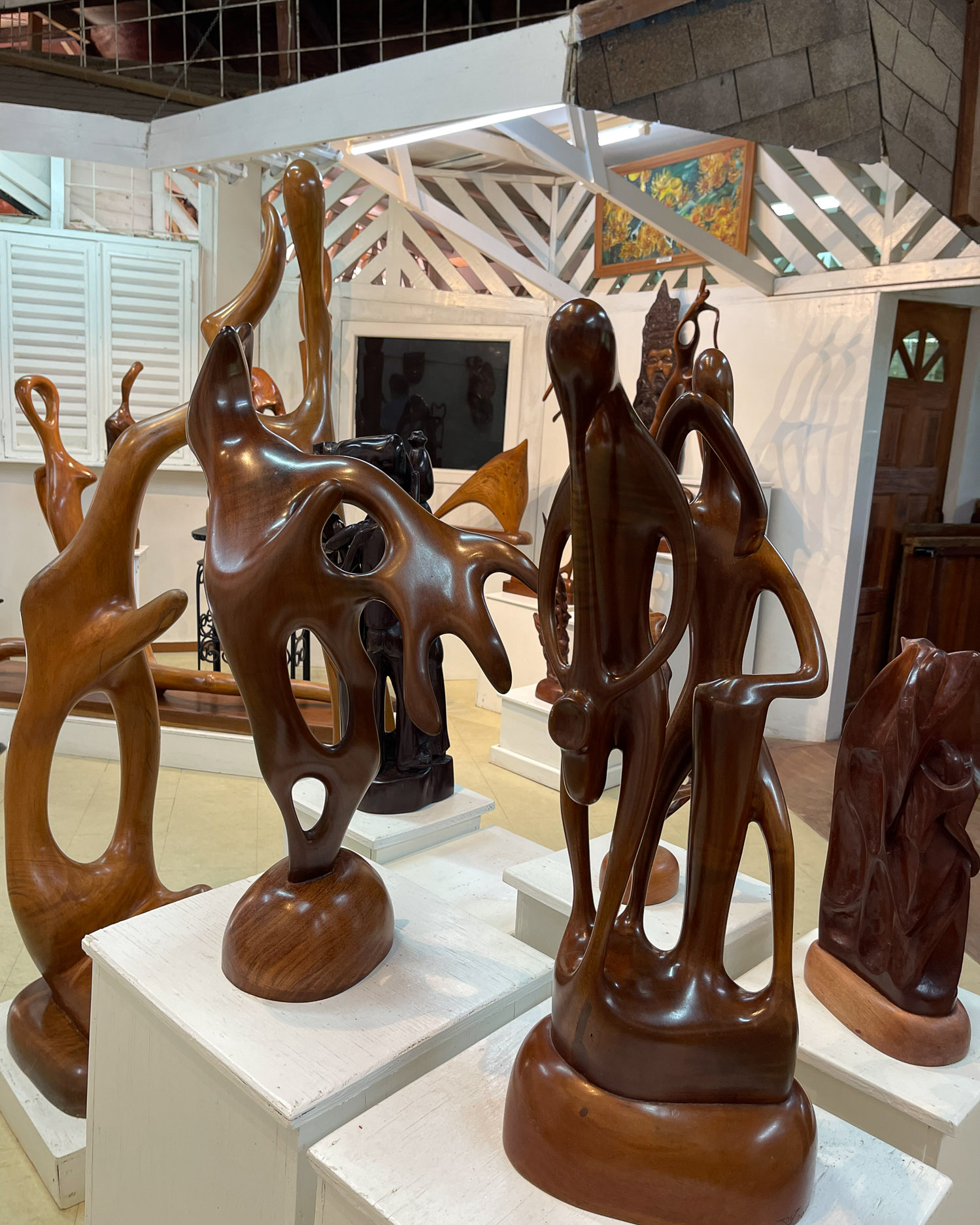 Ream about hiking, volcanoes and waterfalls in St Lucia
Island Mix in Rodney Bay
Rodney Bay can be one of the most touristy parts of Saint Lucia, with a lively shopping, bar and restaurant scene. Tucked down a side road, the Island Mix gallery provides a haven of calm, with a grassy garden that faces the marina, and a couple of yachts moored on the dock. Nadia Jabour, who runs the gallery, is a big supporter of artists and local crafts, running art classes as well as displaying paintings and locally made souvenirs.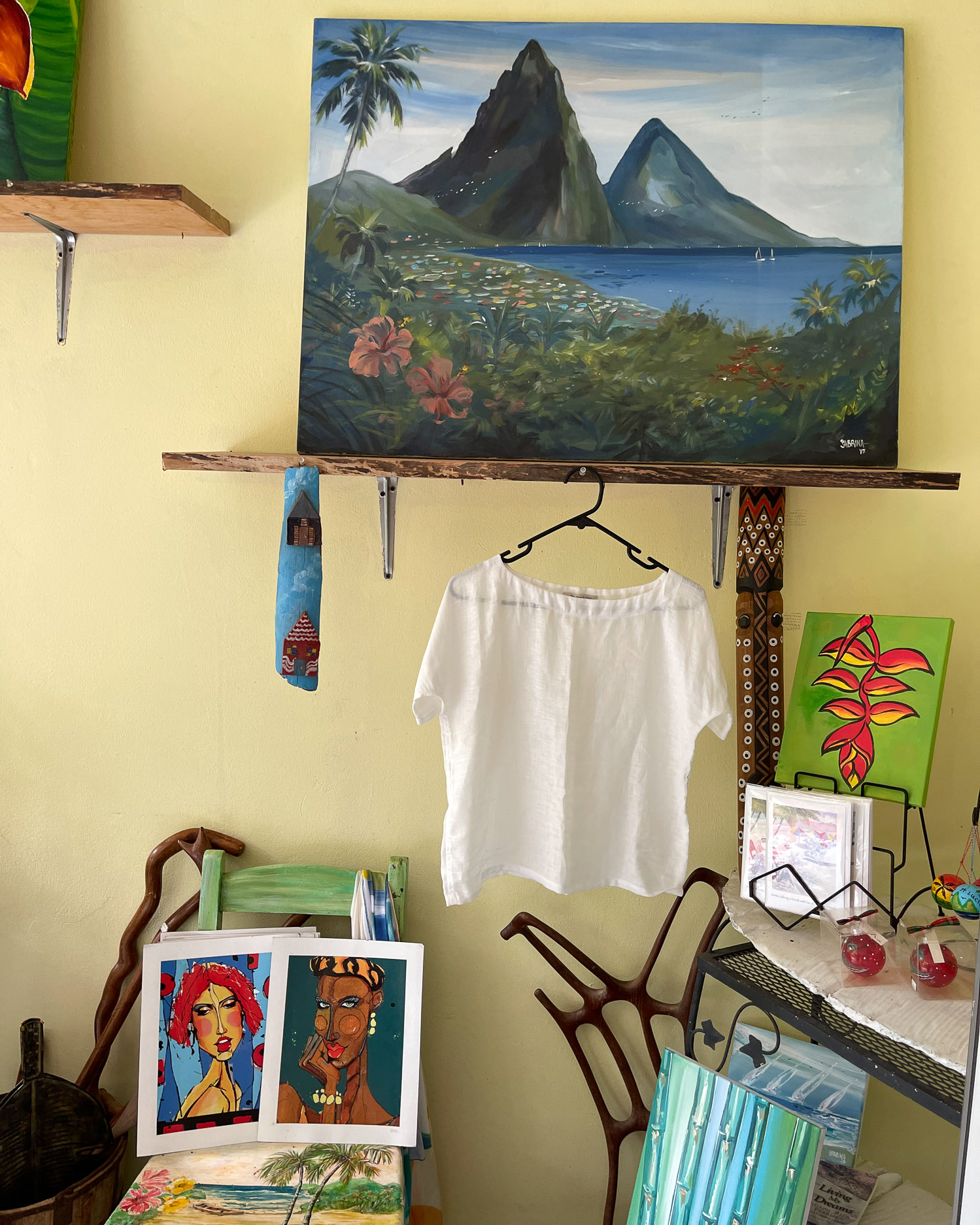 From the cafe we ordered from the menu of finger foods with a Caribbean and international flavour, and reasonably priced lunchtime plates of jerk chicken, pan fried fish and Venezuelan style chicken and rice. Nadia herself makes a line of jewellery from Tarpon fish scales, seeds and other natural materials that she sells throughout the Caribbean.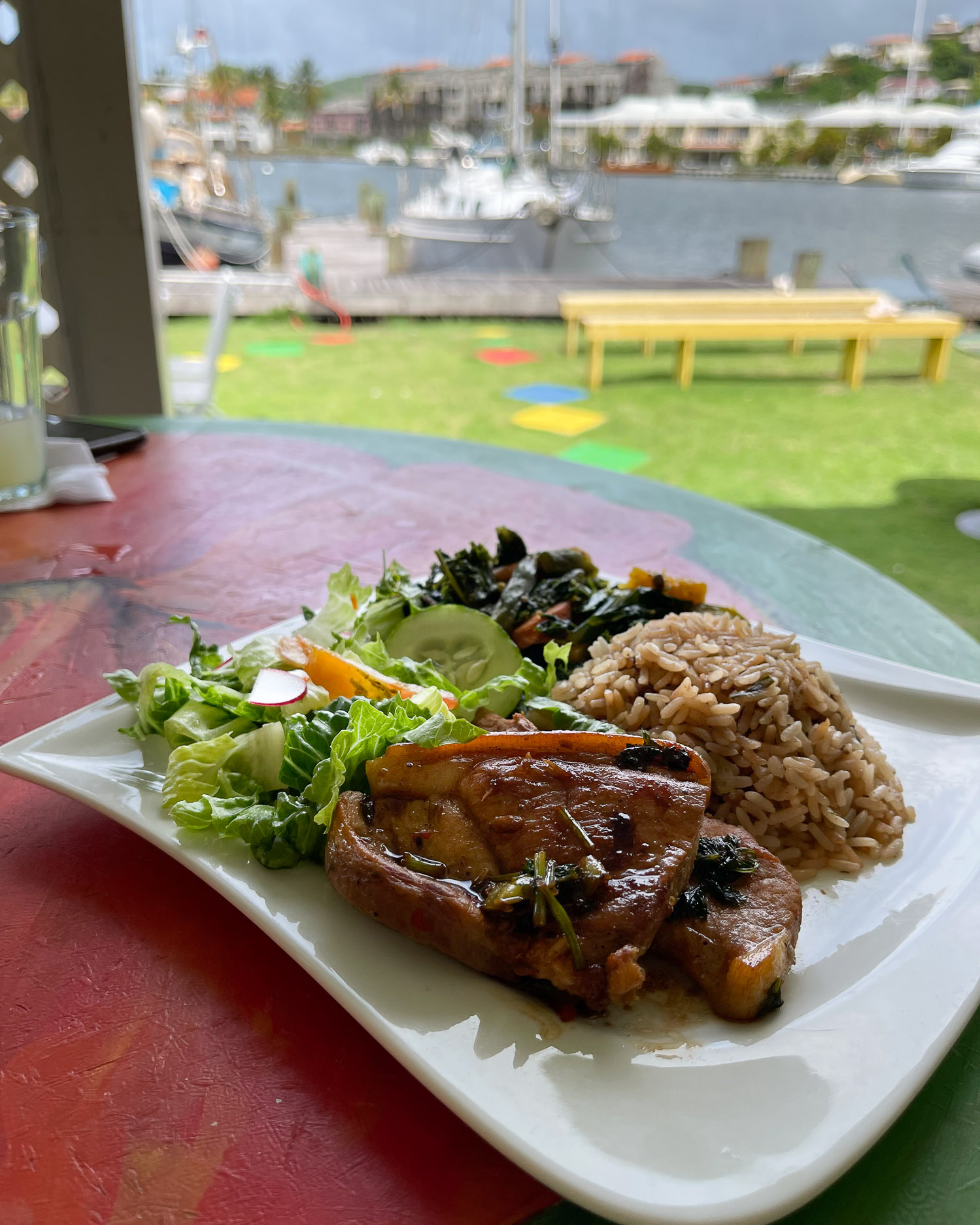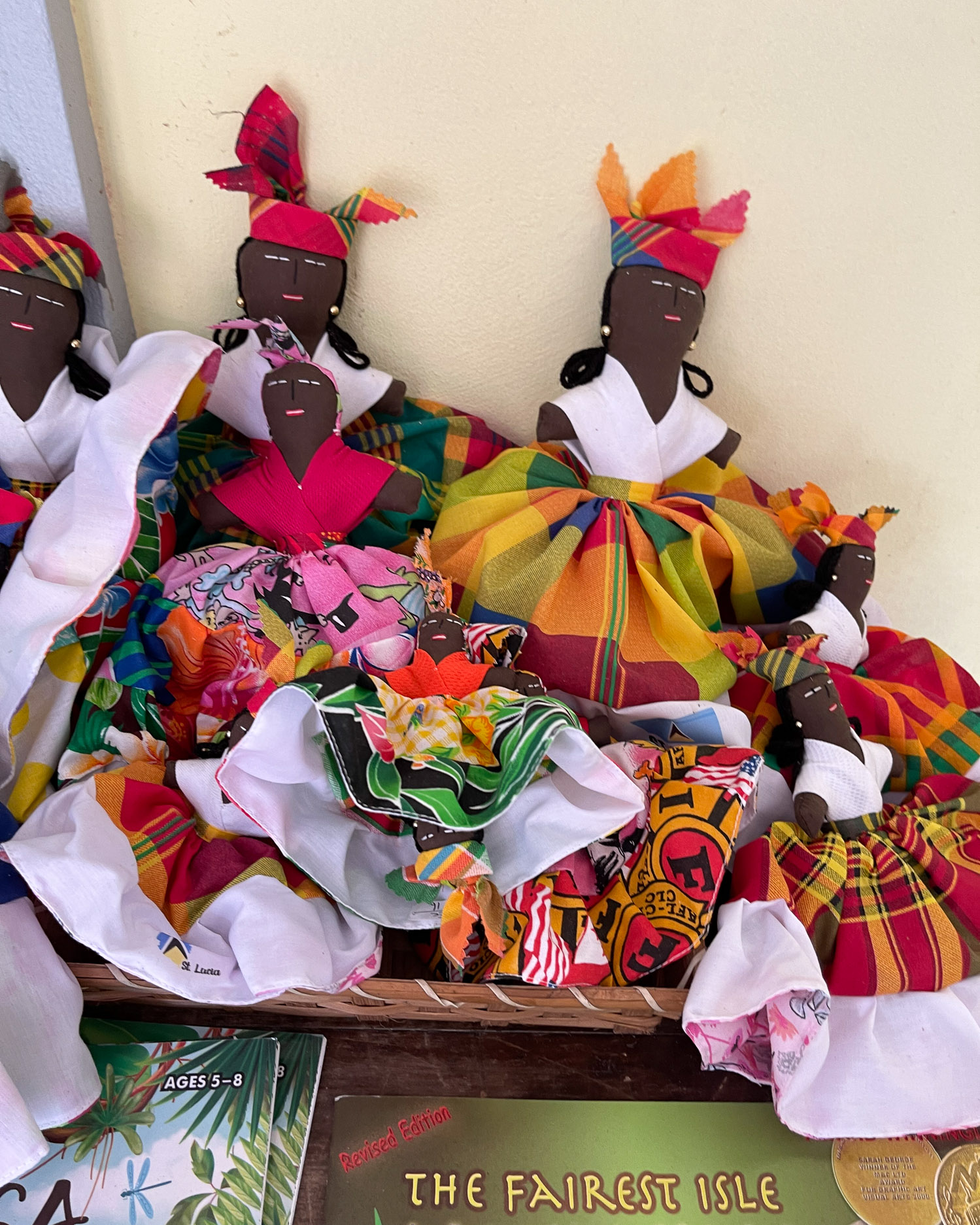 Island Mix is an emporium of locally sourced crafts, such as coloured masks, ceramics, madras dolls and other small items that make wonderful souvenirs. Paintings and prints from several different artists are on display, including those by Saint Lucian Cedric George who has an unusual style of line painting that gives the optical illusion of a corrugated finish. This is the kind of place where you'll come for lunch and be unable to resist buying something to take home. You can also stay at Island Mix in a reasonably priced guest suite overlooking the water.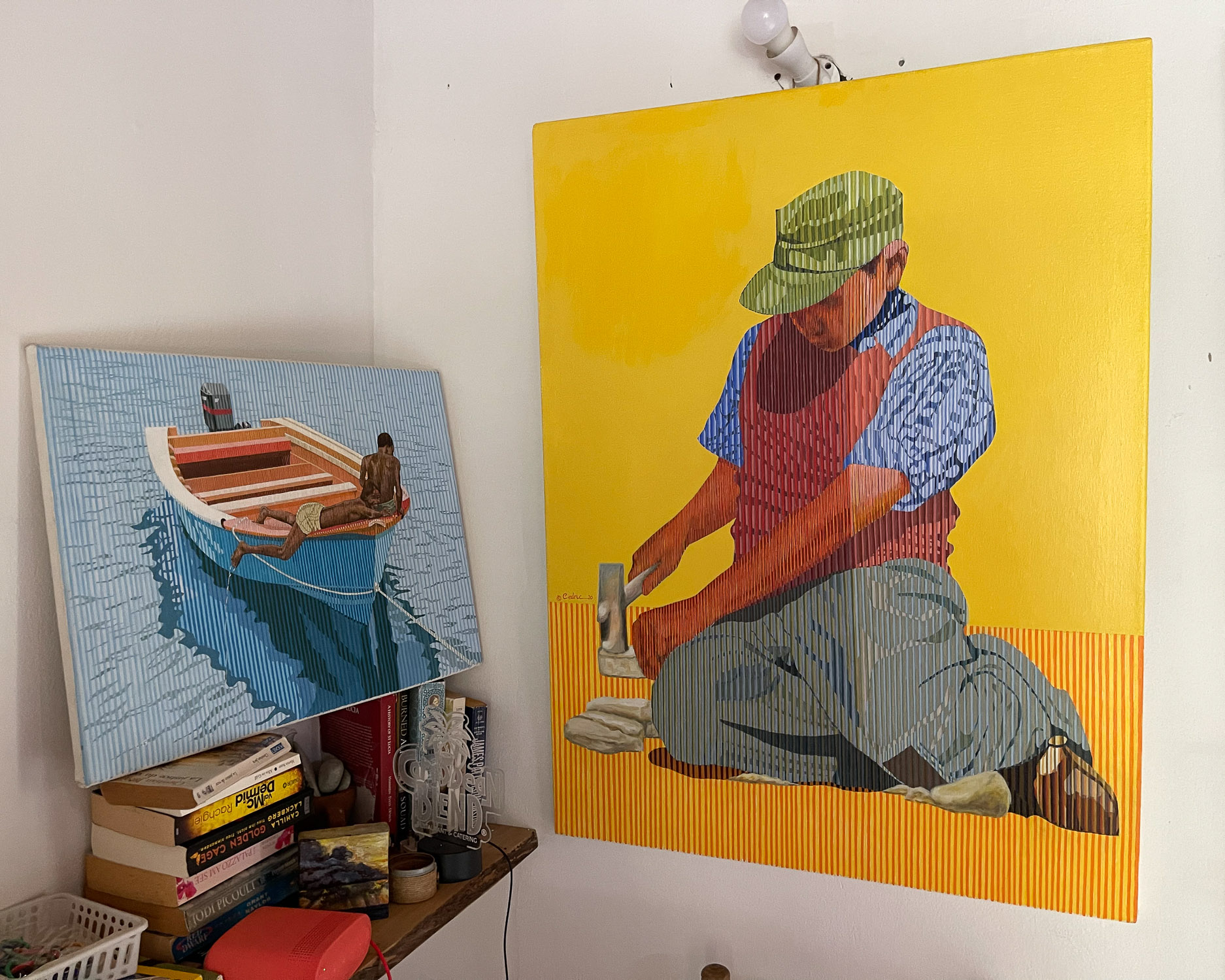 Zaka art cafe near Soufriere
Artist Simon Gajadhar aka Zaka was born and raised in London and initially trained in boatbuilding on wooden boats. In 1993 he decided to come to Saint Lucia, where his father had grown up, but fell in love with the island and never used his return ticket. He started the Zaka business in 1997, naming it after the Haitian god of the forest, trees, earth and agriculture. Zaka specialises in brightly coloured masks made of recycled telephone polls, that are sold in his art cafe and other galleries around Saint Lucia.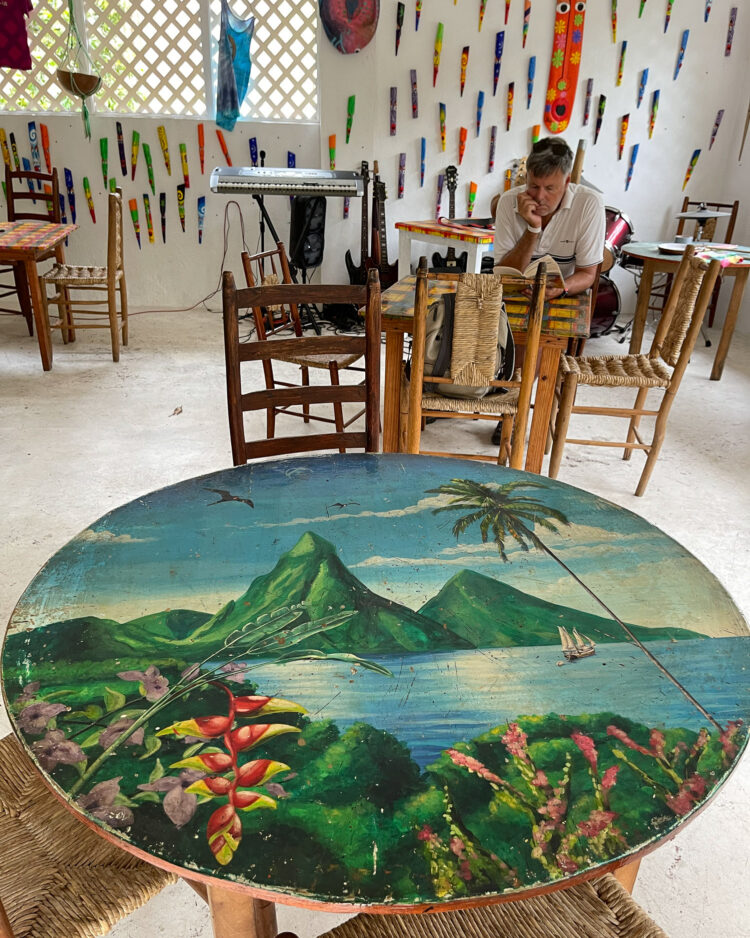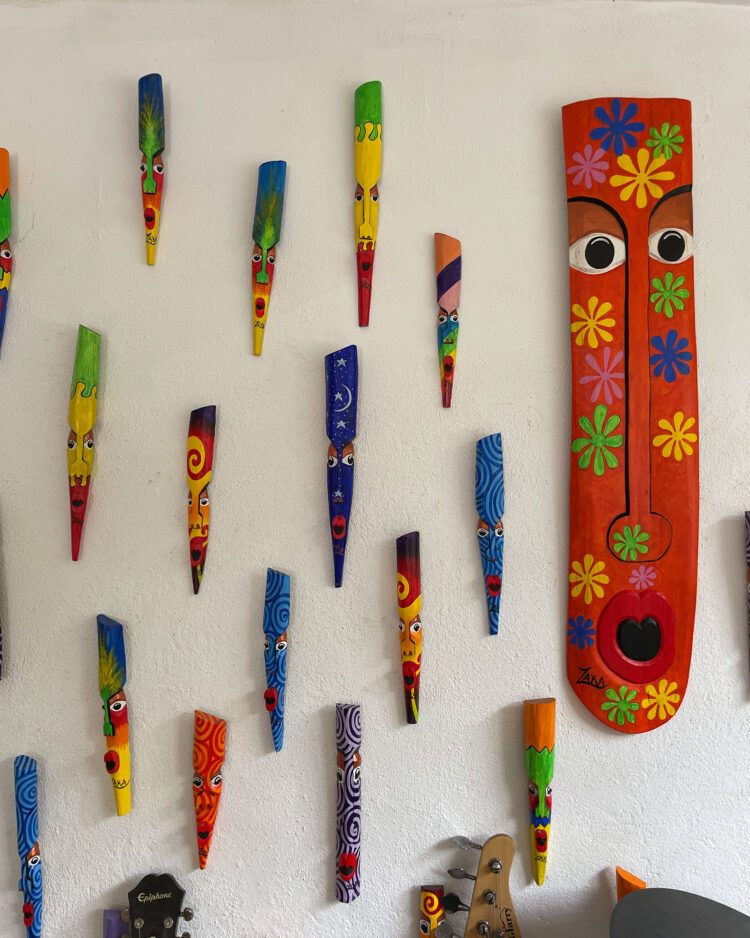 We visited the Zaka art cafe which is just south of Soufriere and an easy stop on the same road as the Sapphire falls, Sulphur springs or the Drive in volcano. It was quiet when we visited, but we were able to get a decent cup of coffee (surprisingly difficult to find in Saint Lucia) and take a look at the masks on display.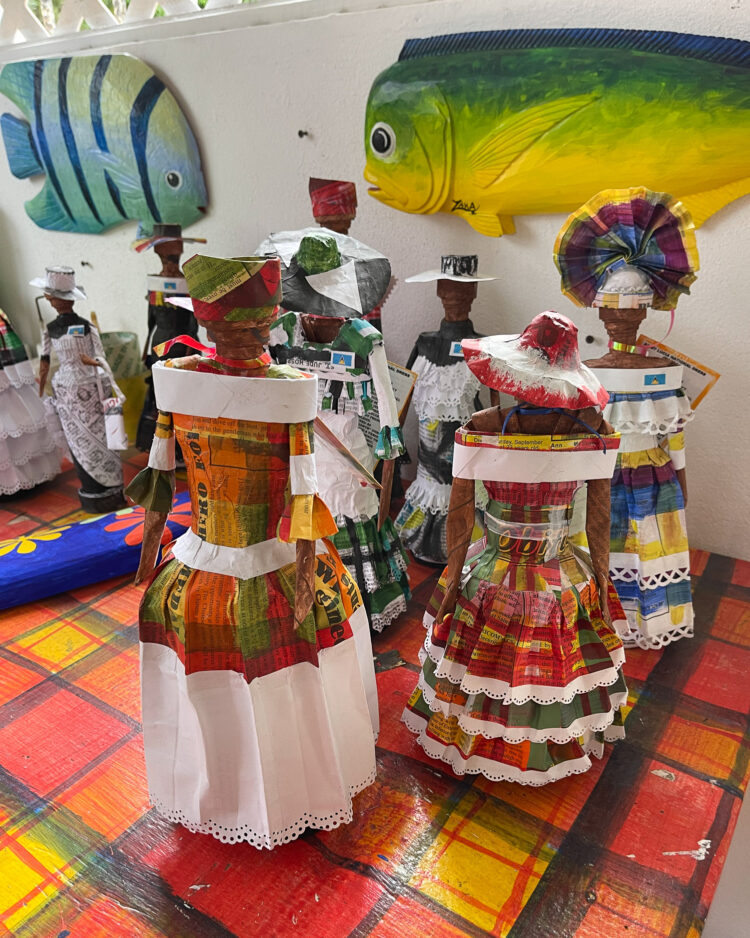 At weekends the cafe hosts painting demonstrations by Zaka himself as well as live music. In addition to the masks, Zaka also produces a range of colourful painted fish, inspired by the vibrant reef fish of Saint Lucia. Also on show were crafts by other artists, such as the colourful recycled paper dolls by Shirley Ann Edwards, clothed in the Madras national dress of Saint Lucia.
Howelton Estate near Castries
Howelton Estate is a beautiful old house that's over a hundred years old, set in 8 acres of lush gardens. You'll find it on the Morne Hill above Castries, on the same road as The Pink Plantation, and close to Eudovic art studio, so it's worth planning to see all three in the same visit. The property is now a heritage and crafts centre with gorgeous views from the terrace across the gardens towards Castries.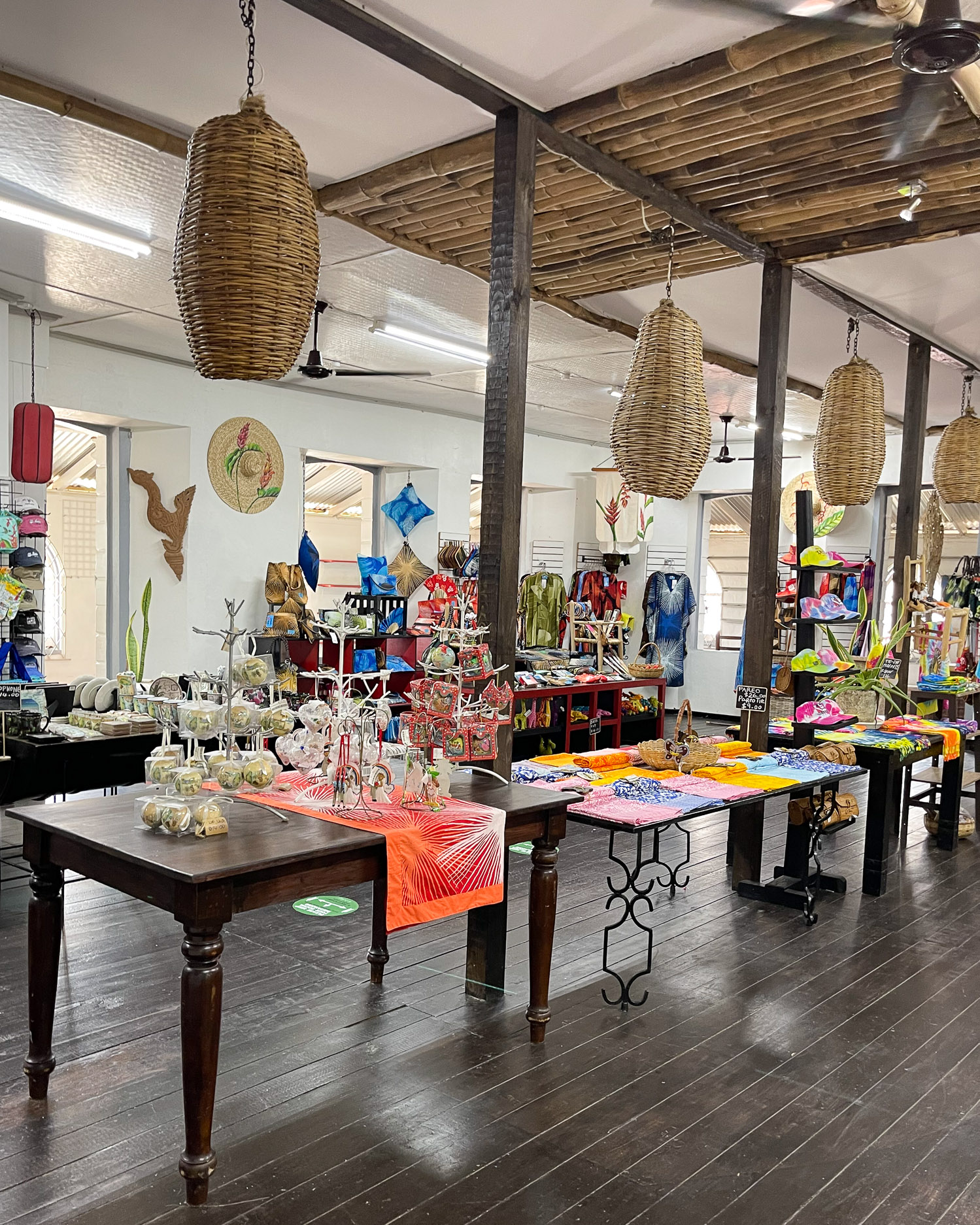 Here you'll find a wide range of Saint Lucian crafts, notably Caribelle Batik which has been established here for over two decades, creating batik clothing and accessories. Interactive craft activities on offer include batik making demonstrations and a Cocoa Carib chocolate making experience. One of the craft booths features the work of Christine Samual who creates unique hand painted bags. Howelton Estate is an easy place to shop for a wide range of crafts under one roof, and to have a refreshing drink from their bar while you enjoy the beautiful views.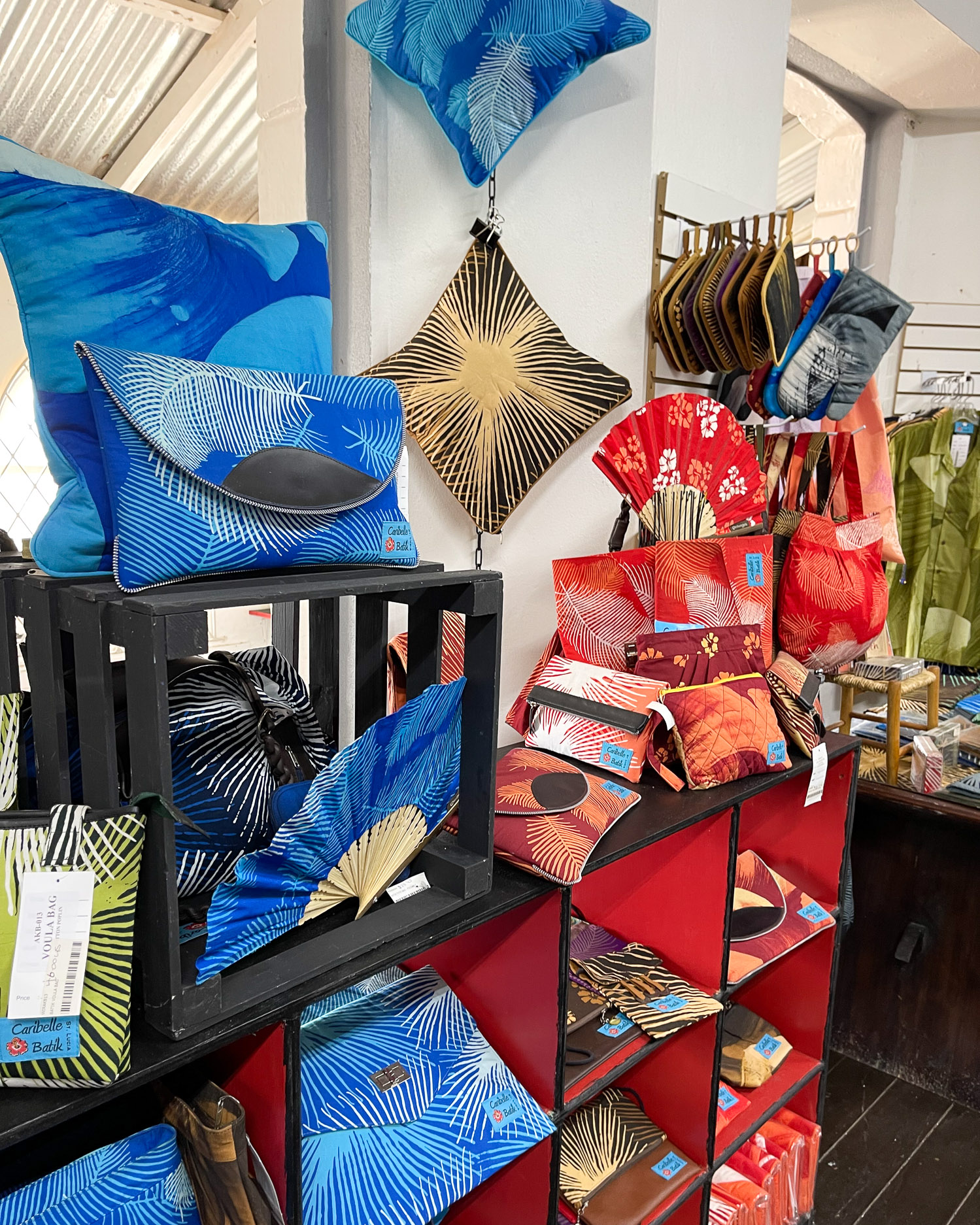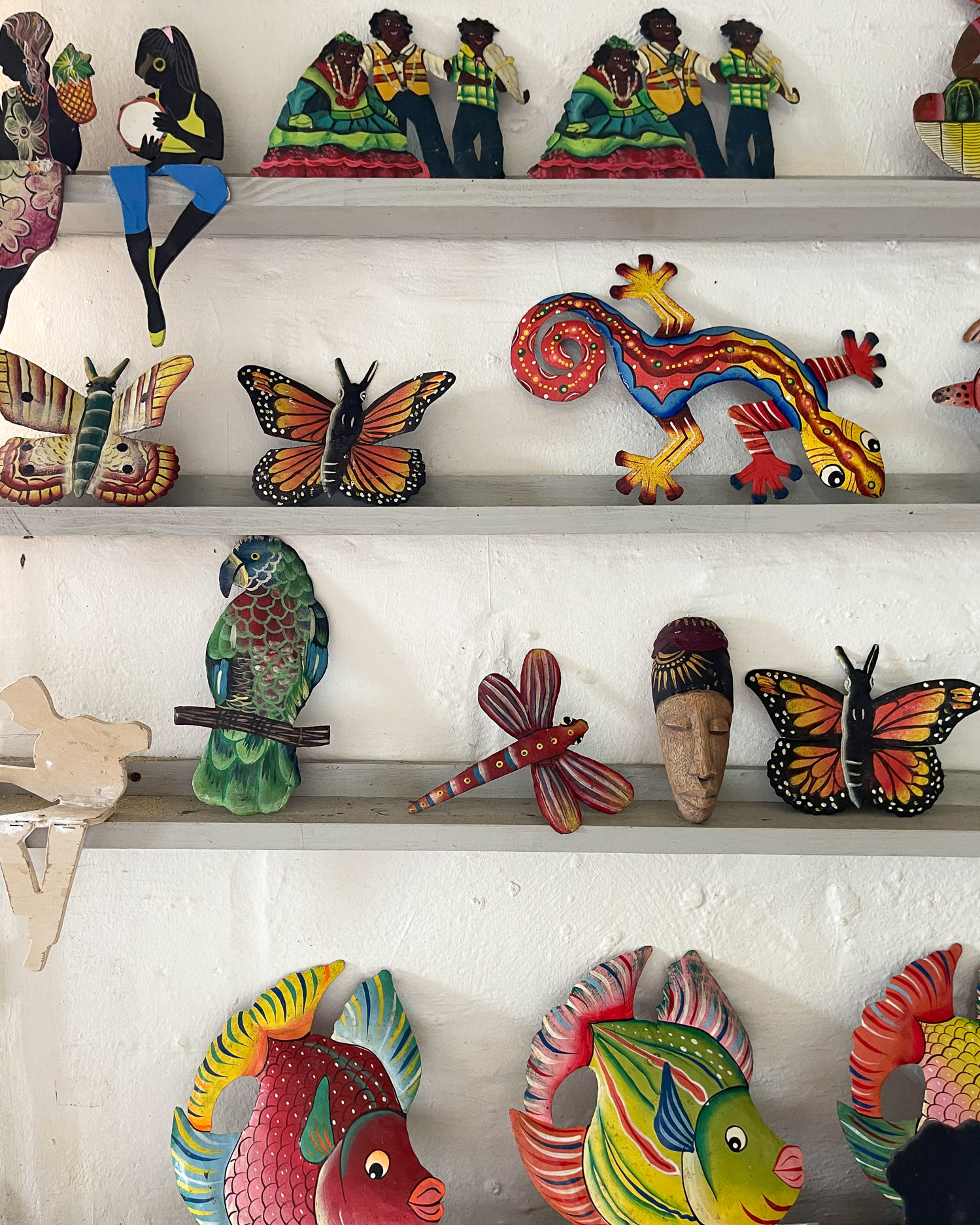 You'll enjoy staying at East Winds St Lucia – a luxury boutique hotel
Murals by Sakey around Saint Lucia – Naja Misaki Simeon
I discovered the work of local artist Naja Misaki Simeon, whose painting name is "Sakey" through his murals at Anse Chastanet where he also teaches art classes for guests. Sakey balances his job as an art teacher in a local secondary school with work as an artist and muralist around Saint Lucia. While Sakey paints a wide range of themes such as forest landscapes, colourful piton views and portraits, his current focus is as a muralist with over 50 different murals around Saint Lucia that combine to create an Outdoor Gallery.
Some of the murals are in schools and nurseries which are difficult to view, but many are public and can be seen in Castries, Soufriere and other smaller villages like Anse la Raye and Canaries. The most ambitious project so far has been the painting of the Alliance Francaise pyramid building at Port Seraphine in Castries, on which Sakey collaborated with other artists from France and the Caribbean; on instagram they are @yeswoodini, @xanoy and @missvenenoone, while you'll find Sakey @Sakeyproductions.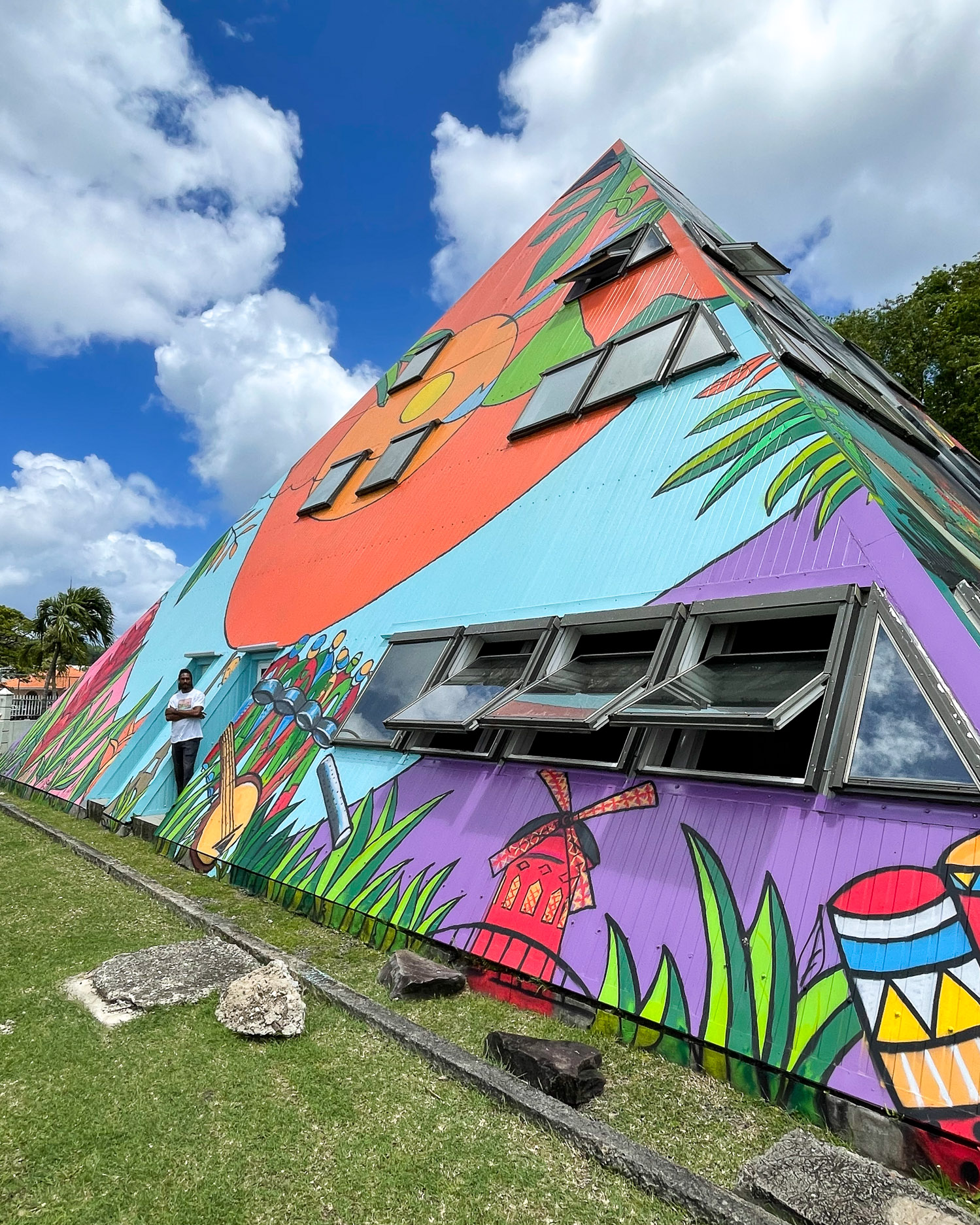 When we visited Saint Lucia, Sakey was kind enough to spend some time with us, showing me the wall he was painting in Soufriere sponsored by Anse Chastanet Resort and telling me of his plans for many more colourful projects in the area. I've no doubt there will be more murals to see in the future, but in the meantime, look out for the most easily accessible murals that we found or use this Sakey Productions map for more locations.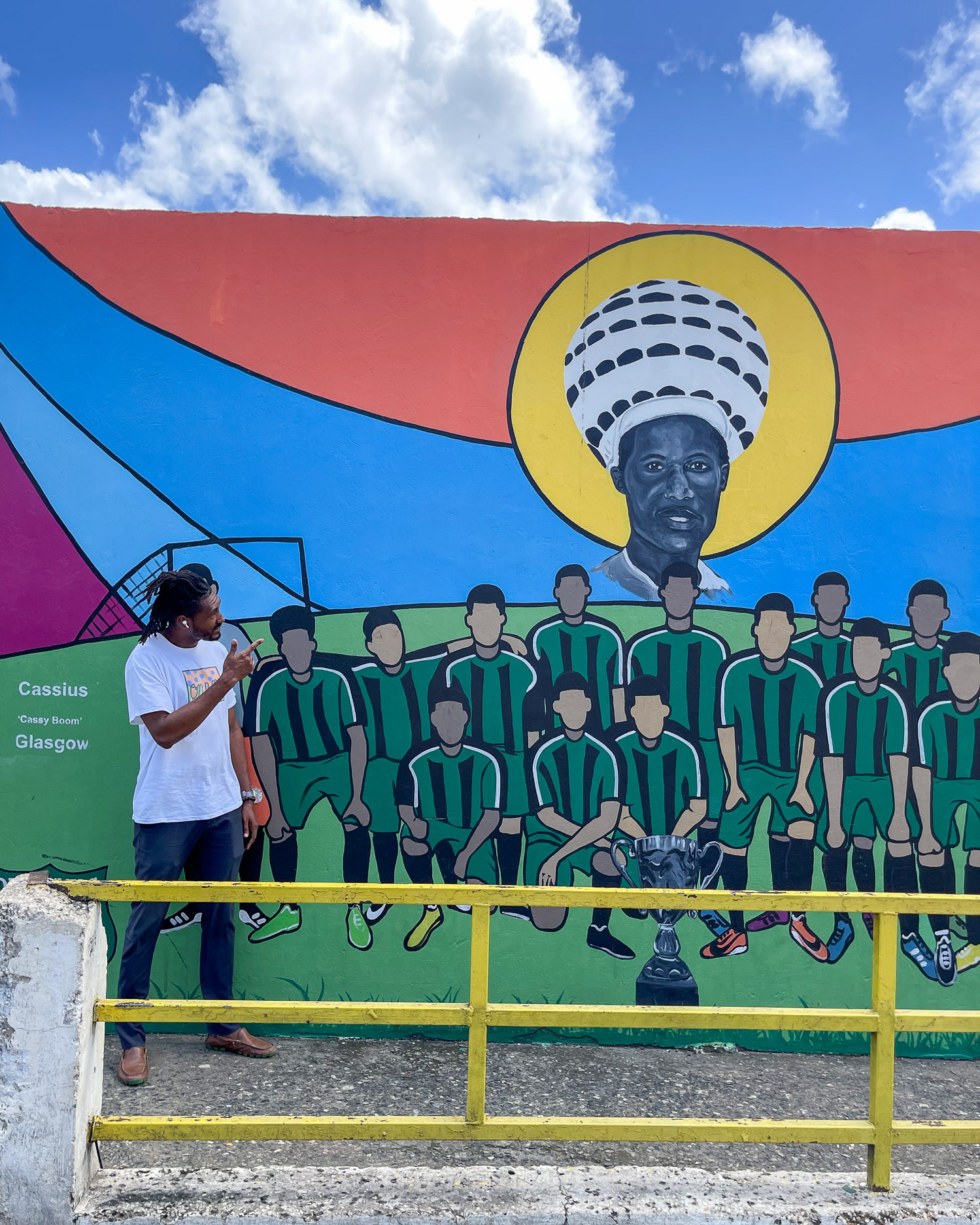 Castries locations: Castries Market public toilet block; wall of Darling Road by Castries Anglican infant school; community murals in Marchand around junction of Morne Girard St / Marchand Road and by Marchand Playing Field; Alliance Francaise pyramid in Port Seraphine; Saint Lucia letters Port Seraphine.
Soufriere locations: Wall on main road near Soufriere beach park; Anse Chastanet beach on the resort's tennis court; Project Chocolat building.
Canaries locations: Parrot wing mural on main road
Anse la Raye locations: Murals along the main road in front of the Catholic church.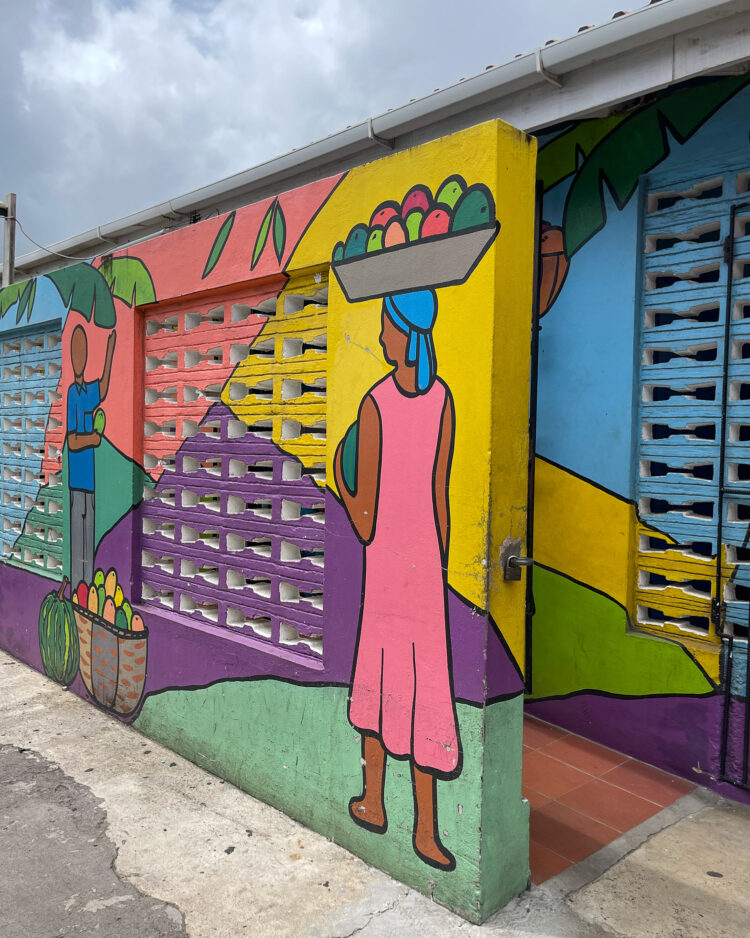 Anse Chastanet art gallery
Anse Chastanet Resort uses local and visiting artists to decorate its rooms and sells artworks in its gallery by the beach. For many years it has collaborated with visiting artists through the "Art in the Hotel" programme, inviting artists in residence to spend time at the resort and capture the magic of the island.
You don't need to stay at the resort to visit the Anse Chastanet art gallery, which is located on the lovely Anse Chastanet beach. There are many artists on display in the gallery, some of them resident in Saint Lucia, others who have visited and created art that's inspired by this beautiful Island. Read on to discover move about the individual artists later in the article.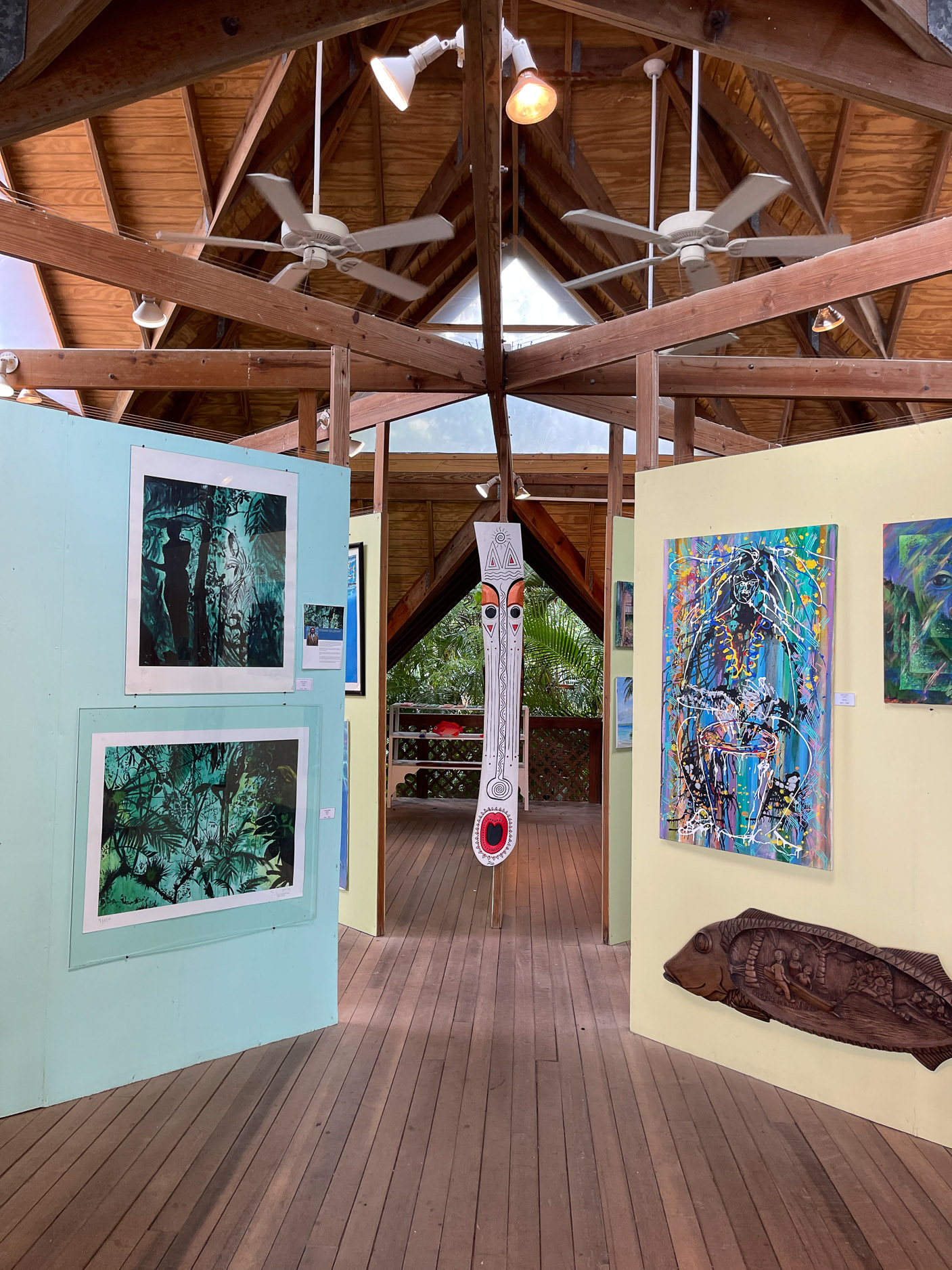 The Inner Gallery
One of the longest established art galleries in Saint Lucia is the Inner Gallery, which we passed close to Rodney Bay. The gallery has previously showed the work of artists like Jonathan Gladding, and has been an active participant in art festivals and events. We were not able to establish whether the gallery is open at the moment.
St Lucian artists – born or resident in Saint Lucia
If you'd like to discover more Saint Lucia artists and where to find their work, here's an overview of those we came across on our visit.
Dunstan St. Omer – Saint Lucian artist
Dunstan St Omer was one of the most eminent Saint Lucian artists, born in Castries Saint Lucia in 1927 and died at the age of 87 in 2015 leaving nine children, some of whom also became well known artists. He is probably best known for designing the flag of Saint Lucia, after he won a contest in 1967 when Saint Lucia marked its statehood.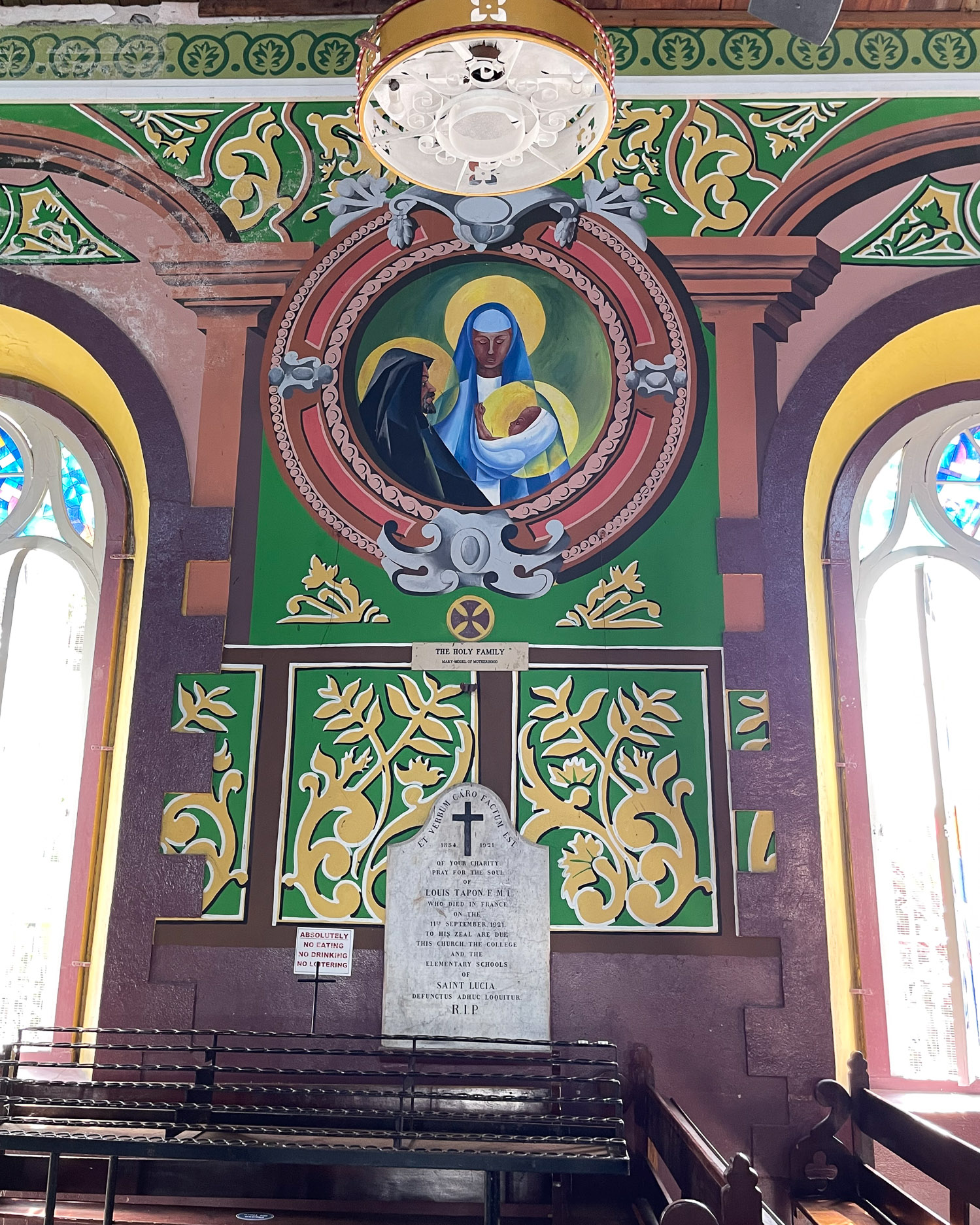 As a devoted Catholic, St Omer also created many church murals around Saint Lucia featuring Caribbean faces in the Holy Family, which was considered unusual at the time. He was awarded both the Papal Medal from the Catholic church and the Saint Lucia Cross from the government for his services. We saw one of the church murals in the beautifully decorated Cathedral of the Immaculate Conception in Castries, which Dunstan St Omer helped renovate along with some of his children. Other religious murals can be seen in The Church of the Holy Family in Jacmel and Our Lady's Chapel at La Clery, although these churches may be shut at times when there is no service.
Alwyn St. Omer – Saint Lucian artist
Born in Castries, Saint Lucia in 1958, Alwyn St. Omer was encouraged and inspired by the work of his parents, especially his late father Sir Dunstan St. Omer who was one of Saint Lucia's leading artists. As a young artist he was immersed in the island's rich tradition of folklore, myth and musical traditions which are now often seen in his painting of carnival and masquerades.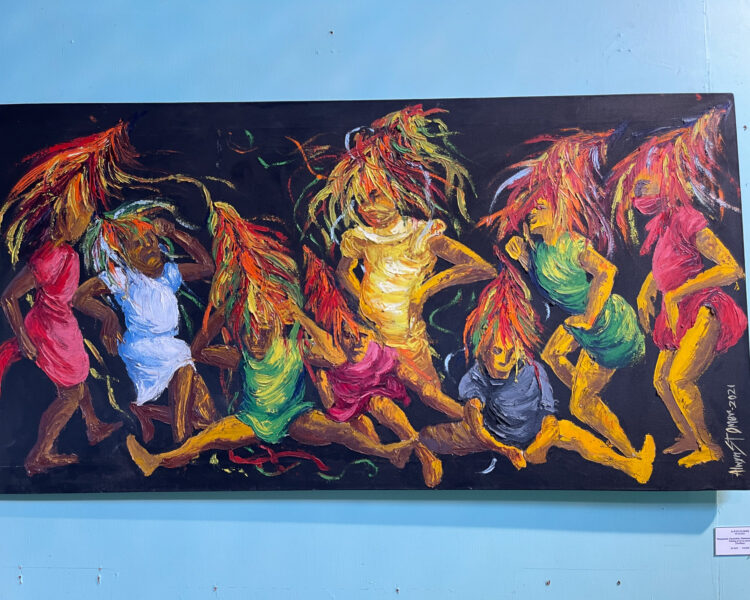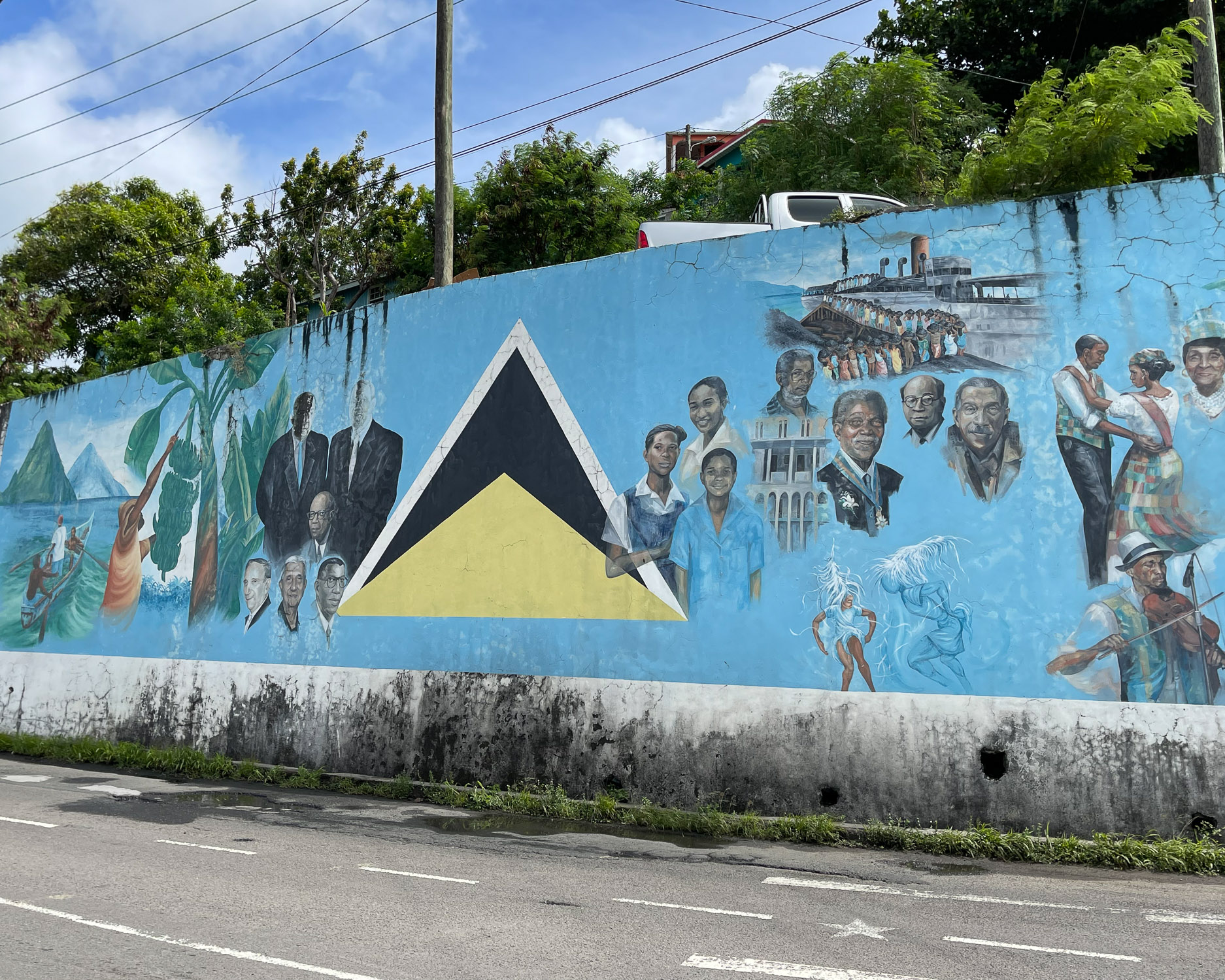 Alwyn's career spans art studies in Jamaica, video production in the UK, work in television production and carnival band leader in Saint Lucia. Artistically his talents range from traditional paintings to larger murals that can be seen in Castries, as well as children's colouring books and a graphic novel of Saint Lucian folk tales.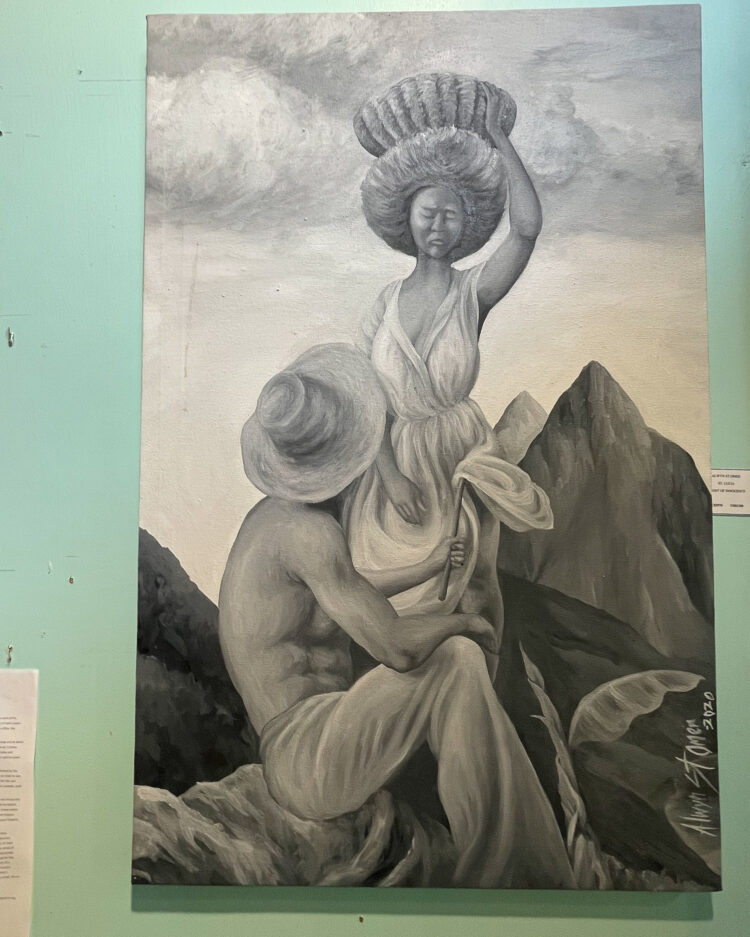 Luigi St. Omer – Saint Lucian artist
Luigi St. Omer is another of Dunstan St Omer's children to become a professional artist and we saw his paintings in galleries such as Anse Chastanet, Alliance Francaise and in Orlando's restaurant in Soufriere. For twenty years, Luigi taught art at St Mary's College in Saint Lucia, retiring at the age of 40 to concentrate on painting full time.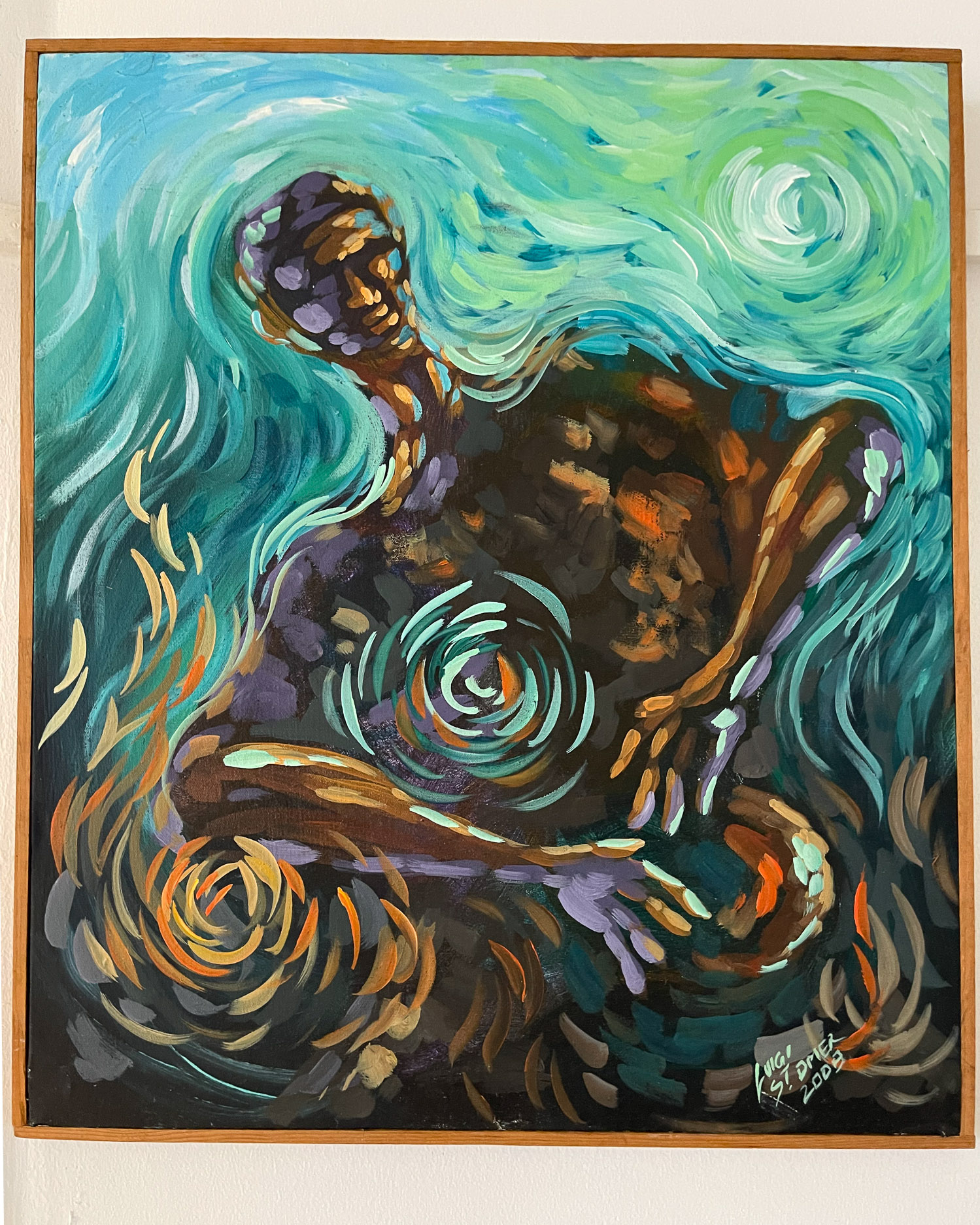 His paintings use swirling brush strokes to create a sense of energy and movement and often feature characters from Saint Lucia's carnivals or rural life. If you are passing through Anse la Raye, take a look at the long mural by the Catholic church which is covered with dancers and musicians from the island's traditional masquerades and festivals.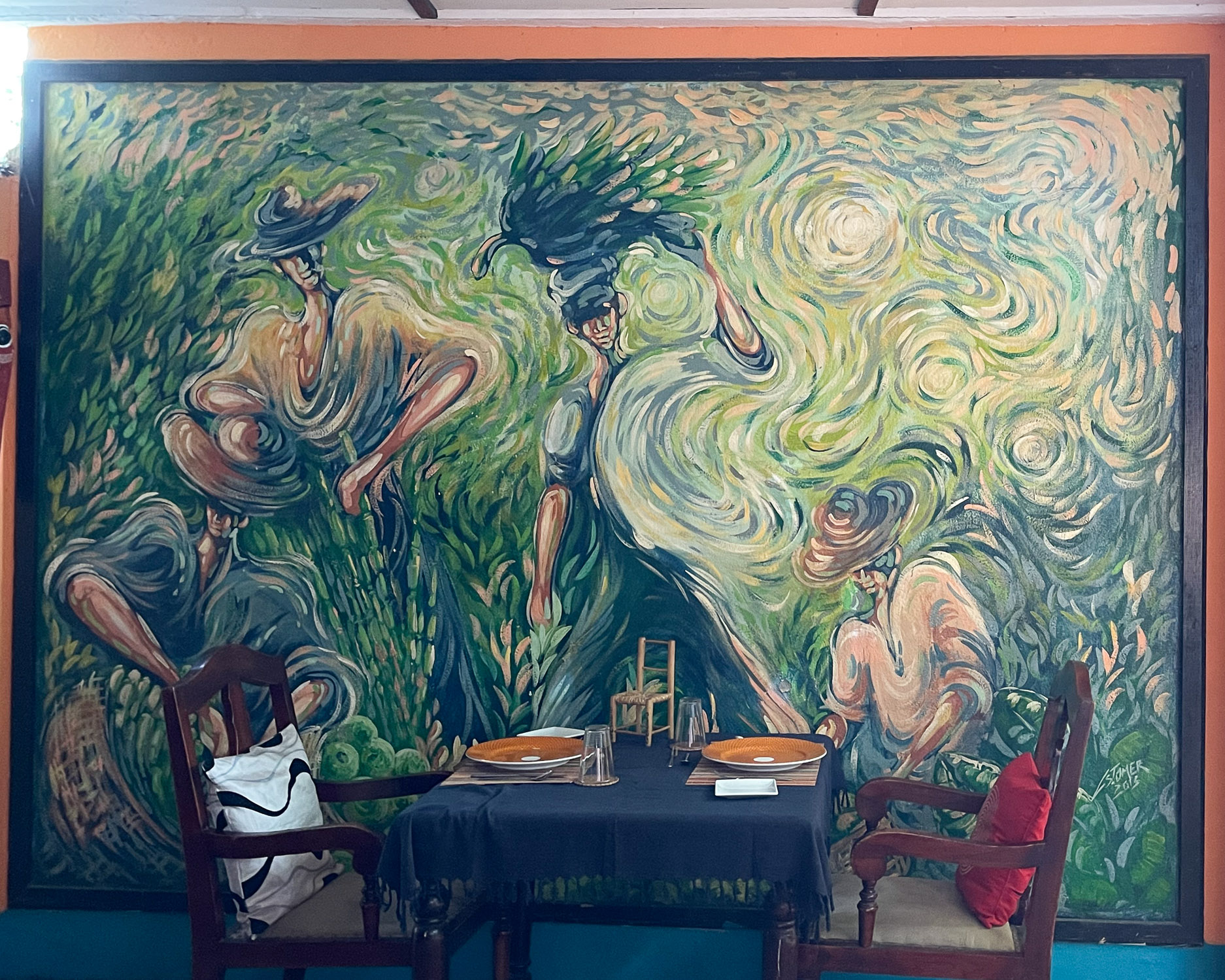 Lawrence Deligny – wood carving in Saint Lucia
Lawrence Deligny is a Saint Lucian artist whose work features heavily around Anse Chastanet resort in the restaurants and public areas. Born in 1952 in Choiseul, he is completely self taught, starting by selling Afro combs at a time when they were fashionable, before moving on to carve larger pieces such as masks and sculptures.
Deligny has collaborated for many years with Anse Chastanet and many of his master works are on display in their public spaces. These include the curving sculpture of "The Kiss", the master work "Rainforest" in the Treehouse restaurant and the totem poles and stair rails that lead into the restaurant. Other projects include a four poster bed for one of the bedrooms at Anse Chastanet. You'll find his carved masks, featuring scenes from Saint Lucian life, on sale on the Anse Chastanet Gallery.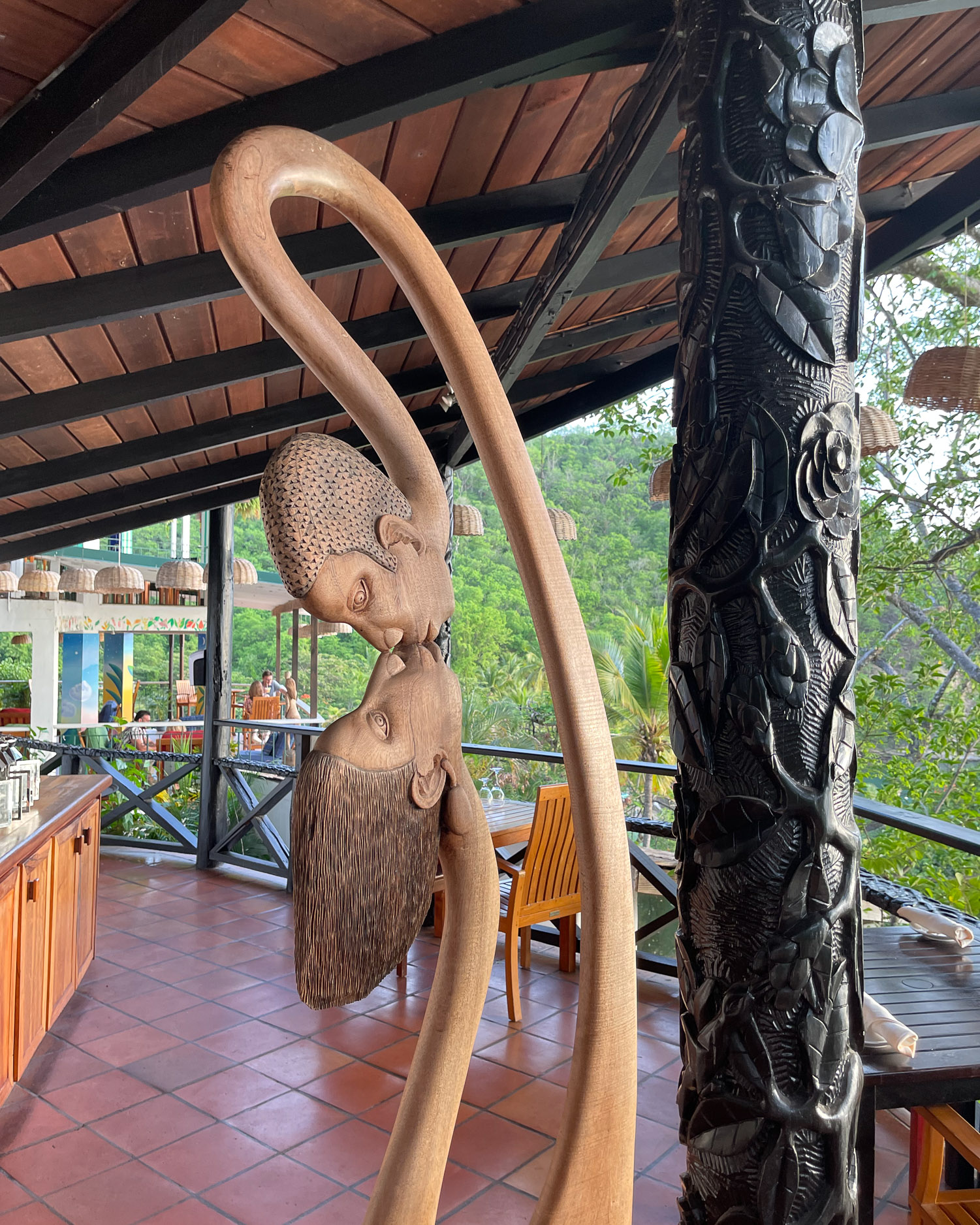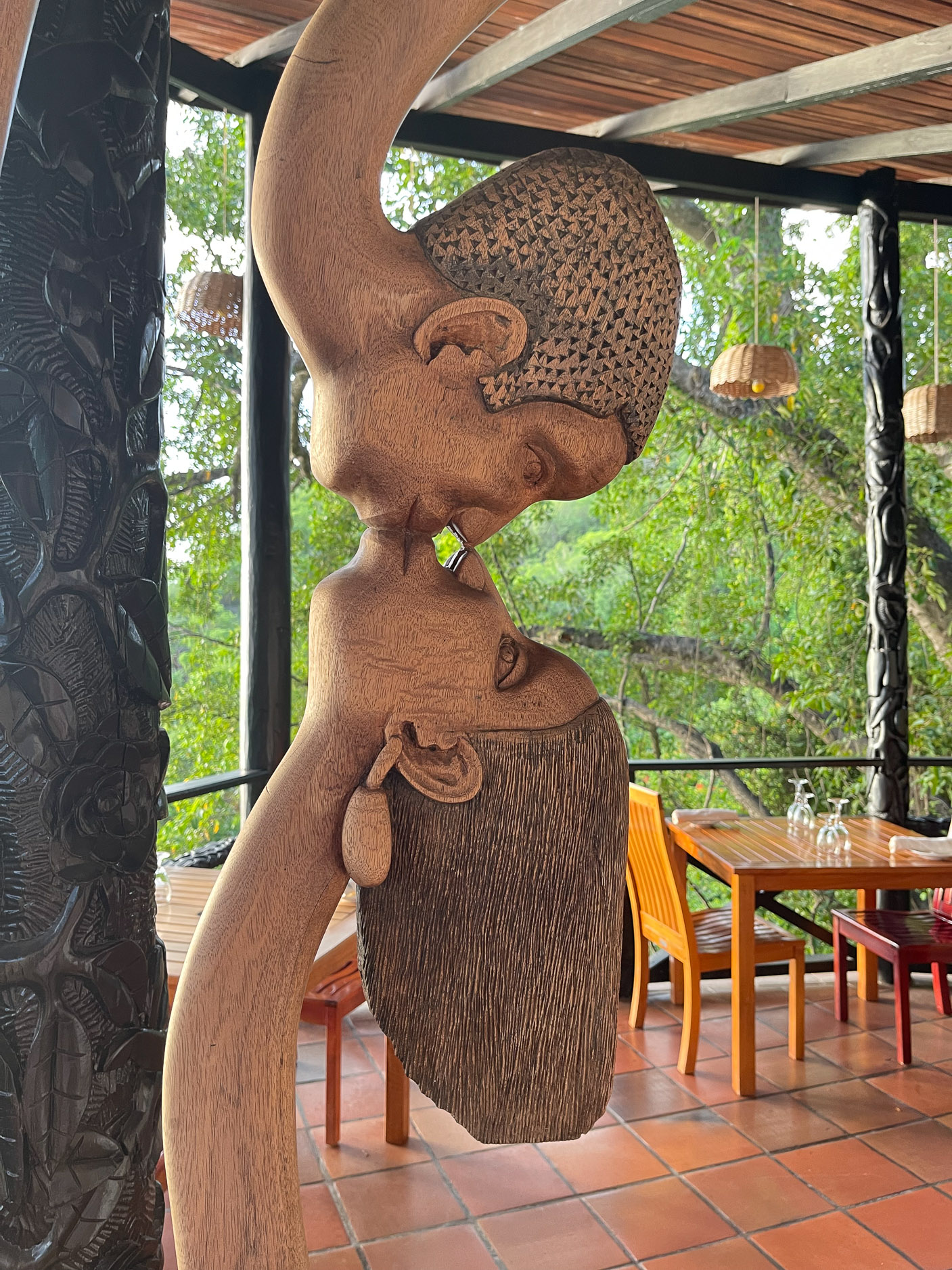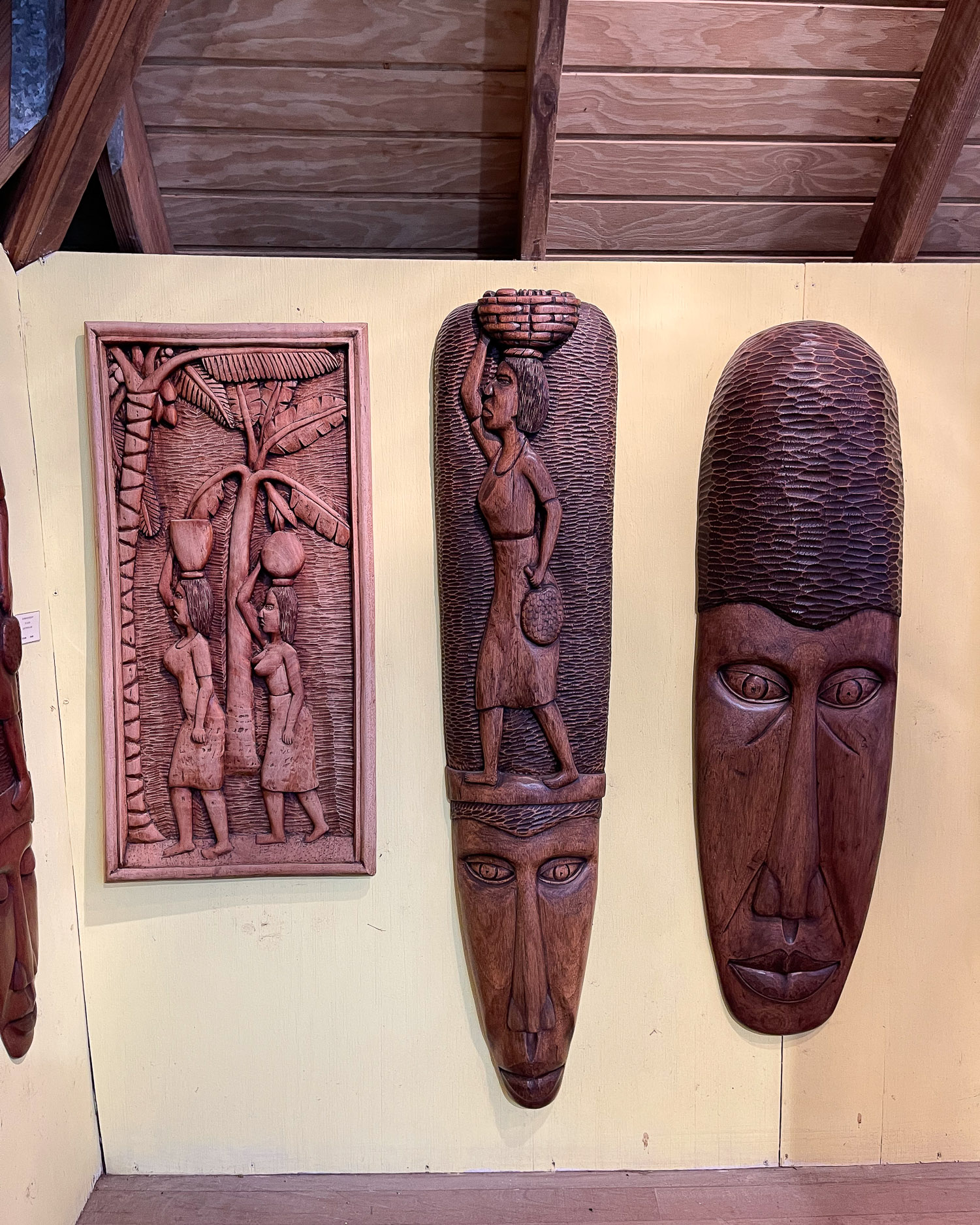 Daniel Jean-Baptiste – silk art painting in Saint Lucia
Daniel Jean-Baptiste grew up in the fishing village of Choiseul where his childhood memories of fishing off the jetty drew him closer to the sea and the natural world of Saint Lucia. The artist uses silk painting to capture the shimmering reflections of water, the sea turtles and reef fish that swim through this aquatic world, and the parrots and tree frogs of Saint Lucia's lush rain forest.
The technique of painting silk 'wet on wet' helps to recreate the shimmering of light through tropical waters. Daniel Jean-Baptiste mainly lives and works in Canada but has a house and art studio close to Choiseul where he has hosted silk painting workshops in the past. We saw signs for the workshop but did not visit it, so are not sure whether it is currently open for visits. However, Daniel's work can be found at Anse Chastanet gallery and on his website at jean-baptiste.com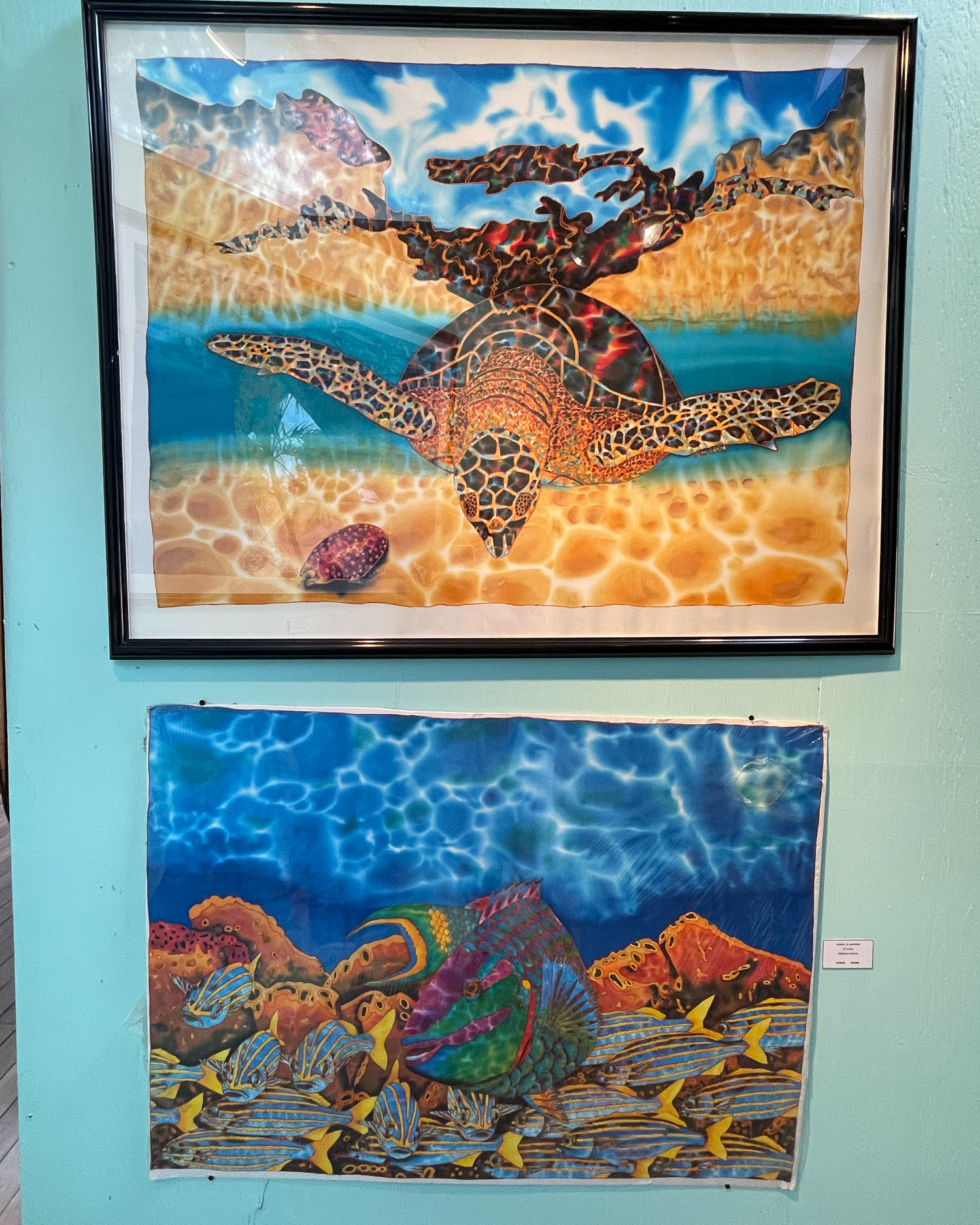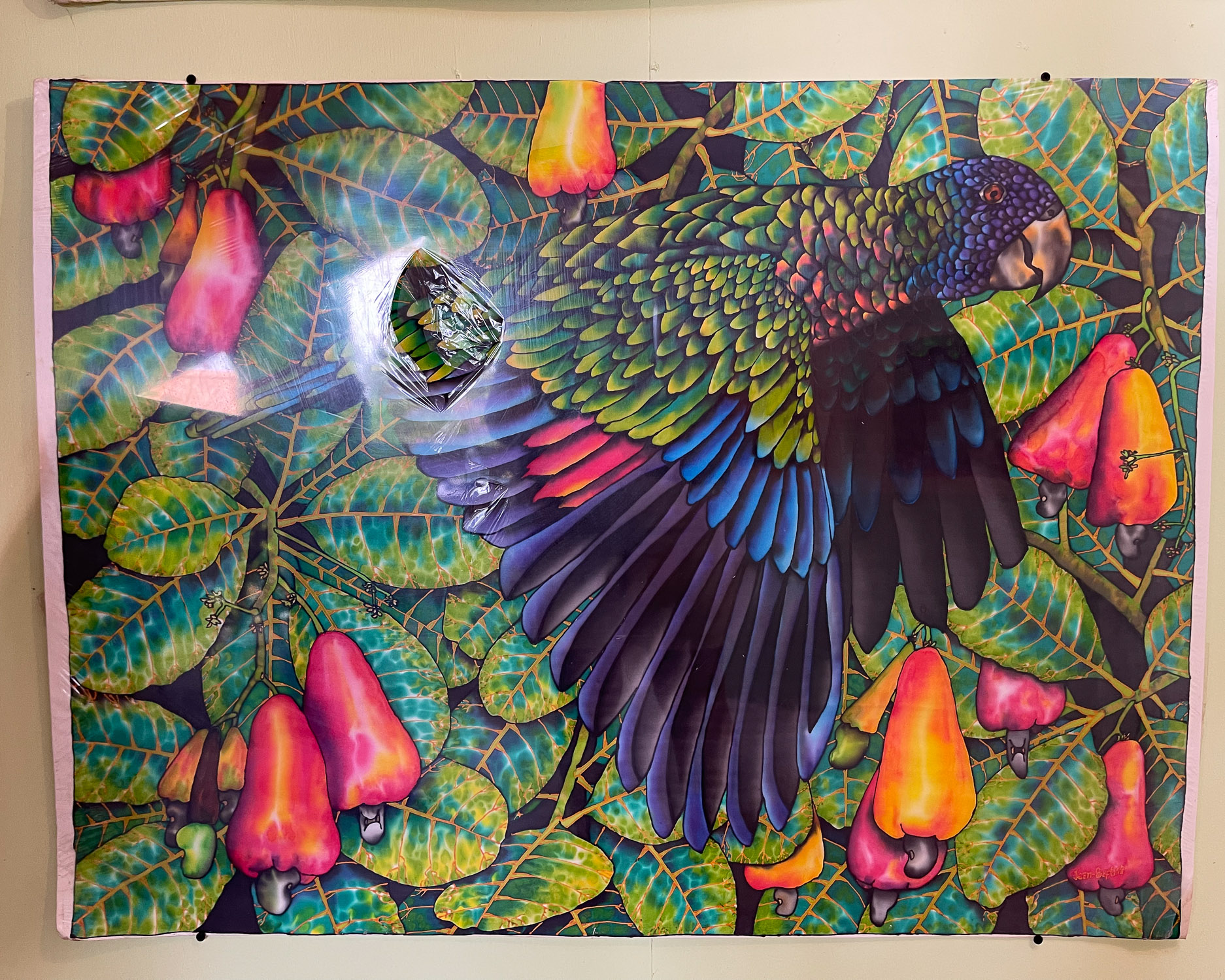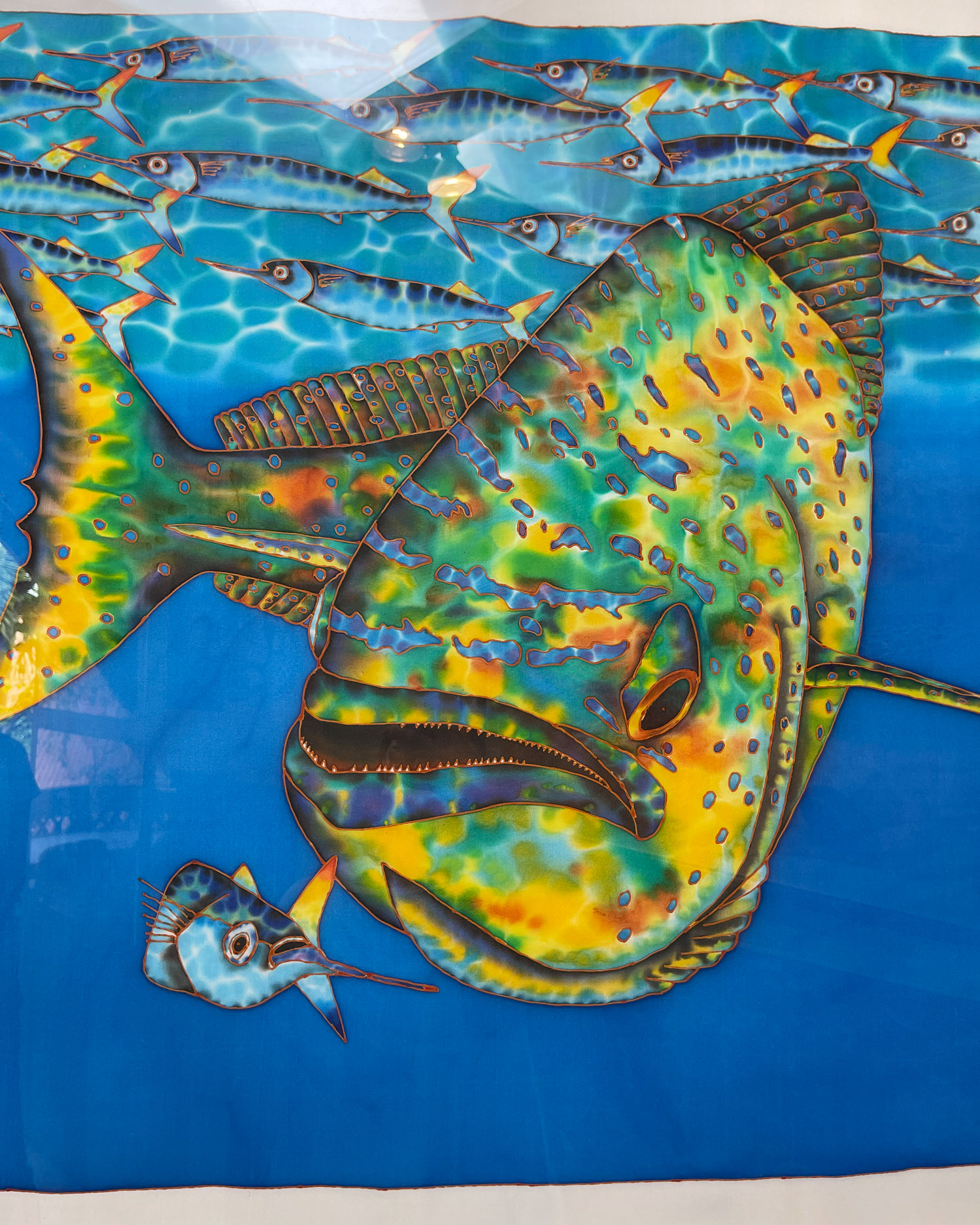 Arnold Toulon at Anse Chastanet
Arnold Toulon was born in Dominica and trained in Jamaica before moving to Saint Lucia, living near Castries. He is known for his colourful and expressive abstract images that are found in the Anse Chastanet Gallery and around the hotel. Toulon is also known for his 'scratch paintings' using phone cards to apply paint to the canvas which is then etched using an ice pick.
Matthew Paul at Anse Chastanet
Matthew Paul was a Saint Lucia artist born in Anse la Raye and living near Soufriere, who was known for colourful painted ceramics and calabash featuring the flowers and nature of Saint Lucia. He collaborated with Anse Chastanet on ceiling murals in the rooms and restaurants of the hotel as well as having his own gallery in Soufriere Edge @ Livity. Tragically Matthew Paul died in a landslide following hurricane Tomas in 2010.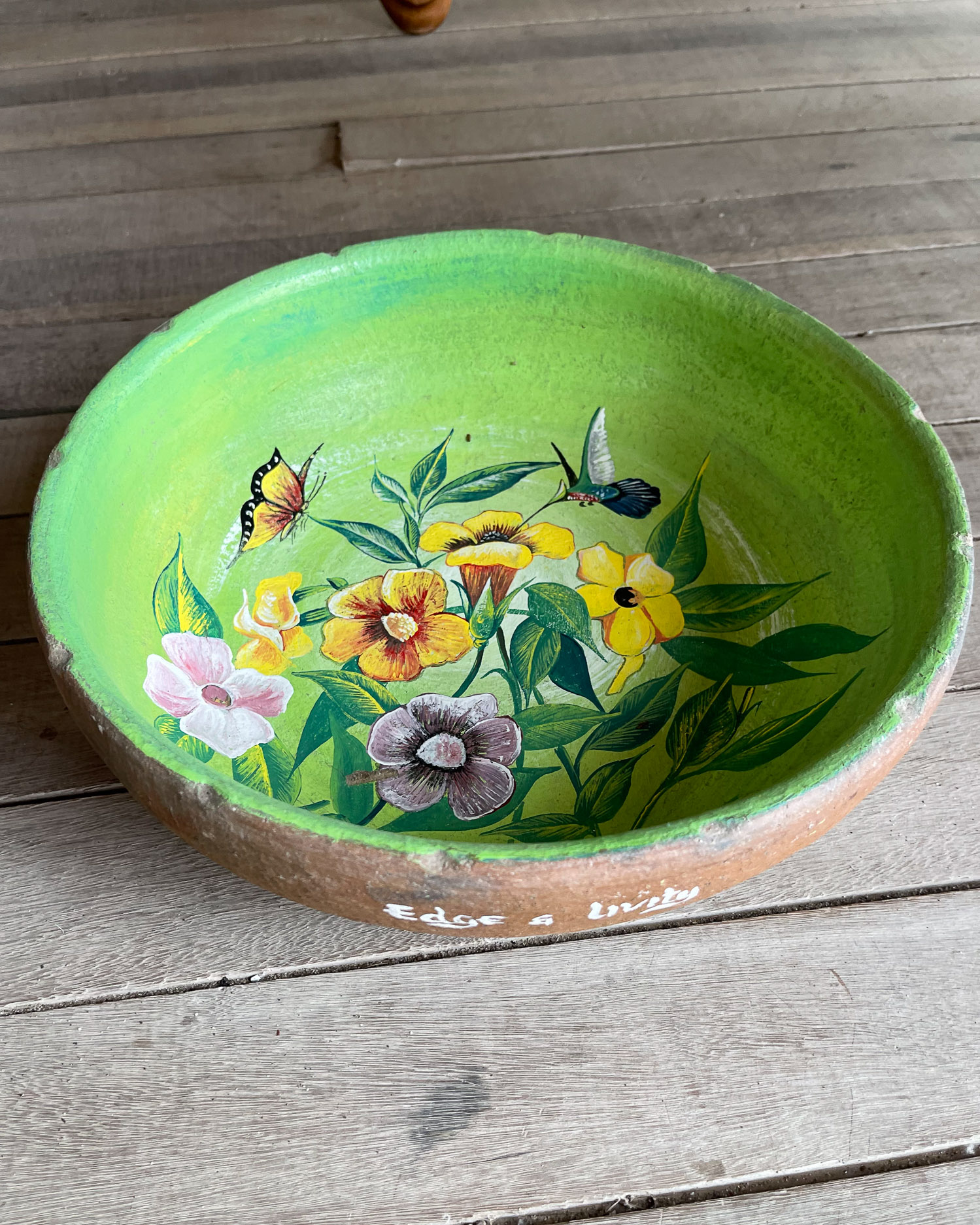 Choiseul Pottery
The area around Choiseul is known for the large number of artists and crafts people that were born or are working there, and is especially known for pottery and other traditional crafts. The clay "coal pots" were originally made for cooking, using a charcoal burner with a pot resting above, to slow cook meat and stews.
The raw clay pots are now available in more interesting shapes and we saw painted pots shaped like birds and faces at Anse Chastanet that had been commissioned from the Choiseul potteries. It's worth looking out for them, especially if you travel around the south of the island.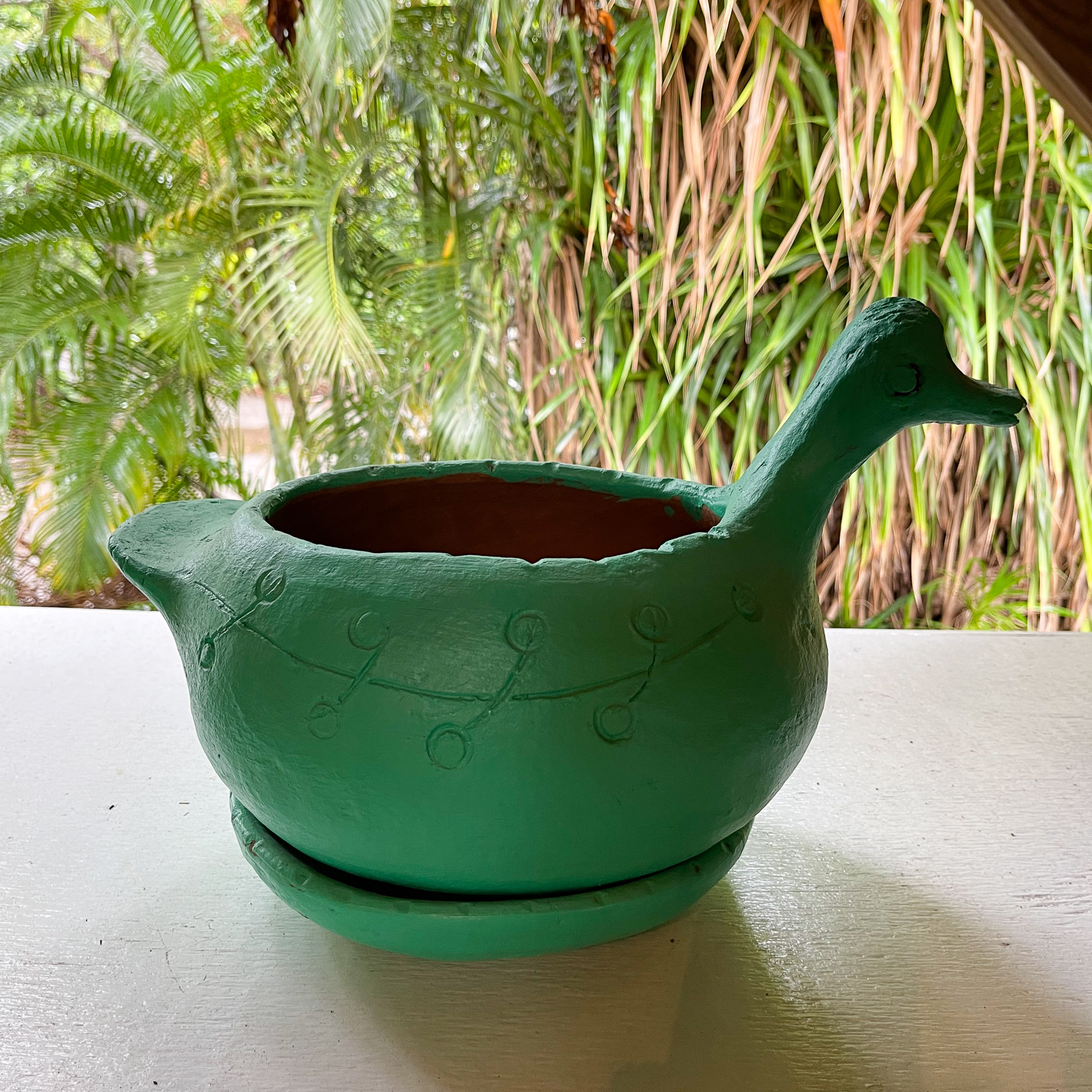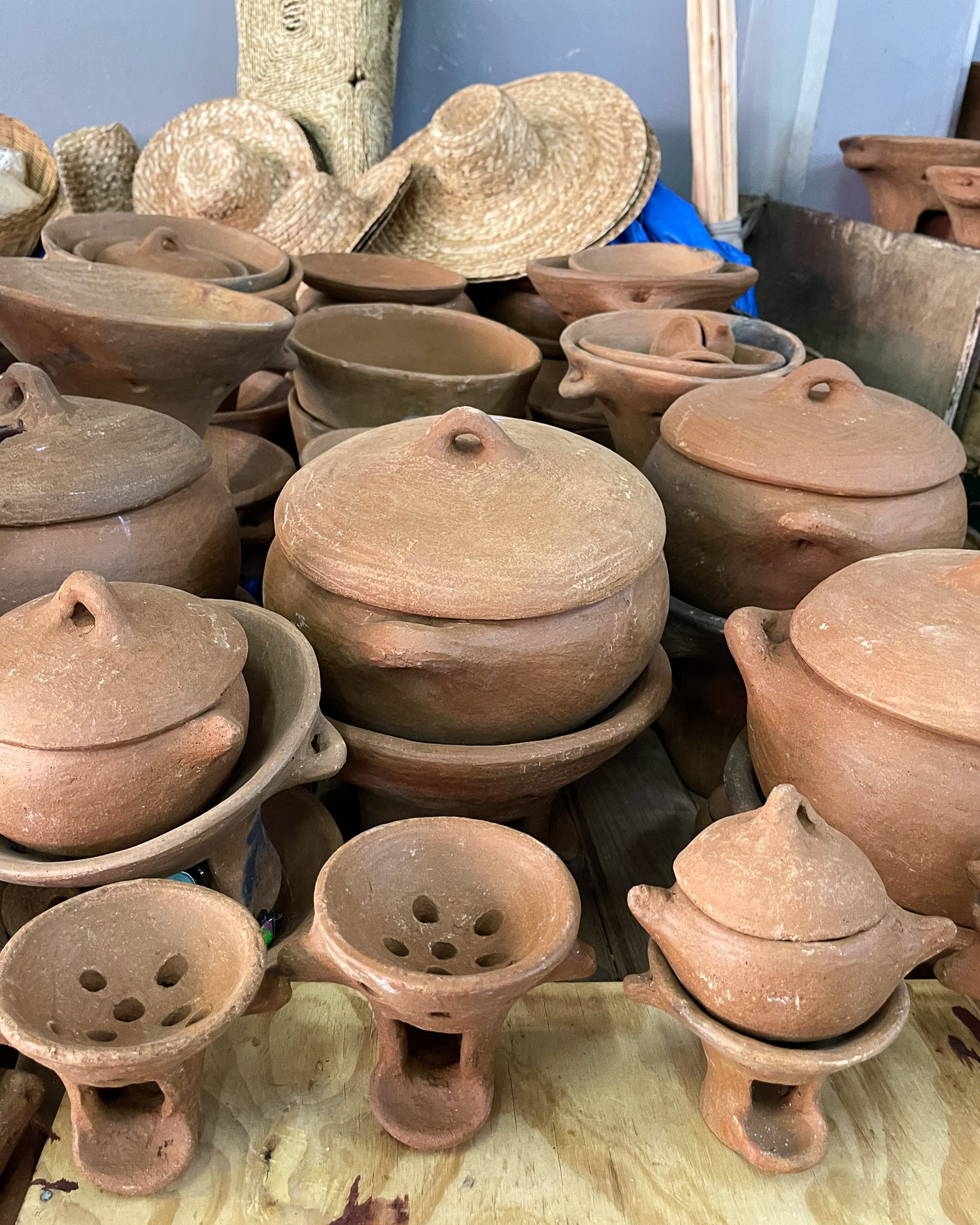 Llewellyn Xavier – artist in Saint Lucia
Llewellyn Xavier OBE is one of Saint Lucia's most internationally renowned artists, known for his richly textured fine art paintings. Llewellyn attended the Boston School of Fine Art before returning to Saint Lucia and works from his studio at Cap Estate, which is open by appointment. His abstract paintings have been exhibited in major galleries in North America and shown in many museum permanent collections, selling for thousands of dollars at auction.
Visiting artists to saint Lucia
In addition to the Saint Lucian artists resident on the island, there are many more who have visited regularly and create paintings inspired by the island. These include many who have collaborated with Anse Chastanet at the invitation of co-owner Karolin Troubetzkoy, who oversees the artistic projects within the resort.
Jonathan Gladding -American artist in Saint Lucia
My parents visited Anse Chastanet for a number of years and would often buy postcards and prints by Jonathan Gladding. One of them was a picture of local boys on a beach gazing out to sea, which I liked so much that I ordered a print of it for my home. Jonathan Gladding is an American artist who originally arrived on the island as a Peace Corp Volunteer and found inspiration in the culture and community of Labourie in the south of the island. He now spends extended time in Saint Lucia as well as his native USA.
Jonathan Gladding's work features charming scenes of daily life, especially school children having fun, captured in a colourful, realistic style. His work features affordable prints as well as larger paintings and I've seen them in the craft gallery at Labourie and at the airport as well as at Anse Chastanet, where you'll probably find the widest selection. You can see giant sized prints by Jonathan Gladding, hanging from the roof of the beach restaurant at Anse Chastanet.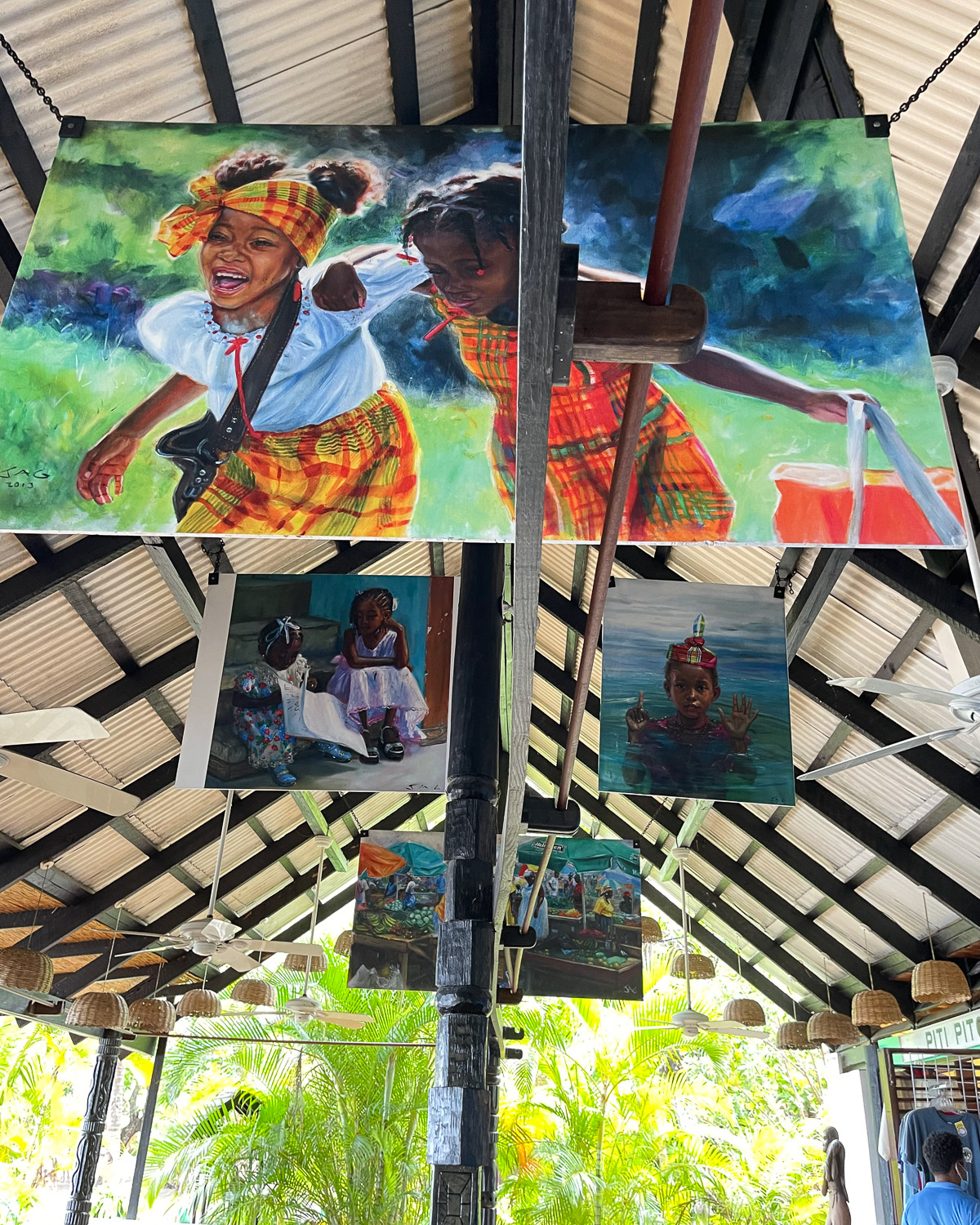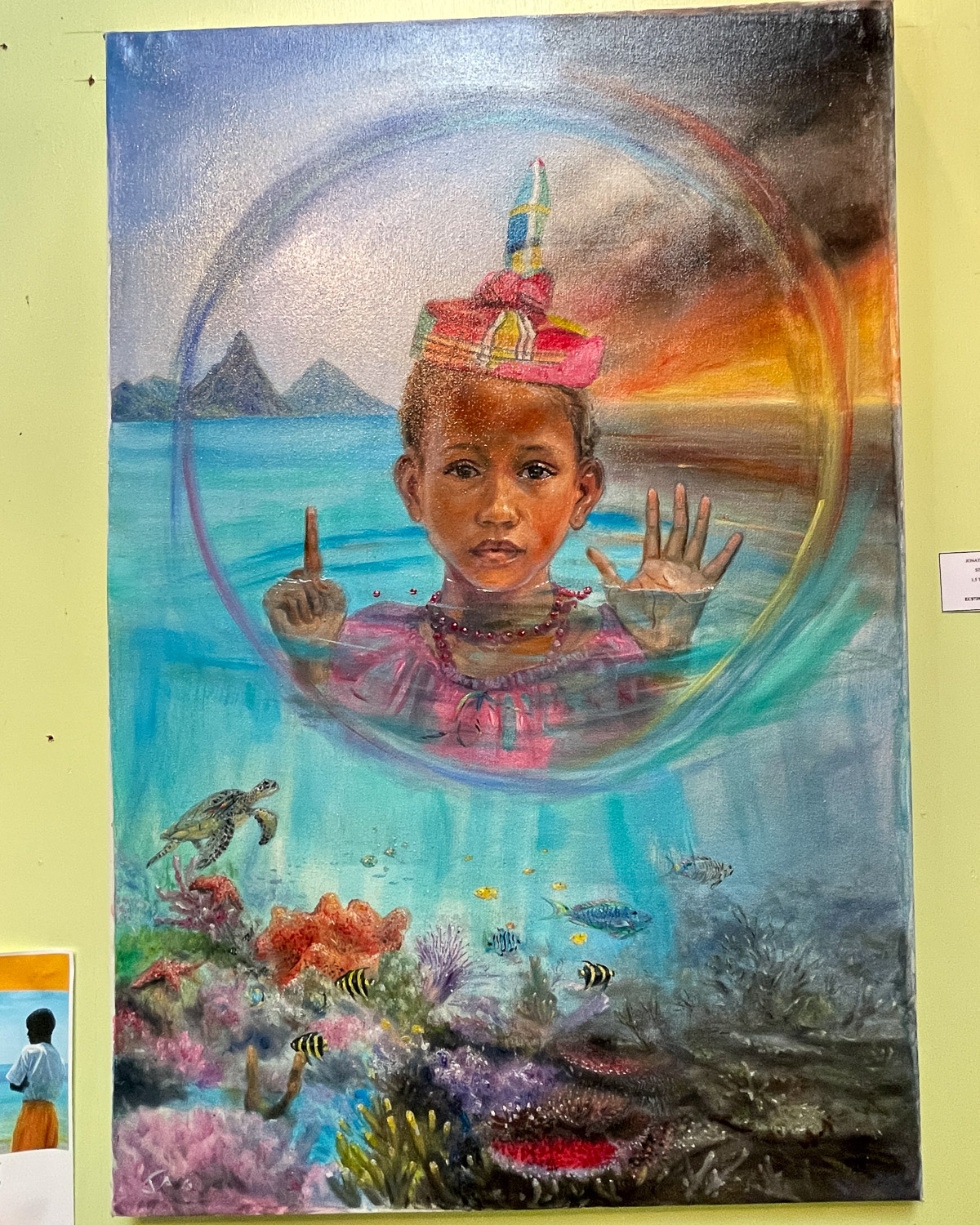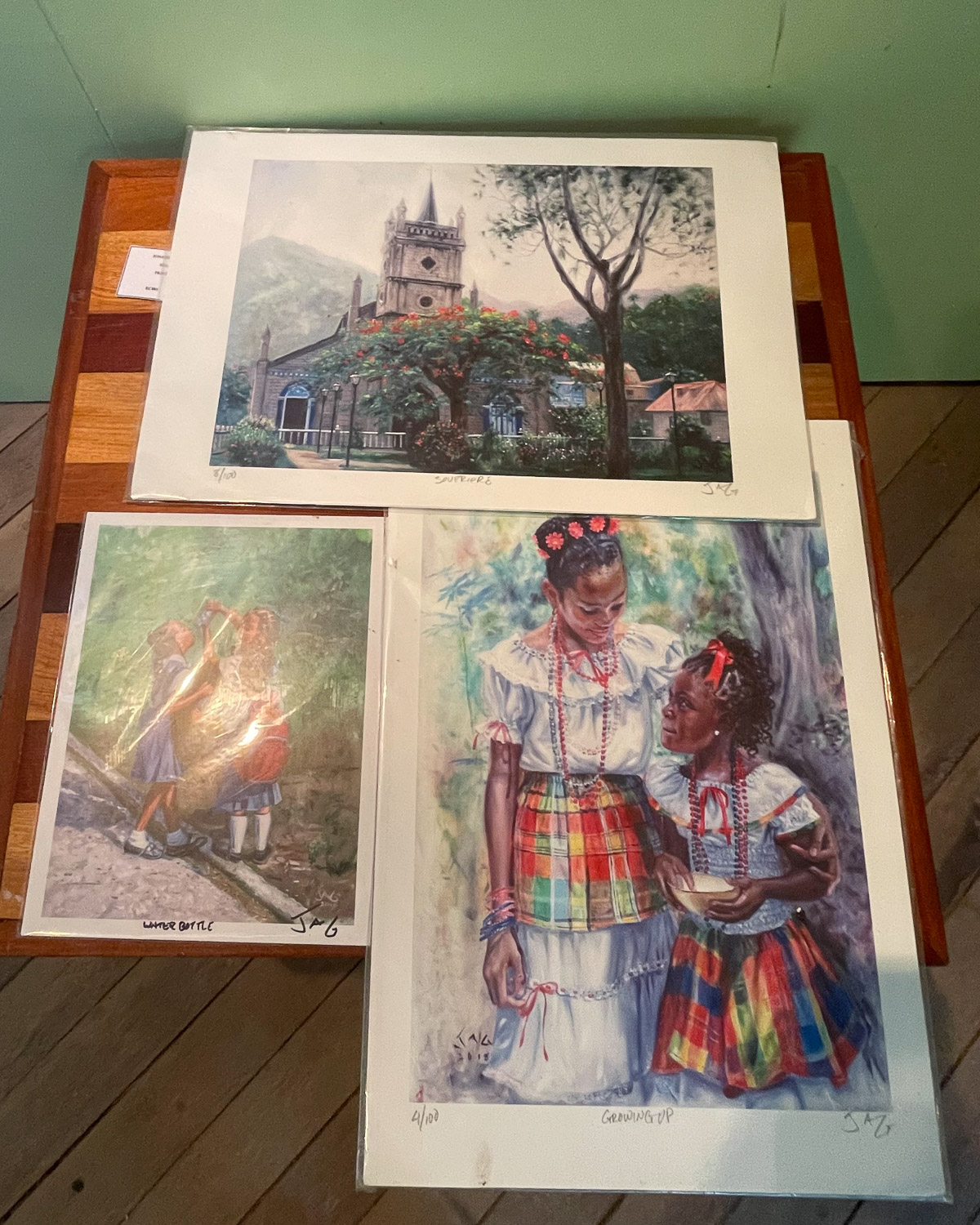 Stefan Szczesny at Anse Chastanet
Stefan Szczesny is a German artist now based in Saint Tropez who has worked on many collaborations with Anse Chastanet. His abstract painting style captures the essence of Saint Lucia, with palm trees, beach scenes and motifs of local fruit and dishes. Atmospheric forest paintings inspired by the Anse Mamin plantation hang in the upper treehouse restaurant and tile murals can be seen in the lower Treehouse restaurant and reception, with prints on sale in the gallery.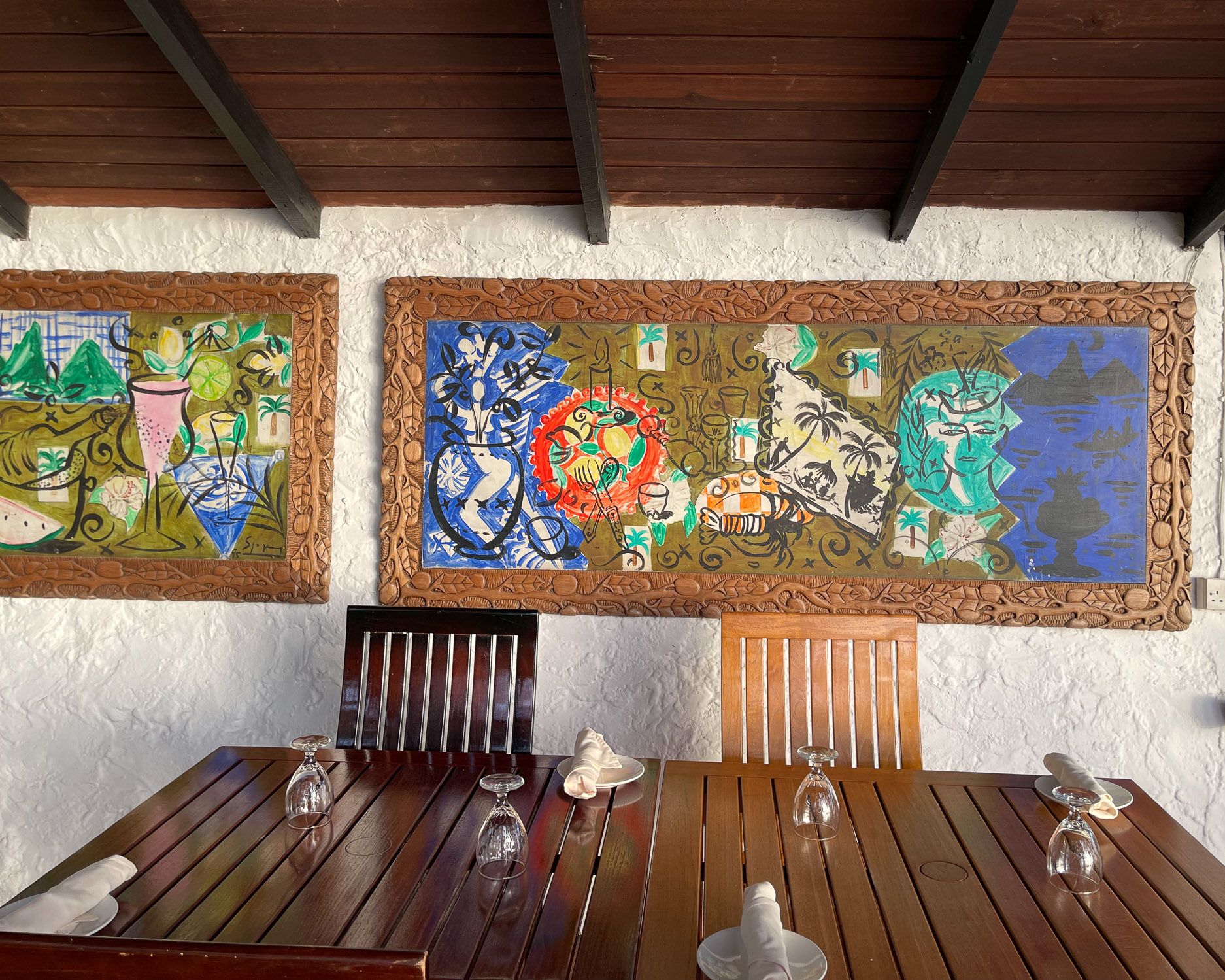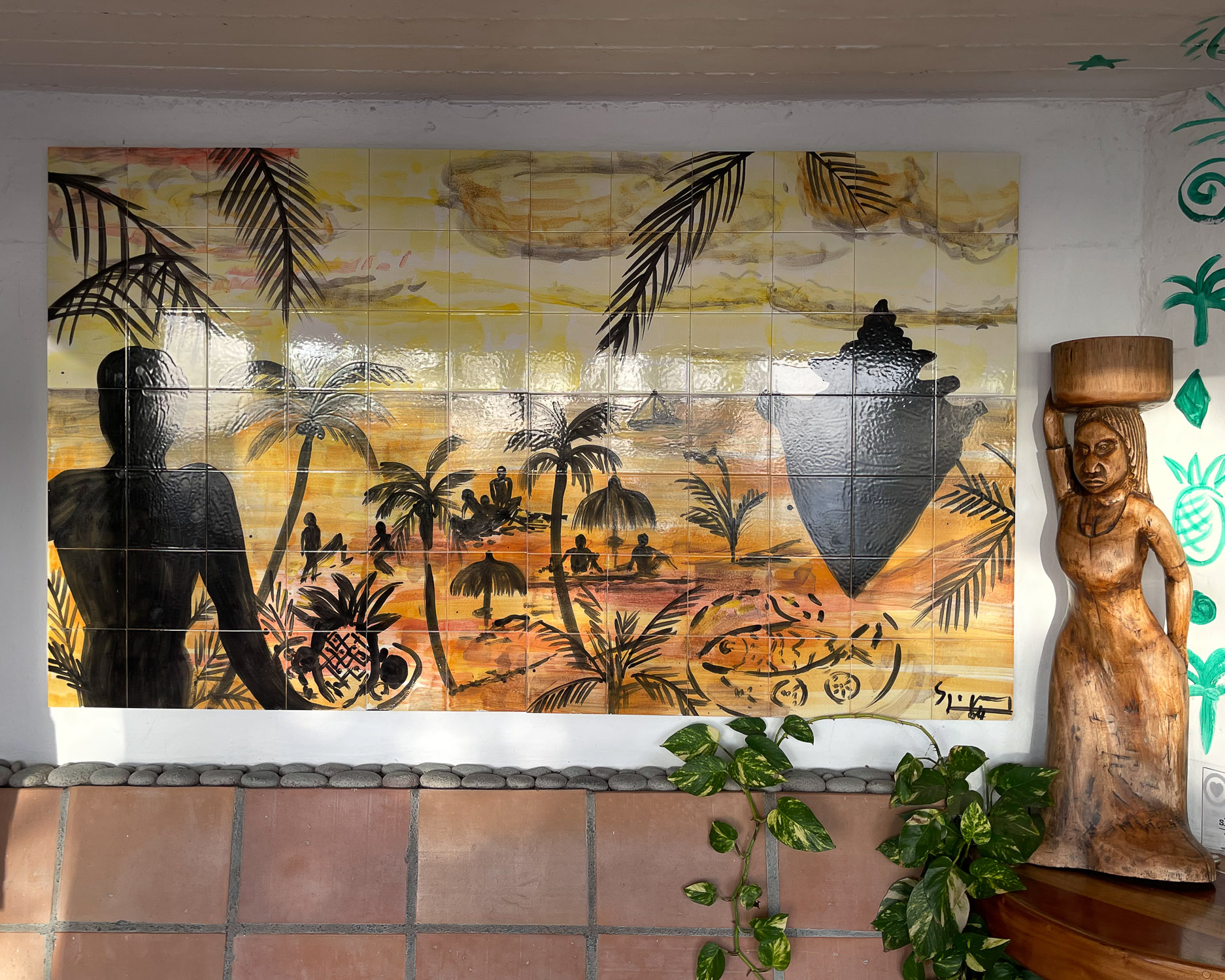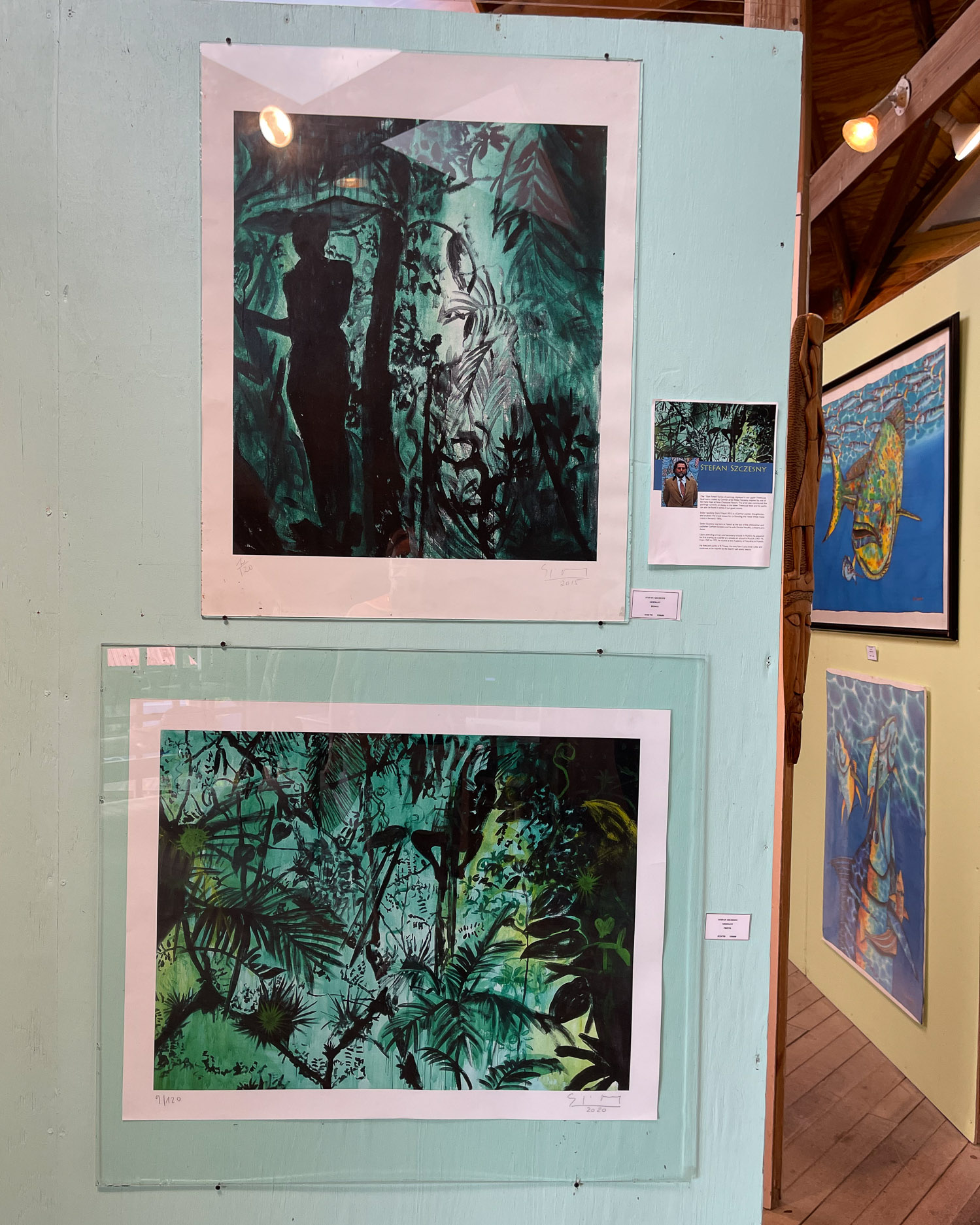 Claude Sandoz at Anse Chastanet
Claude Sandoz is a Swiss painter who has frequently visited Anse Chastanet as an artist in residence. I loved his colourful ceiling mural in the Anse Chastanet Emerald Vegan restaurant and abstract paintings used in some of the rooms. Regular stays at Anse Chastanet culminated in an exhibition in 2018 at Kunstmuseum in Lucerne named Ab auf die insel! (Off to the island!) with a theme of longing to get away from it all, drawing on the flora, fauna and exotic spirit of Saint Lucia.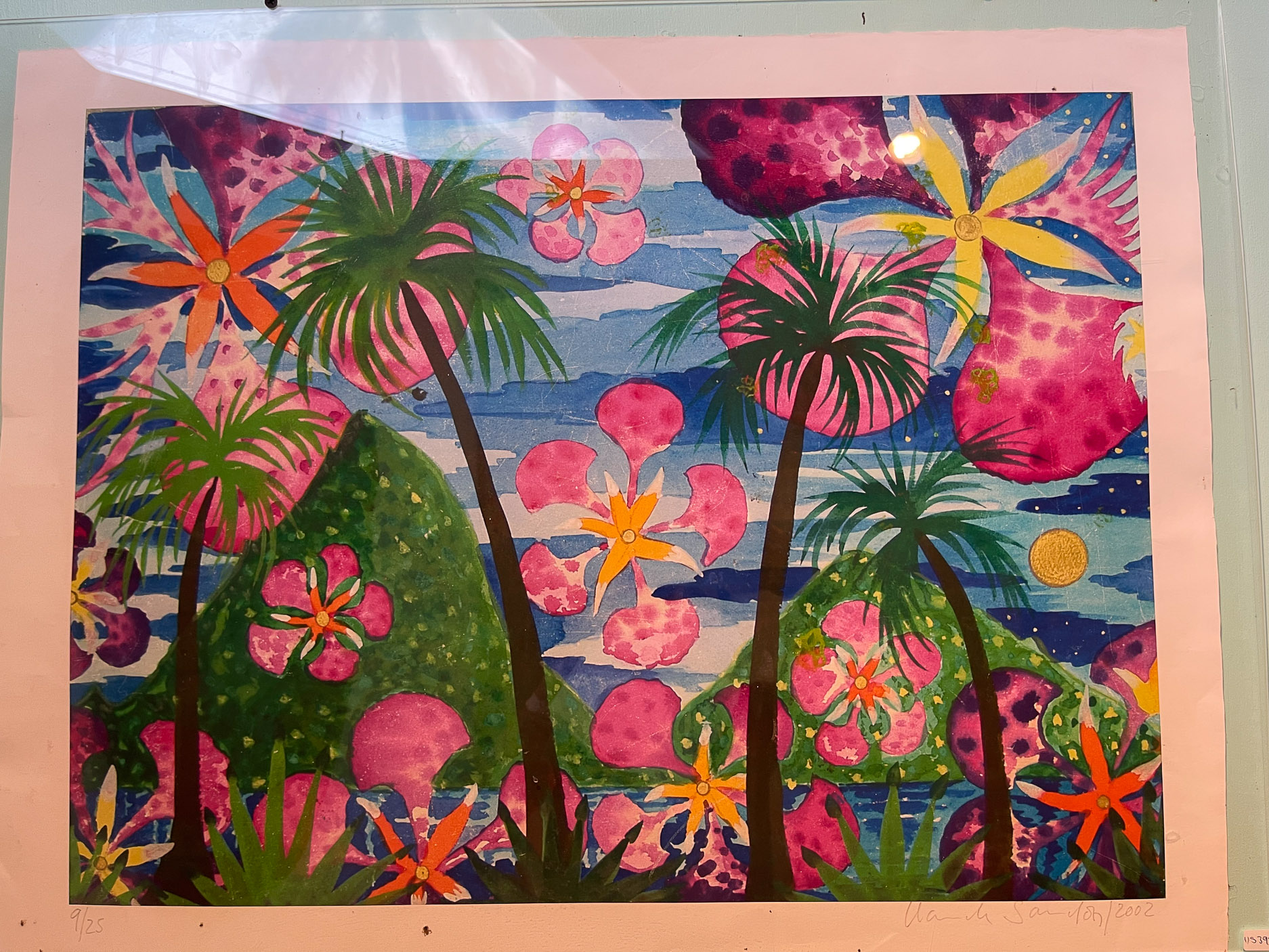 Stefan Schlitter at Anse Chastanet
Berlin based artist Stefan Schlitter has visited Anse Chastanet a number of times as artist in residence and continues to collaborate with the hotel in various projects. His colourful paintings are on show in the art gallery, featuring the pitons and other landscapes of Saint Lucia. He has recently collaborated with the hotel in one of the bedrooms which was painted with tropical turquoise roof paintings and four poster bed.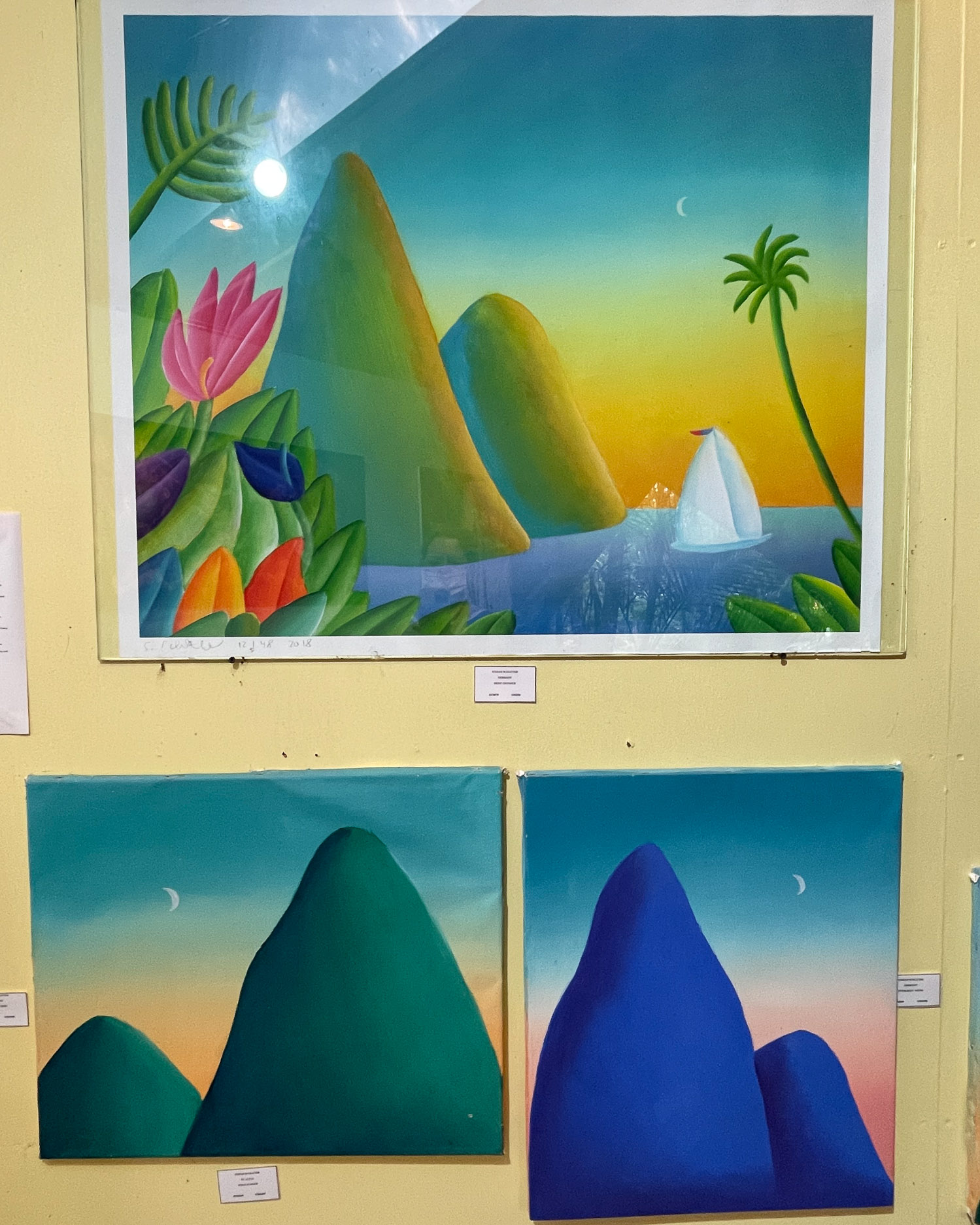 Elvira Bach at Anse Chastanet
Evira Bach is a leading German artist whose paintings focus on colourful portraits of women and themes of femininity. I didn't see her paintings in the gallery but noticed them hanging in one of the Royal Palm premium suites at Anse Chastanet (7F in case you'd like to book!)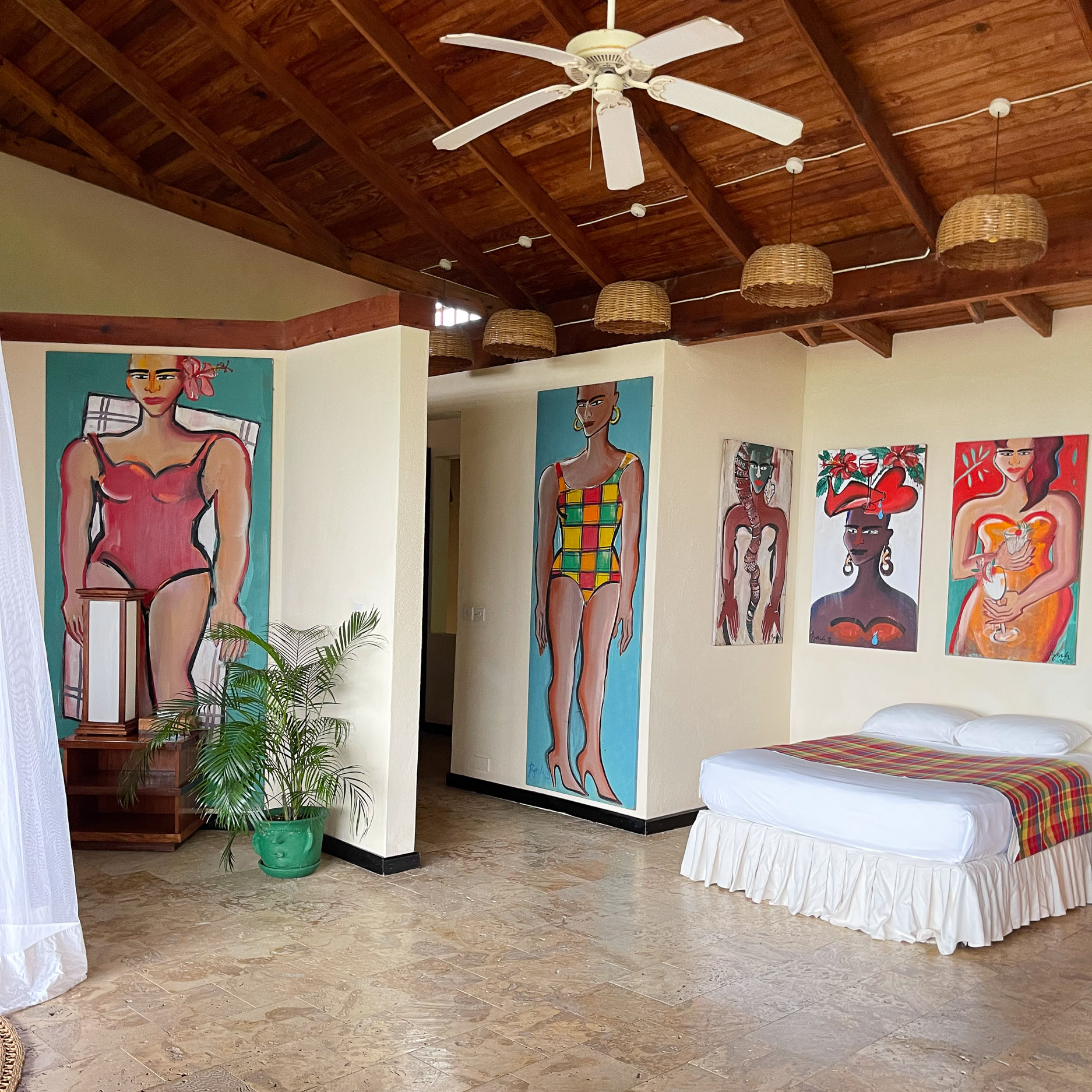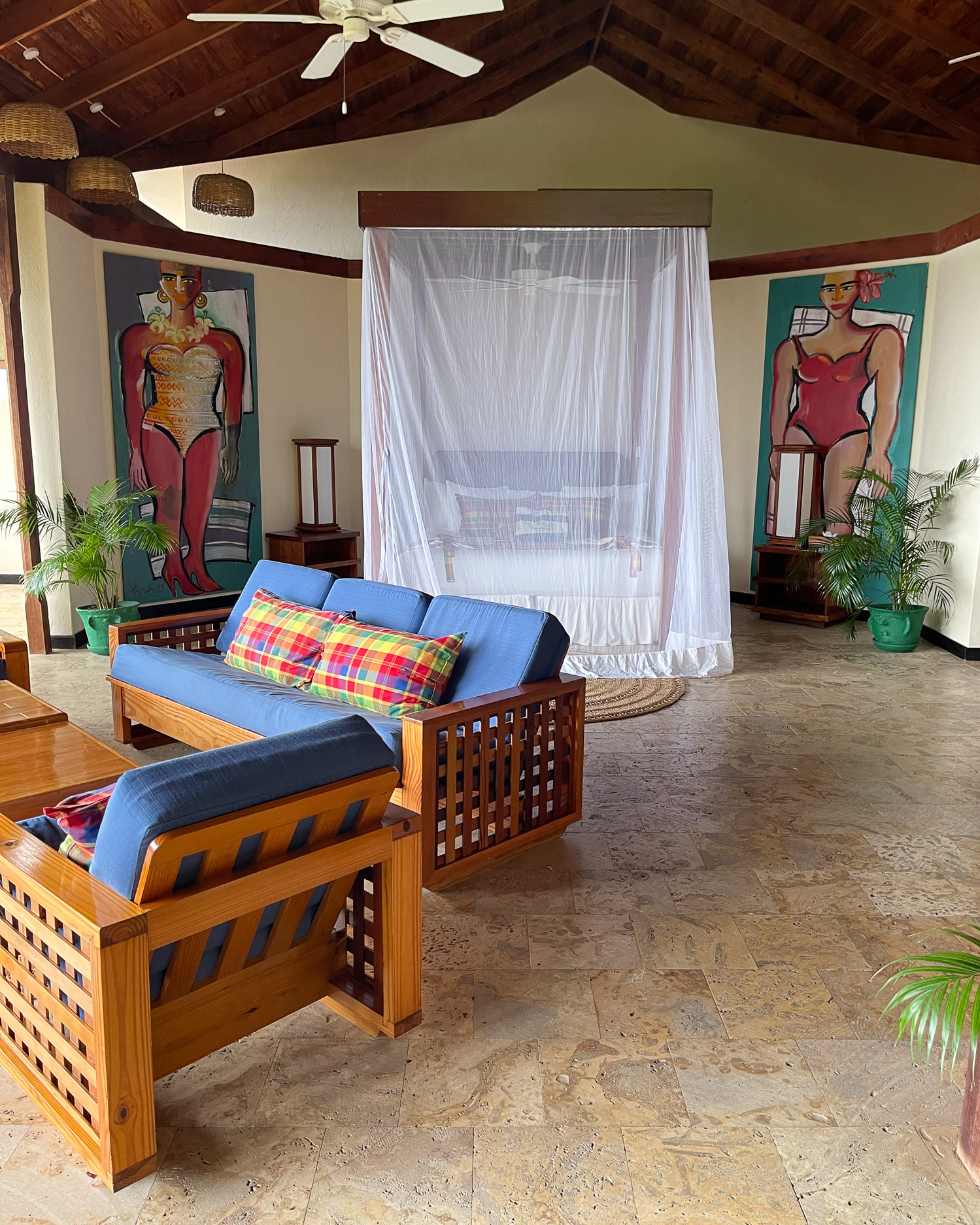 Other artists that have been featured at Anse Chastanet include
Mary Weber – an American artist living in Saint Lucia who formerly worked at the resort
Ron Savoury – an artist originally from Guyana known for his forest and plantation scenes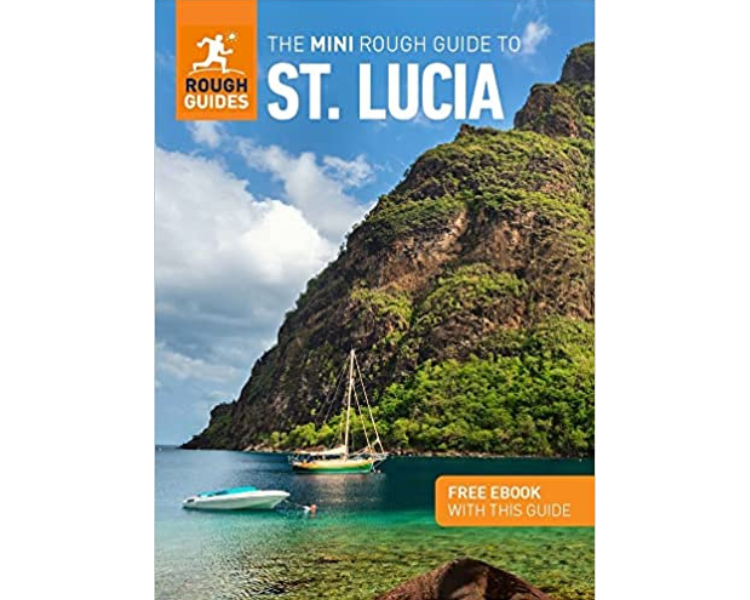 Where to stay in Saint Lucia
If you are an art lover, we highly recommend a stay at Anse Chastanet resort, where you'll be able to enjoy artworks from many of the artists mentioned, in the public areas and in the suites. The hotel really is unique in the way that they work with local artists and artisans throughout the resort, with artworks available for guests to purchase in the Anse Chastanet art gallery and gift shops.
Anse Chastanet Resort offers the premier dive centre on the island and access to two wonderful beaches; Anse Chastanet and Anse Mamin, with snorkelling directly from Anse Chastanet beach. Behind Anse Mamin beach, guests can walk into the resort's own private plantation, which is used for hiking and mountain biking, as well as being an inspirational spot for art classes and painting.
The resort is located close to Soufriere, with amazing views of the Pitons and access to many nearby attractions such as the Diamond Botanical Gardens, waterfalls and the resort's own Emerald Farm which provides cocoa and vegetables for the hotel. On the hillside above Anse Chastanet sits the sister hotel of Jade Mountain, a unique location that's a favourite for honeymoons and luxury getaways, where we stayed on our recent visit.
Even if you don't stay at Anse Chastanet, we highly recommend a visit to the art gallery which is located beside Anse Chastanet Beach.
For more information or to make a booking, visit the Anse Chastanet Website.

Plan your trip
You'll find more information to plan your trip including accommodation, things to do and last minute deals at Travel Saint Lucia
If you are looking for less expensive, local accommodation that's great for independent travellers, check out the Saint Lucia Collection de Pepites, with listings of smaller scale properties, apartments, villas, guest houses, B&Bs.
If you need a transfer from the airport to your hotel check out this Private transfer to/ from Hewanorra Airport
Read Next
Explore 20 fabulous things to do in St Lucia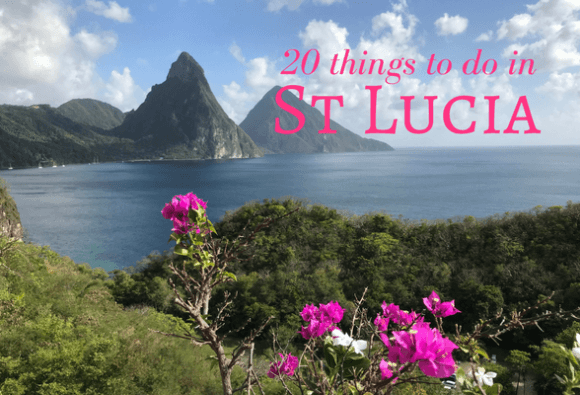 Pin it
Heather visited Saint Lucia as a guest of Saint Lucia Tourism and Jade Mountain / Anse Chastanet Resort.
This article is originally published at Heatheronhertravels.com