What is included in a cruise ship vacation? And, what is not?
Recently, when chatting with someone that's never been on a cruise, they asked, "what is included in a cruise ship vacation?"
We were slightly baffled by the question. Doesn't everyone know what's included? Don't they know that one of the reasons we cruisers love to cruise is because cruises are for the most part an all-inclusive vacation?
That's completely on us. We shouldn't just assume.
The truth is that many people don't know what is included in a cruise ship vacation and what is not. It's our job as cruisers to spread the good news! We want everyone to join in on the fun and experience what makes cruising a great vacation for everyone.
If you're thinking about taking a cruise for the first time, you may be wondering, what is included in a cruise ship vacation? In this article, we break down what the cruise fare includes. We'll discuss things like accommodation, food, and entertainment.
We will also discuss what is NOT included in a cruise.
Tip: You should always research the cruise line and the cruise ship prior to booking.
What is a Cruise?
First, what is a cruise?
A cruise is a popular type of vacation where you travel on a large ship with other people. But it's not just a ship. The ship is basically a city on water. The ships are fully equipped with everything you need for your vacation, including restaurants, shops, a casino, a pool, and entertainment.
You don't just embark on a ship to cruise the open seas. Although that is part of the itinerary. The ship takes you to different places, and you can get off the ship to explore those places. Unless you specifically booked a cruise to nowhere.
A cruise ship package is usually all-inclusive, which means that food, lodging, and entertainment are included in the price of the cruise. Some luxury cruises also include excursions, which are guided tours of the places you visit.
Just like all hotels, airlines, and destinations, cruise ships offer different levels of service. The level of service you receive will be reflected in the price you pay for your cruise. But even the cheapest cabin on a cruise ship will include the main amenities we'll discuss below.
How much does a cruise ship ticket cost?
The cost of a cruise ship ticket varies depending on the cruise line, the time of year, the length of the cruise, the cabin you choose, and the port fees of the destinations.
There are several types of cabins to choose from, including inside cabins (no window), outside cabins (with a window), balcony cabins, and suites.
Do you pay for food on a cruise?
The cost of a cruise ship ticket varies depending on the cruise line, the time of year, the length of the cruise, the cabin you choose, and the port fees of the destinations.
There are several types of cabins to choose from, including inside cabins (no window), outside cabins (with a window), balcony cabins, and suites.
Do you have to tip on a cruise?
Cruises charge a daily gratuity per person in addition to your cruise fare. Gratuities can be paid in advance prior to boarding the cruise. If not, it will be added and charged to your account at the end of your cruise.
Additional tips are not required, but it is appreciated.
The staff does work hard on the ships, so we personally like to tip throughout our stay or at end of our time on the ship.
What is included in a Cruise Ship Vacation?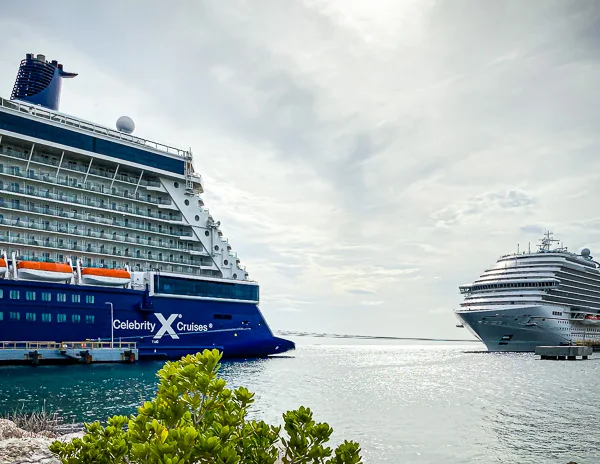 What's included in the cruise fare? The cruise fare is the price you pay for your cabin and stay on the ship. A cruise fare does not include airfare, ground transportation, soft drinks and alcoholic drinks (some cruises will), and shore excursions.
Accommodations | Cabin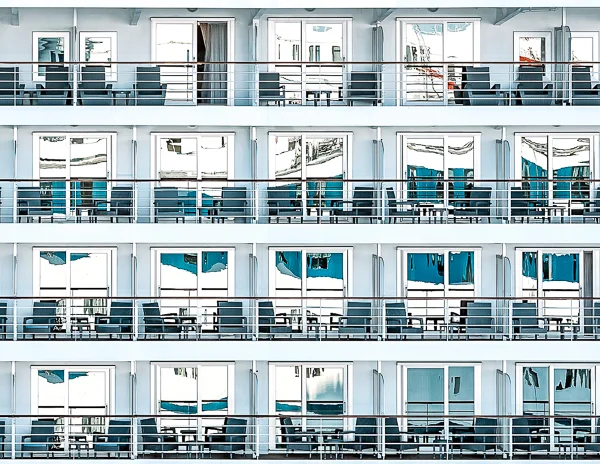 Your cruise ship cabin is included with your cruise fare. When you book your cruise, you get to choose what type of cabin you want to stay in. You can choose from an inside cabin, outside cabin, balcony cabin, or suite.
The price of your cabin will be based on the type of cabin you choose and the cruise line you sail with. The size of your cabin will also vary based on the type of cabin you choose.
Sometimes the cheapest rate is a "guaranteed room rate for a category", which means you can book the sale but the cruise will pick your cabin. That can be the smallest room in the worst spot on the cruise ship or it can even mean an upgrade. You never know. It's like playing roulette but you get to save money if you don't mind them choosing.
All cabins include a bed, bathroom, TV, air conditioning, mini-fridge, and safe. Sometimes there may be sitting areas or a small vanity.
Note that the decor of the ship varies by cruise ship and cruise line. We try to sail the newer ships or at least ones that have been refurbished more recently.
Types of Cruise Ship Cabins
Inside Cabins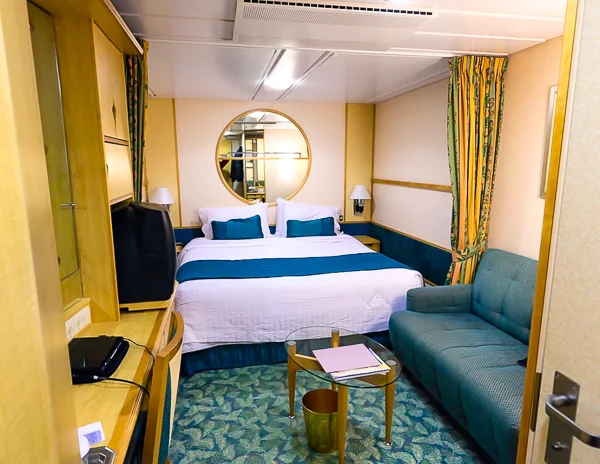 Inside cabins are the smallest and cheapest type of cabin. They don't have a window or balcony.
Oceanview Cabins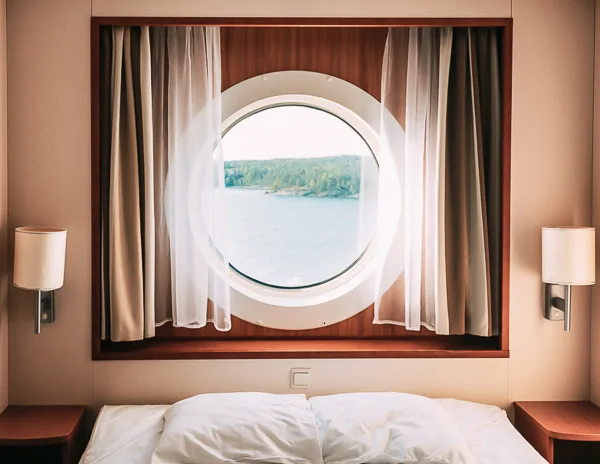 Oceanview cabins are close in size to inside cabins, but they have a window. These staterooms are usually on lower decks.
Balcony Cabins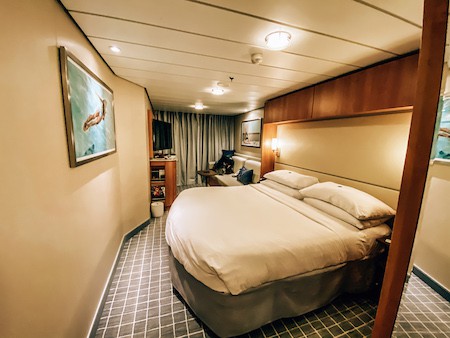 Balcony Cabins are the most popular type of cabin. The size of the balcony will depend on the ship you're sailing on and where the cabin is situated on the ship. They usually come with a pair of chairs and a small table. These cabins are usually on higher decks.
Suites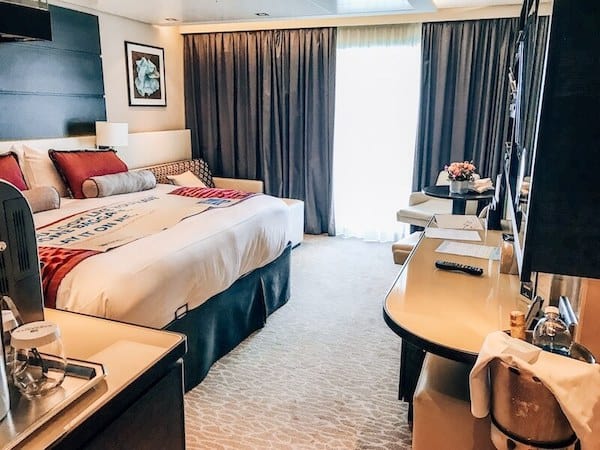 The most expensive type of cabin is a suite. Suites come in a variety of sizes. Some even come with a separate bedroom, living room, and bathroom. They also have a larger balcony.
There are sometimes different levels of suites that come with a high level of amenities. Which are more costly but it is a level of service that is personalized, including the butlers, private areas, and even a restaurant specifically for suite guests.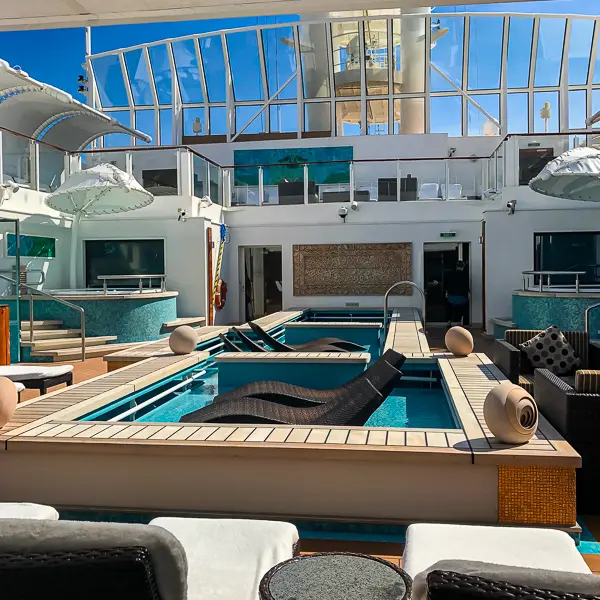 We experienced the suite life on Norwegian Cruise Line's Haven area on the Getaway cruise ship. It was pure luck that we won a bid to be upgraded to the Haven. However, we could see why people love the suite life so much.
Dining | Food
What is included on a cruise? Yes, your meals throughout the day are included in your cruise ship price.
When we say this, we mean, that there is food available and included as part of your cruise fare for breakfast, lunch, dinner, snacks, and all the in-between.
On mainstream cruise lines, buffet and main dining room restaurants are included. Twenty-four-hour room service is also an option, although some cruise lines, like the Norwegian cruise line, will charge a small service fee.
Types of Dining Included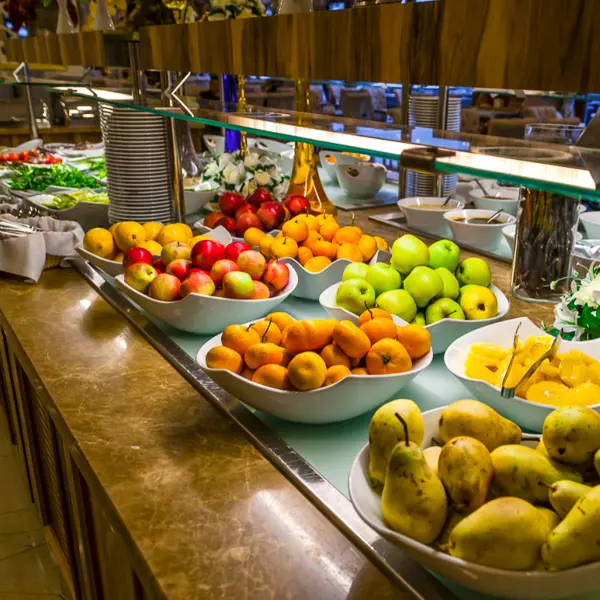 The Buffet
The buffet is mostly open from morning to night. You will find a variety of food options at the buffet for breakfast, lunch, and dinner. The food usually has standard basic American food mixed in with other international cuisines.
A buffet is a great option if you want to try a little bit of everything or if you're looking for a quick meal. All-you-can-eat-ice-cream is always a good reason to stop by the buffet.
Sometimes, the buffet has themes and specialties. For example, there might be a Mexican night or an Italian night where the buffet will serve items from that cuisine. Or on a sea day, they'll have a chocolate fountain.
The Main Dining Room
The main dining room is where you will find the most elegantly served food on the ship. The menu changes nightly and offers a variety of appetizers, soups, salads, entrees, and desserts.
Tip: Don't be afraid to order multiple appetizers or desserts, it's all included and they won't say no.
Knowing that meals are included as part of any vacation can help you better budget for your cruise. You can also take advantage of the food options and not have to worry. It's one of the popular reasons people love to cruise.
Other Cruise Dining That is Included
It all depends on the cruise line. Sometimes there are other spots on the cruise ship where the food or snacks is included with the base cruise fare. There may be a cafe or a pub that is complimentary and included.
The best thing to do is do some research before you book or before you embark on your cruise. So you don't miss out on anything.
Coffee, Teas & Juices
The only drinks included in the cruise fare are (regular plain) coffee, tea, and juices. Soft drinks, alcohol, and bottled water cost extra.
Filtered water at the buffet is included. We have no problem drinking it. This is why we've included a tumbler in our cruise packing list.
Entertainment | Activities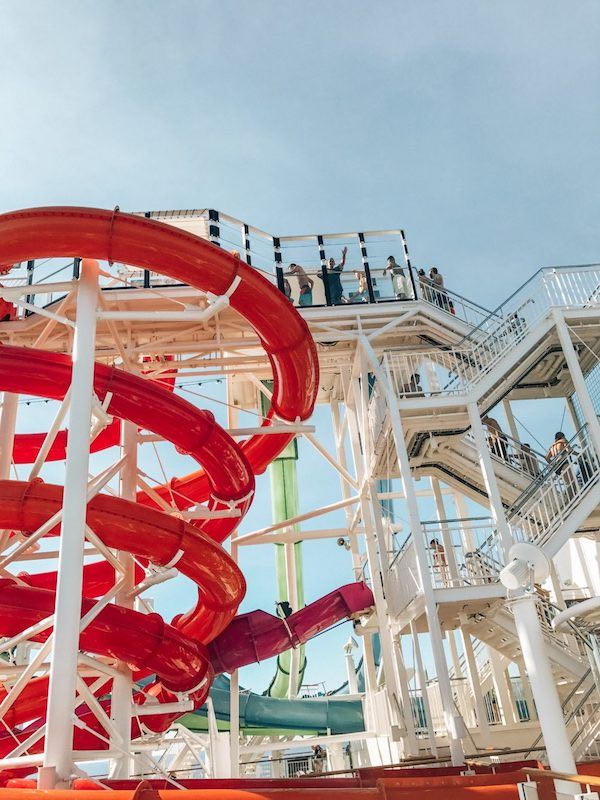 Entertainment is also included in your cruise ship vacation. Most cruise lines have a variety of activities, shows, and things to do that are all included in the price of your cruise fare.
Daytime Activities
During the day, there are usually a variety of things to do. Most cruise ships have large decks where you can sunbathe or hang out by the pool. Which is one of the most popular things to do on a cruise ship, especially on a Caribbean cruise.
There are usually activities like trivia, bingo, arts and crafts, dance classes, or cooking demonstrations.
Depending on the size of the cruise ship, some cruise ships have sports courts where you can play basketball or volleyball. Others have rope courses, mini-golf, or water slides. The possibilities are endless.
This is why it's important to choose the right ship and cruise line when you're ready to book a cruise.
Evening Activities
At night, there is usually live music across different parts of the ship. You also have the option of seeing a Broadway-style show or a comedian stand-up show.
Norwegian Cruise Line's mega-ships actually have Broadway shows that are excellent. Our upcoming cruise on the Norwegian Joy will have Footloose.
Some cruise ships have casinos, bowling alleys, and or movie theaters.
It's important to remember that what's available onboard differs by the cruise line. So if there are certain activities or entertainment you're interested in, be sure to do your research before booking.
You may also have to book reservations in advance for some activities once you get on the ship.
Also, all cruise lines will provide dailies that are left in your room every night for the next day. On the dailies, you'll find daily schedules of everything that is going on on the ship. Half of what is listed is included and free to participate in, while some may be an extra charge.
The cruise directors and staff on the ship work hard to keep everyone excited and entertain.
Of course, it is up to you how much you want to participate or do. You can choose to find a quiet spot on the cruise ship or sit on your balcony and relax.
Kids Clubs
What is included in a cruise? Kid's clubs!
Most parents don't know this, but most cruise ships also have kid's clubs. These are places where your children can go to play and be supervised by staff while you enjoy some adult time.
The kid's clubs are broken up by age groups. Each group has different activities available to them.
You have to sign up your kids as soon as you get on the ship as the kid's clubs are limited.
There is usually an extra charge for the kid's clubs outside of regular hours.
The Gym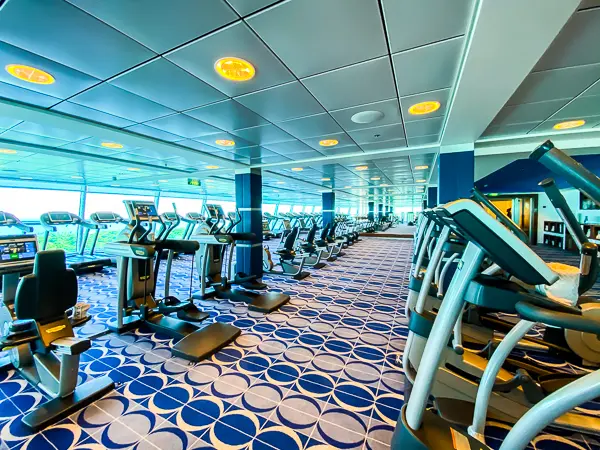 The gym is included in your cruise fare. This is a great way to stay active while on vacation.
From the gym, you'll have some of the most beautiful views of the ocean.
Transportation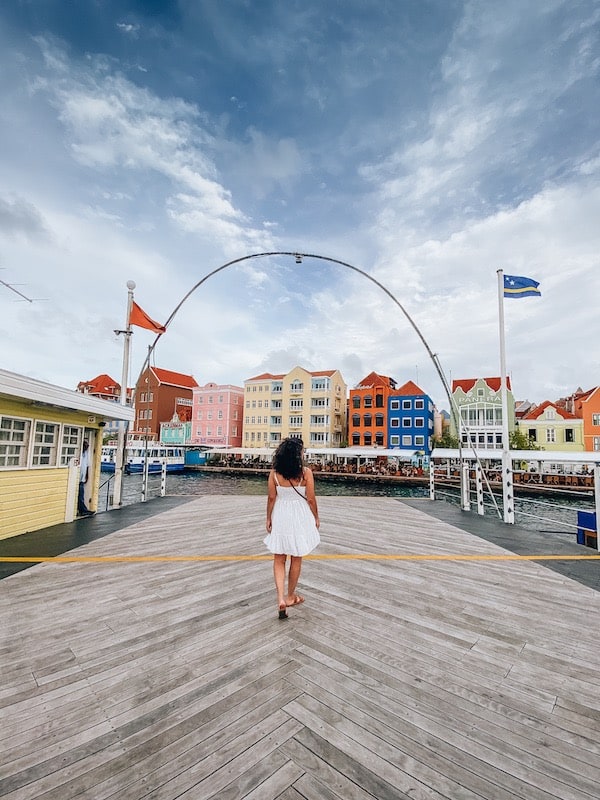 What is included in a cruise? Your transportation to new destinations all over the world.
While the cruise ship itself is a vacation destination, your cruise fare also includes transportation from one destination to another.
You'll be able to visit a number of cities and ports in a short amount of time. So keep this in mind while looking at itineraries and cruise fares.
11 Cruise Prep Tips for First-Timers
How to prepare for a cruise? Here are 11 tips to help you prepare for your first or next cruise. From booking travel insurance to booking tours, don't let cruise prepping overwhelm you.
What is not included as part of your cruise?
While these things are not included, it does not mean you won't have a fantastic cruise. What is included in a cruise is more than enough, it just depends on how you like to vacation and what matters to you. You can really depart the ship with minimal extra cost if you choose to.
Choose accordingly what you'd like to add on top of your cruise fare. What will make or break your vacation?
Specialty Restaurants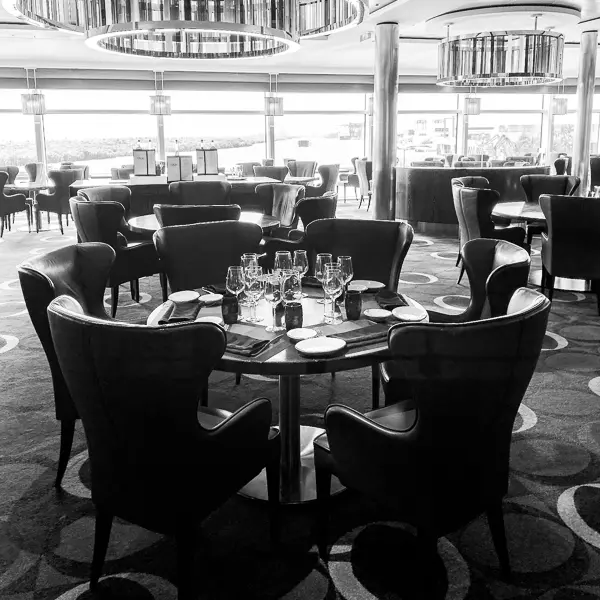 Some cruise lines offer alternative restaurants that are specialty restaurants for an additional cover charge. Sometimes, there may be a promotion when you book your cruise fare that includes 1-2 nights at a specialty restaurant.
At these specialty restaurants, you'll find everything from sushi to teppanyaki. A lot of the time, the food can be slightly better but that's not always the case.
On our Celebrity Equinox cruise, while we enjoyed a couple of the specialty restaurants, the buffet for dinner was excellent. While we love to go for a sit-down meal for dinner, on this cruise we opted for the buffet for a few nights then went to the main dining room.
We can definitely guarantee that you will never go hungry on a cruise.
Soda, Bottled Water & Alcoholic Drinks
While food is usually included in your cruise, most drinks are not. If you want to order a soda, bottled water, or an alcoholic drink, you will have to pay extra.
You can also purchase soda or drink packages that you can purchase before your cruise.
If you're a big soda drinker then a soda package is probably worth the extra cost. It really usually isn't that much per person for unlimited soda.
An all-inclusive beverage package that includes alcohol, it's usually pretty expensive. You'll want to calculate the cost of the package to how many drinks you think you'll have per day to see if it's worth it. Alcoholic drinks can run from $8 and up, per drink. If you're not much of a drinker, this may not matter to you.
Sometimes when you're booking a cruise, a free beverage package may be included with your cruise fare. Norwegian likes to do this as a promotion, but then they tack up a service charge for it that adds up to $300 and it doesn't include bottled water or premium alcohol. So make sure to read the fine print and decide if that extra service charge is worth it.
Then there are some like Celebrity Cruises Line that already includes drinks (up to a certain cost) as part of your cruise fare.
Special Activities and Shows
Certain activities on cruise ships are an extra cost. These include things like go-karts, ice-skating, laser tag, and more.
You'll also find that some of the shows on the cruise are an extra cost as well. It's usually when it involves dinner and a show combination. We once paid a small cost to see a Cirque de Soleil show with a fantastic pre-fixed dinner.
If you want to participate in any of these activities or see the shows, you'll need to book them in advance.
You can do this online before your cruise or once you're on the ship.
Gym Classes
While the gym is usually included in your cruise fare, some of the classes have an additional charge. The gym offers classes like spinning classes, yoga, and personal training.
Spa Services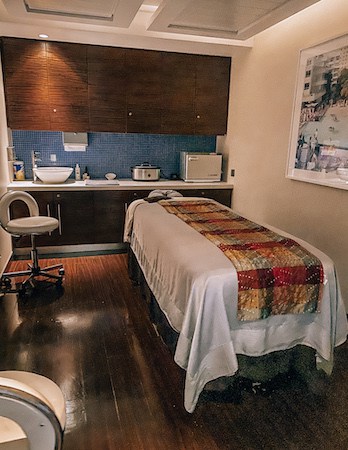 The spa is not included in your cruise fare but they do offer some great treatments. Sometimes people take advantage of sea days and purchase single treatments like massages, facials, and other services.
On some cruise ships, they'll have a day where they offer special discounts on treatments.
Some cruise ships have thermal spas, which you can purchase weekly passes for unlimited use.
Casino
To enter the casino and watch others play is free. But to play in the casino, will cost you. The casino will mostly have everything from poker, blackjack, slots, and roulette.
While some say you can't win big on a cruise ship, we've seen a few jackpots won during our cruises.
WiFi
If you want to be connected while on your cruise, you'll have to purchase a WiFi package. These days most cruise lines offer WiFi.
There may be different levels of WiFi service that you can purchase at different speeds. Usually, the higher the speed, the more expensive the package will be.
Onboard Purchases
The number of shops on cruise ships varies, but there will always be shopping on a cruise ship. You can purchase a lot of things while onboard your cruise ship. These include everything from souvenirs to jewelry.
A lot of the time, the prices are marked up so you're better off waiting until you get to the port to purchase things.
However, if you find something you love and can't live without, then go ahead and buy it.
Purchases made onboard your cruise ship will be charged to your cruise account. You can either pay cash or charge it to your credit card.
Shore Excursions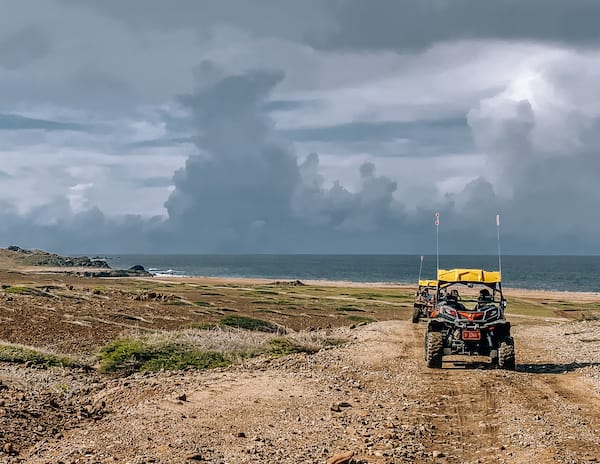 On mainstream cruise lines, shore excursions are not included. These are optional and an extra cost.
You can book your shore excursions through the cruise line or on your own.
We usually book our shore excursions on our own as we find it to be cheaper that way. We also like the freedom to do what we want when we are at port.
Of course, you also have the option of exploring on your own without any excursions at each port-of-call.
On luxury cruise lines, sometimes the shore excursions are included with your cruise fare. You just have to sign up for them at beginning of your cruise ship vacation.
Cruise Gratuities
Cruise gratuities are not included in your initial cruise fare.
Gratuities will be added to your onboard account or you can pay for them in advance prior to getting on your cruise ship.
Sometimes you can find cruise promotions offering gratuities included, but this is rare. Higher-end cruise lines will sometimes include the cost of gratuities into the cruise fare when you book.
We also usually tip extra for good service throughout our cruise ship vacation. As the staff on cruise ships are working hard throughout without any days off.
Airfare | Hotel
Unless you book an air/sea package, your airfare is not included in your cruise fare.
You will need to purchase your own flight and get to the port city where your cruise ship will depart from on your own. We include this step as part of how to prepare for your cruise.
We always recommend flying into the port city the day before your cruise ship departure. Just in case there are any delays with the flights. We don't want you missing your cruise ship embarkation.
You'll also need to book a hotel for the night, which is not included either. Sometimes if the departure port city is a destination we would love to explore, we will arrive a few days earlier. That is up to you.
– Don't Miss: What NOT to Bring on a Cruise –
We hope this article has cleared up any questions you may have had about what is included in a cruise ship vacation and what is not included in a cruise. Cruising can be a great way to see the world, but it's important to know what to expect before you book your trip.
Have you been on a cruise before? Do you have any questions regarding cruising? Let us know in the comments, we will be happy to help.
Don't forget to share the love on Pinterest: